A Love Letter to my Gente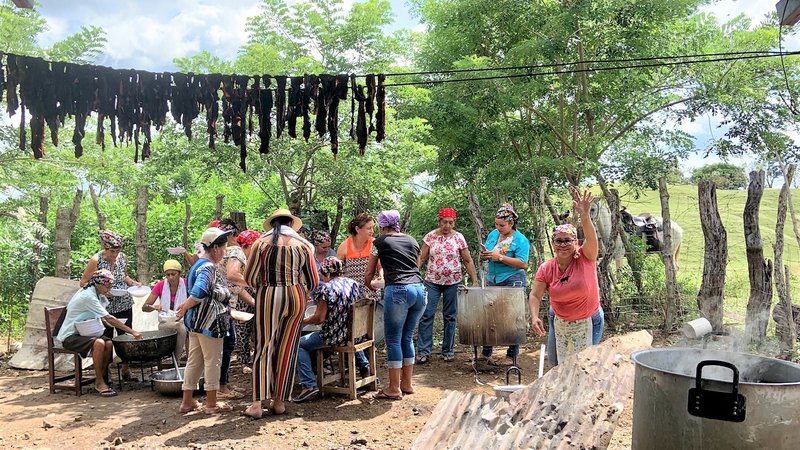 July 15, 2020
Bueeeennnass! Asi es como me saludaron, siempre, desde mi primer día aca.
In school, I learned to say "buenos dias," but it seems that here, you just say "buenas," so I begin to say "buenas" too. Now, I walk my dog through side-walked streets under cool oak canopies–imagínate–and as I pass people and part my lips to smile, a soft "buenas" still catches on my tongue.
In school, I learned that "adios" means goodbye, but you shout it from your rumbling pick-ups as you pass me before my first cup of coffee, while I'm watering my flowers in my pajamas. As you whiz by me paseando, on your bikes back and forth between arriba and abajo. I, too, begin to shout it, as I pass you milking your cows in the dewy morning as the sun stretches over the horizon, or acostado in your hammock in the blazing pereza of the campo afternoon. To you, "adios" is not a goodbye, but a greeting. Sometimes its outcry prompts a high-pitched "ouuuuuuee" in reply; the classic greeting of the Azuero region. This familiar call and response–its reflex, its company–strikes me now as freshly strange.
In school, I learned about photosynthesis and the nitrogen cycle, but I did not learn how to peel a ripe June mango, I realize, as you laugh at the juicy, sweet murder scene I have made over your kitchen sink. I did not learn to cut them into an ensalada with vinegar and salt, but you teach me, and now I love it. Together, we sip the bittersweet soup that remains, and let it drip down our chins.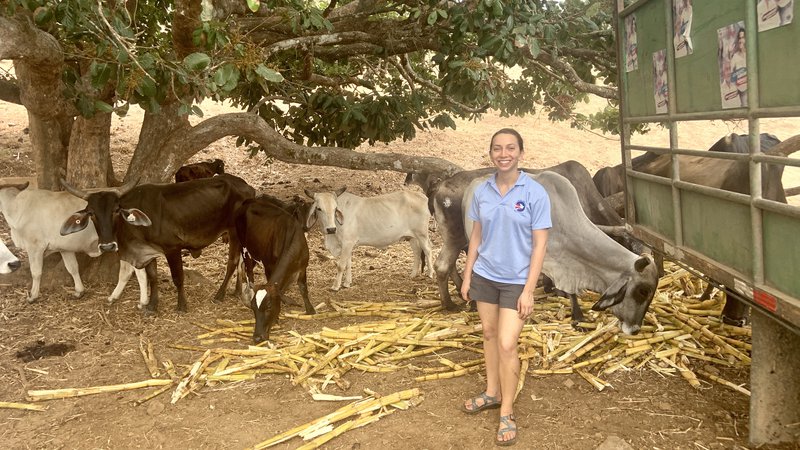 In school, I learned that poor people are sad and skinny. Here, I learned that poor people are people. You taught me how to move my hips and feet to típico, and clap my hands to tamborito, as you wove my name into stories from antes. This made me feel like one of you, this made me feel like I belonged. You invited me to read in mass, march in parades, call numbers in BINGO. With you I turned sugarcane into honey, and cut rice in golden fields. "La gringa siiiiiii trabaja," they laughed, as I swung my knife and swigged seco from the bottle with the best of 'em. You made me dance and sing in public more than I ever wanted to, more than I ever dreamed I would have to, as I shuffled to the accordion among sweaty old men. I learned that nothing, absolutely nothing, is too embarrassing to recover from. There is not even a word for "embarrassed" in Spanish, nor is there one for "awkward." Instead, we say "que pena" and move on.
In school, I learned the trusty arcs of the supply and demand curves. I did not learn, however, that there is no such thing as an "extra" glass of chicha. I learn this from you, when I try to pass mine off as un-accounted for to avoid another sugary drink. To avoid the love you are pouring out for me. I did not learn that BINGO is not about B9 and G42, but a way to save money for navidad. I did not learn that many people don't have money for many, many things: crisp notebooks and bikes with colored tassels, summer beach trips, and eating out for no occasion; dues I assumed the universe's generous skies owed to any human life. I un-learn and re-learn my math and economics. You send me back to my desk and I solve for x, again. Crisp notebook curling, inky sweat smudging, I get a different answer.
The curves diverge, crossing somewhere off the graph. Somewhere out of sight.
Yet in our world, you bend them so that there is somehow always enough for a birthday arroz con pollo, and if we're lucky, dulce topped with too much icing, served with cherry ice cream and purple jell-o. A rainbow stomach ache, worth it every time.
In school, I learned about "international development theory," but here, I watched you grow. I was a witness, a listener as you confided the contours of your little world to me. On your couch, on our walks, at the table, as we licked your abuela's food off our fingers, chupando los dedos. I took your company for granted, but now I see that your presence was my only constant, my saving grace; whether half-distracted, glued to the comics on TV, or demanding all of me; screaming, squealing, banging down my door to play. Sometimes, if I'm honest, when you appeared at my window, I would pretend I was napping just to avoid you–but it was only because you were so much, so real. Singing to yourself in that little pink towel on your way to the shower–black, tangled curls tumbling over your tiny shoulders, painting hearts over every picture we drew, demanding another round of Uno, tramposa as you were. I will never forget the sight of you wearing your Spiderman ski cap in the heat of the tropics, just because you wanted to. Just because you could. You treat the world like it is yours, hermanita. You insist on its attention, in loud and sometimes quiet ways. I want to tell you, "Here lies your power. Never lose this."
You forced me, too, to see and feel everything. It was amazing and terrifying, watching every piece of peanut butter toast we made together fill your little body out. You are taller than you were when I arrived, and smarter, and meaner, too; time creating space between us inch by inch. This must be what it's like to be a parent. Now, it seems, I'm the one who needs you. Or was it always that way?
In school, I learned not to "need" people, that it's good to be independent. Here, if I sleep past 9 a.m., I am effectively a "missing person." Call the policía! Here, I learn that I must tell you where I go, when I am sick–that you will make me chicken soup. Here, I borrow your wheelbarrow, your machete, your time. You drive me places, welcome me in–"paseeeeee adelante" you say–and send me home with arms full of mango, sandía, papaya, naranja, y mandarina. My backpack has a hole in the bottom, from the weight of all you gave me.
In school, I learned to be on time. Here, I leave my house when mass is starting and see that it is okay. Some of you slip in even after me, on a cloud of perfume, with your tight jeans and bright makeup, bañadito. Here, you show up an hour late to our meeting, but it happens, still. Here, you tell me, poco a poco, tranquila, María, there is time. Siéntate, mami. There is always more time, apparently.
I was learning this to be true, but now these words ring empty. Our time was taken, it seems, and here, now, everything is urgent, even as I struggle to stretch my to-do list to fill the hours.
In school, I learned about God in books; if you wanted to see God, you went to church. Here, we don't have church on Sundays often, but Dios is always primero, everything con Dios. Solo Dios sabe, que Dios te bendiga; Dios, whoever they are, is apparently who we need to get things done. With Dios, the rains will soon fall or, next year, we'll get to go to the beach or the baile. While your Dios was not familiar to me, we spent a lot of time with them together, in masses and parades, pilgrimages and rosaries. I learned how to pray the rosary in Spanish by listening to you pray for your dead as we sat on people's porches, sipping coffee paired with soft white cheese and buttery wreaths of pan. Dios te salve Maria, llena eres de gracia…I say it on loop when turbulence hits on the plane ride home from your country back to mine.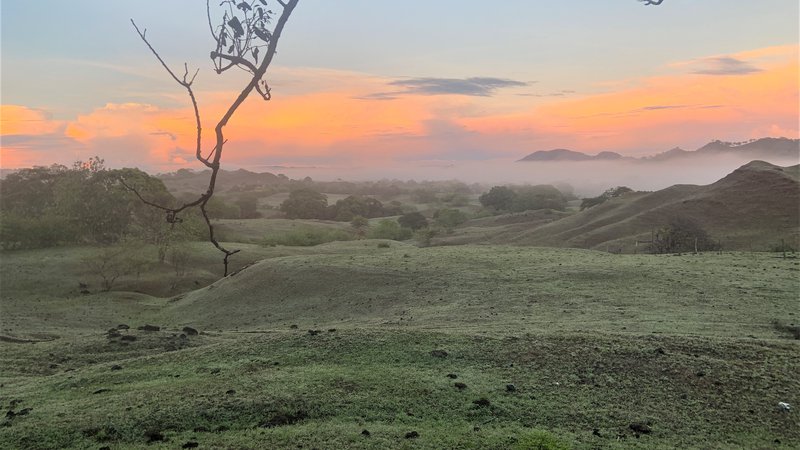 Here, I learned that gordita is a compliment, and that I am beautiful—happy, even—with 10 pounds of your hojaldres on my hips. You commented on how I looked, on what I did—on everything I did—and some days, if I'm honest, your innocent observations threw me to the ground; in annoyance, in frustration, in un-belonging. The last things I needed to hear. But you also listened to what I had to say, even if you hadn't heard it before. You asked about my family, even though my thoughts and experiences were different from yours. You trusted me with your children–in my yard, at the school, on fruit-finding and río adventures—and included me in your graduations, birthdays, funerals, and weddings. I now see how many celebrations came before and how many will come after my time with you. This thought both confounds and encourages me. Things move forward. Todo adelante.
Sometimes I didn't like to talk about home. I let you know where I came from but didn't want you to know what I came from. I showed you photos but was careful to ensure their backgrounds didn't reveal the excess that birthed me, the things I had that you probably never would. Things that I would say "don't matter," but do in fact really matter, because they are things that you have been denied. Still, you welcomed me. What's the story Jesus told? I swap "she" for "they," and "they" for "she," and it reads perfectly: For [she] put in out of [her] abundance, but [they] out of [their] poverty put in all that [they] had, [their] whole livelihood.
In school I learned addition and subtraction, multiplication and division. But I did not learn how to make 24×7 fit all of the love that you offered me. Even with the year we thought we'd have, I think we always knew that there was not enough time; for lots of things, but especially not for that.
At first, I did not know how to fit the life you lived into the life I knew.
Now, I look out my window and ask where the chickens are. A car that looks like yours drives by, and my heart stops—and then keeps beating. I put on the playlist you made me, and then begin to cry, because it reminds me of sitting alone with my candle in my kitchen at night. It reminds me of you, of everything. But mostly, of everything that was not.
My showers are hot, and my belly is once again slim. I toss my toilet paper into the trash can out of instinct and reach for the lighter I do not find to turn on the stove. Everything is shadows, silhouettes. One life laid over another. Do I stitch them together or pull them apart? Was this what always awaited me?
I did not know how to fit the life you lived into the life I knew.
Now, I do not know how to live in my life after sharing yours.
I do not know how to fit a square peg inside a circle hole.
I am learning.♥