Locking up food security with permaculture
The United Nations created a list of 17 Sustainable Development Goals, agreed upon by 193 nations, in September of 2015 with the intent to "conquer poverty worldwide and usher in an age of eco-conscious equity by 2030." 
Honestly, every time I read them, I smile because they line up with my personal view on global development – I wish more people took the time to really think about what they mean long-term. However, that is also part of why Peace Corps Volunteers exist, in my opinion.
The organization I am partnered with here in Rwanda, COFORWA (Les Compagnons fontainiers du Rwanda), happens to directly address multiple goals as part of their primary sectors of intervention:
Goal 6: Water and Sanitation
Goal 7: Affordable and Clean Energy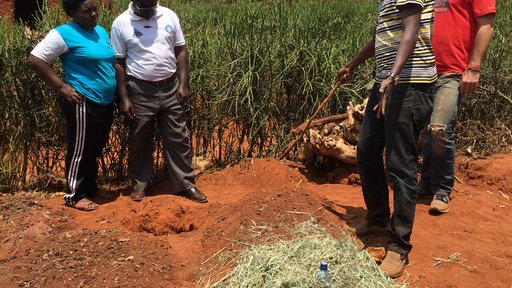 One of the organization's main focuses is to introduce new concepts and intervention methods in rural areas – that's where I come in. An idea that was planted back in June has finally germinated and is starting to sprout in local communities and allow us to directly address additional goals as well:
Goal 1: Poverty 
Goal 2: Hunger
Goal 3: Good Health and Well-being 
Goal 12: Sustainable Consumption and Production
According to the Rural Poverty Portal, over half of Rwandese live below the poverty line, with close to 37 percent living in extreme poverty. Childhood malnutrition and food insecurity has led to an extraordinarily high rate in stunted growth (38 percent) of children under 5. One of the best ways to address these issues is to work with local organizations, health centers and community leaders to incorporate new methods of access to quality nutrition and education.

The training I attended back in June focused on the theory and practice of creating a new style of garden. Many times, a major obstacle for nutrition is simply access. Rwandese grow up in a society where 80 percent of the population is involved in agriculture, so the overall gardening concepts are present. Seeing that high of a percentage might lead one to believe that there is no issue; however, learning that the agricultural sector only accounts for one-third of the gross domestic product, the soil is often of poor quality due to extreme climate conditions and the majority of plots are large and located far from homes in the valleys between the hills – sometimes hours away – these issues start to make a little more sense.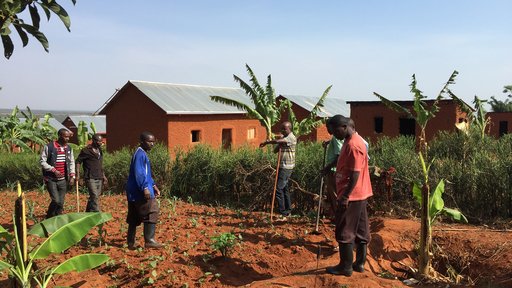 One potential solution is to build a permaculture garden (permagarden) using the theory of "CLOSE" (Close. Local. Organic. Sustainable. Easy.). The idea is to build right outside the house, close to the actual kitchen. In order to build it, only materials that can be found locally are used. Soil is manipulated and treated with only organic forms of carbon, nothing synthetic. Instead of a large 10×10 or 15×15 meter plot, we build a small and maintainable 4×4 meter one. Utilizing techniques people are familiar with makes this a relatively easy process with the possibility to replicate and sustain over many years.

It just so happened that after I proposed this idea to my colleagues and presented on the topic in September, they immediately grasped the idea and ran with it. Currently we are implementing a project to provide access to water (it is a two-hour trek to retrieve water from a "nearby" lake using multiple 25-liter jerrycans) and improve sanitation and hygiene practices. Introducing this new style of gardening as part of our efforts seemed only logical.

Thankfully, Peace Corps Rwanda's food security specialist, Modeste Nsabimana, was available to lead the two-day training, and we were able to replicate the training for eight COFORWA staff and six local community members. Instead of an elevated garden dug to 20 centimeters deep, a permagarden is dug to 50 centimeters, all the while adding additional carbon (manure, activated charcoal, wood ash, eggshells) to increase the nutrient level of the soil.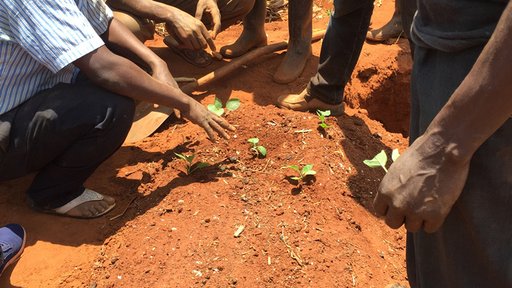 In addition, we created a system of berms, swales and collection holes that allow us to intentionally manipulate the direction of water flow when it rains, drastically reduce run-off, and keep all absorption confined to our 16m2 area. 

As a result of this training, we hope to directly impact and support the needs of at least 30 households just in this sector alone by the end of 2016. Typically, after the third planting season, it is legitimately possible to see crop yields increase as much as 400 percent from previous years! Fingers crossed…

Not only will COFORWA continue to work with local communities to ensure access to water and increase and improve sanitation and hygiene practices, but now they can include addressing food security as a sector intervention. To say I'm proud they took the chance on a brand new concept is an understatement. Only time will tell how effective the physical gardens are, but it was very clear during the training that many of the major concepts were connecting. I was sent proof the very next Friday when the trainees became the trainers. Not only were they creating these gardens like seasoned professionals, but other local community members and beneficiaries were actively participating.

That is how an idea becomes sustainable! The potential impact here is significant – I am just lucky to be a small part of it.