Live your goals – on and off the soccer field
Live Your Goals is a slogan of the FIFA Women's World Cup Canada 2015. However, "living your goals" is more of a dream than a reality for millions of girls globally.
In many countries, obstacles like lack of education, early marriage, gender disparities and scarce access to health facilities stand in the way of women and girls living their goals.
Around the world, Peace Corps Volunteers and their counterparts work with girls soccer as a way to counteract these barriers and to help girls realize their goals. Research shows that girls who play sports such as soccer have higher levels of self-esteem, increased leadership skills, attain higher rates of education and have fewer unintended pregnancies. Seizing on global events like the World Cup, Volunteers and their counterparts are promoting girls soccer not only to highlight these critical issues, but also as a fun tool to empower girls and help them realize their potential.
In Benin, Peace Corps Volunteers supported village girls in creating a school-recognized soccer team. The Volunteers recruited Beninese teachers to help coach the team and conducted regular practices at the school. Additionally, they held Saturday morning soccer clubs where girls could play soccer and discuss study habits, while encouraging self-confidence and giving the girls a positive outlet for their energies.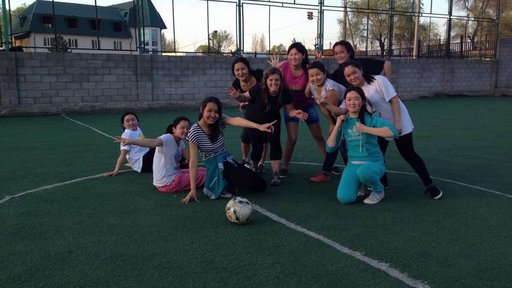 Similarly, in Burkina Faso, Volunteers emphasized women's empowerment through co-directing a soccer camp with counterparts and girls from surrounding villages. The Volunteers took the camp a step further by organizing a soccer match for International Women's Day between the girls' soccer team and the women of the village. In Guinea, Volunteers utilized girls' soccer as a creative method to address public health and personal development lessons for young girls, while Volunteers from Namibia utilized girls soccer practices as a platform to promote discussions about gender rights and opportunities for women.
Volunteers in Mongolia similarly utilized soccer to promote discussion about gender. The Volunteers participated in a summer camp for orphans and vulnerable children by coaching soccer for a miniature World Cup, teaching art classes, leading and supporting one-day clubs, dancing and co-facilitating gender discussions with the campers. In Morocco, Volunteers used the school holidays for their girls soccer day camps. Every morning, the girls participated in exercises, soccer training and soccer matches, which culminated in a soccer match against the local boys  team.
Girls soccer has the ability to mobilize communities towards promoting girls empowerment in a sustainable way, as Peace Corps Volunteers are in a unique position to understand. Global events like World Cup are reminder that it is up to all of us to ensure that 'Live Your Goals' becomes a reality for women and girls around the globe.