Like father, like daughter
Returned Peace Corps Volunteer Natalie Neft shares her family's Peace Corps story.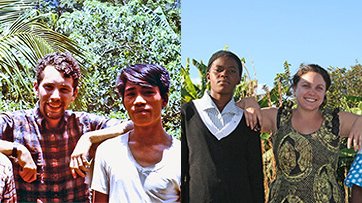 Natalie served as a Peace Corps health Volunteer in Zambia from 2010 to 2012. Her father, Martin Neft, served as a Peace Corps Volunteer in the Philippines from 1967 to 1969 and recently left for his second Peace Corps tour as one of the first Volunteers in Peace Corps' Global Health Service Partnership program. Natalie credits her time in the Peace Corps to her father's constant encouragement and dedication to service. 
Q: How did your dad's Peace Corps service inspire you to serve? 
When I was 10 we went on a family vacation to the big island of Hawaii. We went all over the island, and one of the stops we made was at a school. My dad explained that it had been the school where he had done his pre-service training (in the 60's the pre-service training for the Philippines was in Hawaii). He explained to me what he had done as a Volunteer, everything from work to cultural experiences, and I remember thinking "I'm going to do that someday." He spoke periodically while I was growing up of his experience and there were pictures around our house from his time in the Philippines and even a traditional shield given to him during service. I always found these items and stories fascinating and inspiring 
Q: Did your dad encourage you to apply, or was he surprised? 
Both. It was something I had considered doing since that day in Hawaii when I was 10. During my senior year at UC Santa Cruz I told him I had gone to a Peace Corps informational meeting and was thinking of applying. I think he was surprised, but also he knew that since high school I had an interest in helping others and a desire to do it in the international arena. He was incredibly supportive of me applying and after my acceptance became very nostalgic for his time in the Peace Corps. As a doctor, who had been involved in early HIV work, the fact that I was going to be a Health Volunteer was exciting for him. 
Q: Do you think you went into service with a different perspective because of stories you had heard about your dad's service? If so, how did those stories shape your expectations and decisions? 
The first day in my dad's village his community leaders introduced him and then said something along the lines of, "and now Mr. Neft will sing us a song." I remember asking him if he sang and he replied, "absolutely." He said his community loved it, and made them much warmer and trusting of him. During my first few weeks in my community I was asked to dance, alone, in front of about 200 people during an Independence Day celebration. I was so embarrassed and didn't want to, then I remembered my dad's story and the positive outcome of making a fool of yourself and having it break down barriers with the community (who may feel shy with you). So I did it, and people still talked about "that one time you danced" my entire service. 
Q: Did your dad visit you while you were in Zambia? Did he provide any insight as to how things had changed since he was a Volunteer? 
I was incredibly fortunate, and my dad (and mom) were able to come visit me in Zambia twice. Both times they came to my village and met my host family, friends, and counterparts. Though we traveled and saw some amazing places like Zanzibar and Victoria Falls, the most amazing part of both trips was spending time with my two families, Zambian and American. My dad was actually quite busy. Both times he spoke to students in different grades at the schools, introducing himself and answering cultural questions he also helped my friend with her "senior project" about HIV/AIDS by doing an interview with her and a few classmates. He even fixed a leaking faucet (that was creating a huge puddle that would have bred mosquitoes) but most importantly, he killed the duck we ate for dinner. 
Q: How do you feel about your dad's participation in the Global Health Service Partnership program? 
I am filled with so much pride. I'm also a little jealous! I know my dad has wanted to do health work in Africa for many years. Seeing him become involved in this program just 1 month after his retirement I think speaks to the type of human being he is. He inspires me in so many ways, I look up to him professionally and personally, and his participation in the GHSP program only makes me admire him more. We have always been close, and both being RPCVs has strengthened our bond. I can't wait to swap stories, both good and bad, about being PCVs in southern Africa.