This library will open doors for the community
My school has 550 pupils, but no library. 
When I arrived, they had a storage room filled with old book donations from years ago — the vast majority inappropriate for grade level, topically irrelevant or bug-eaten. The head teacher, along with the teachers, asked me to help form a library.

As a test, we brought the few good books we did have into a "literacy room" open just before school, during break time and lunch time, and a little after school. 
The response from the children was immediate and overwhelmingly positive. Their hunger for books was palpable, so I made a plan with my counterpart and the teachers to build a true library. We had several meetings with interested teachers and staff, determining what the library should look like, where it should be and what kinds of books we needed the most. I shared our needs on social media and with friends and family, communicating the specific kinds of books we needed based on teacher input and asking for donations. 
I worked with teachers to help clean out the space and we donated many books to the local secondary school. I also worked with teachers to begin fundraising for furniture in the library and for transporting books from Georgetown (the capital of Guyana) to our village.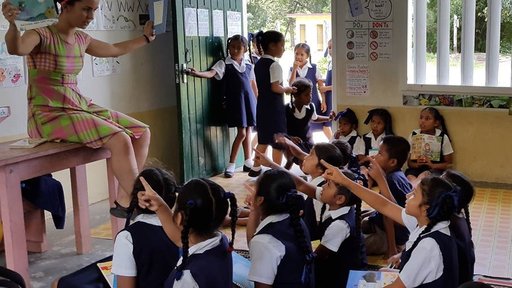 The teachers took matters into their own hands when I was traveling on Peace Corps business — when I returned, the space had been cleaned by parents, shelves had magically appeared and they had planned a bingo just to raise money for the library. They told everyone, hung signs and our turnout was amazing, raising over $25,000 GYD. They also held other fundraisers, and parents began giving us money for the cause. The head teacher was also able to source a solar unit to light the room. 
Friends, family and strangers donated more than 3,500 books and raised $2,000 USD to ship them and to purchase additional books. After our village raised enough money to get the books from Georgetown, they finally made the journey to the village — by truck, by boat and, finally, to the school in our Toshao's (village leader's) pickup truck.
The look on everyone's faces when we unloaded the boxes and boxes of books into the new space was truly unforgettable. They had transformed a space that was dirty, unusable and not helping the school in any way into one that will become a center of learning and exploration, and much of it was organized by teachers, staff and parents. 
We are still a long way from finishing and opening the library, but I have already seen how the community has banded together behind a project that they so deeply believe in, and it has inspired me. This library will open so many doors for the community (it will be open to everyone, not just pupils and teachers), and I cannot wait to continue working with the community to bring it to fruition.