Letting go of fear and doubt as a Peace Corps mom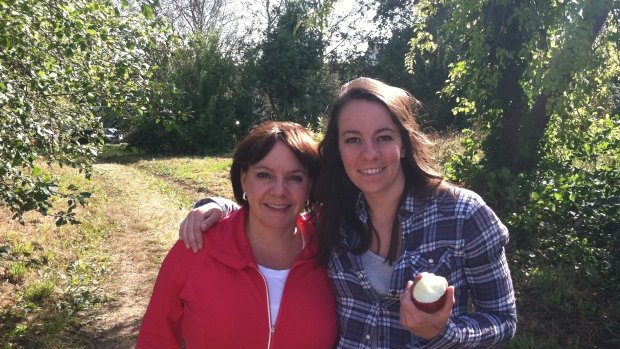 May 9, 2014
My journey as a Peace Corps mom started three-and-a-half years ago in the fall of 2010. 
My daughter Sarah was home for fall break during her senior year of college and she mentioned that she had started looking into the Peace Corps for her post-graduation plans. My reaction? Fear, uncertainty and doubt. I was emotionally intelligent enough to realize that this was an incorrect response and decided to wait it out and see if it turned into anything.
By Thanksgiving, Sarah was keener on the idea than ever. Even after she had submitted her application, my husband and I thought this was only one of several possible options for post-graduation. We encouraged her to explore this and other post-graduate options with enthusiasm. In June, she was approved and assigned to teach English in Ukraine. Now it was real.
At this point, we took in all the numbers and statistics. Three months of training and culture integration in the country where she would serve. Twenty-four months of service. Ten days of paid time off per year. One lump sum payment to help readjust back into America upon the conclusion of her successful service. We also heard that 85 percent of Peace Corps Volunteers (PCVs) meet the person they wind up marrying while serving. That little factoid stayed in my mind longer than most.
On Sarah's day of departure, my husband had tears in his eyes, and I was sobbing as we watched her walk into the great unknown. It was the hardest goodbye I ever experienced, even though I was so happy for her for having such courage. We knew her experience would change her, and we hoped and prayed that her sweet, optimistic attitude toward life would not be crushed.
Sarah was assigned to a small village in western Ukraine in the beautiful Carpathian mountain region near the Romanian and Hungarian borders. It's a beautiful area with rolling hills, streams, lakes and farms, and its spring water spas and recreation areas are actually a tourist destination for many Ukrainians. Sarah was quite pleased with her placement.
But around this time, we realized just how independent and lonely the PCV experience can be. Sarah was happy with her host family but found it hard to travel to the towns of nearby PCVs. It was difficult to communicate with Sarah, as any mail had to be sent to the Kiev Peace Corps office and it took forever to arrive. She had gotten a cell phone and we could call her, but we were not able to reliably Skype because of her village's shaky internet connection.
In late January I wondered if she would make it. Up until that time I never had a doubt that she'd stick it out for the whole 27 months, but on several occasions in those early months I really wondered how she would hold up. Then one day we were talking to Sarah and she mentioned a man that she had met, Ivan.
I love the story: She was walking in the village when a man in his twenties spotted her, approached her and asked her in English, "Are you the English teacher from America?" Sarah answered yes, surprised to have someone speak to her in English. Ivan had learned in the small village that an American teacher was coming in the winter. He had lived in the U.S. for a year, spoke excellent English and was eager to meet and interact with an American.
He asked her very politely if they could get together and he could practice his English. She was reluctant – her PCV contacts advised caution with dating in the village. But she did think he had beautiful eyes and a gentle way and agreed to meet him for coffee at a cafe in the village.
As Sarah continued to meet him for coffee and talked to us about him, I began to wonder about the true nature of the relationship. Again, fear, uncertainty and doubt filled my head.  We were very glad that Sarah was proceeding very slowly but she kept insisting that the relationship was purely platonic, even after several weeks of coffee and pizza.
In January I started praying fervently for God to help Sarah's loneliness. That prayer was answered but not in the way I expected – be careful what you wish for. No longer was I hearing about how lonely Sarah was – all I heard about was how wonderful Ivan was! In March of 2011, Ivan officially transferred from "friend" to "boyfriend."
Now Sarah wasn't lonely, but her teaching work remained very difficult. Sarah was learning the language but was not confident in it and struggled to control the classroom.
But she put in great effort every day to prepare lessons and teach the students. Sarah led English club, attended week-long English camps throughout her region and tutored one-on-one. She also focused her time and energy on writing grants to get resources for the classroom.
She also discovered how very different school life is in Ukraine compared to the U.S. During fall break, Sarah left for the weekend to visit Ivan only to find out that classes had been called back in session: The school decided one day before the break to not take off but to continue having classes and cancel classes later in the winter to save on fuel costs. It was unpredictable and at times stressful.
In the fall of 2013, Sarah's focus began to shift toward coming home. Her two-year assignment was ending that winter, and as school was starting she had a lot to work on. She was still teaching in the classroom, but in addition to that, she was finishing up her Peace Corps project and planning for her career when she returned home. Most excitingly, she and Ivan also had a wedding to plan.
She wrapped up her Peace Corps project in September. Sarah helped to create an English Learning Resource room in her local school and raised $1,500 for a laptop, projector and some English books. She got a lot of satisfaction from setting that up, as it was a way for her to be assured that even after she left, the school would have necessary resources.
Next on her list of things to do to prepare to come home was to work out all the details for her fiancé to return with her. After filling out visa paperwork and waiting anxiously, Ivan was approved to come to the United States.
Things were progressing nicely for her return home but an eruption of political upheaval in Ukraine had me worried. As protests took over Kiev in December, my husband and I watched the news and tried not to be concerned, and every morning I looked on my iPad for any news updates.
When Sarah and Ivan arrived in Kiev, the protests were still in full force. But Peace Corps arranged for special transportation to the airport and before I knew it, they were on their way home.
When they both walked through the airport terminal, as you can imagine, I hugged them both for a long time! The K-1 visa requires that a marriage take place within 90 days of the fiancé arriving in the U.S., so we had a small wedding ceremony in January. The lead pastor of our church agreed to a small, precious service in the chapel.
I think of the day I sobbed saying goodbye to my "baby girl," and I can't help but thank God for what a wonderful journey our life has been with Sarah's Peace Corps service. Yes, she was challenged and yes, we were afraid at times, but she is such a wonderful young lady, still very hopeful, loving and optimistic, but more poised, more confident, full of excellent skills and experience. For her, it really was "the toughest job she ever loved!"