Language of the heart: Peace Corps staff share stories at the Kennedy Center
Washington D.C.'s Kennedy Center for The Performing Arts is always an interesting destination. After all, there is the midcentury modern architecture and design aesthetic, sweeping views of the Potomac River (nearly always dotted with kayakers), and the uninhibited vista of the city – Georgetown on one side and the entirety of downtown Washington on the other side. Inside, an iconic, 8-foot bronze bust of John F. Kennedy by artist Robert Berks commands the wide, main hall. At each end of the hall is a Millennium Stage and, in the middle, is the entrance to the grand Opera House.
This evening, September 24, 2022, late afternoon sun streams through the floor-to-ceiling windows as Kennedy Center ushers, all dressed in their bright red uniform coats, busy themselves lining up chairs at the north end Millennium Stage. Clusters of finely dressed visitors have begun arriving for the night's "Hamilton" performance in the Opera House, and a handful of Peace Corps recruiters man a table, heavy with Peace Corps swag. They are ready for the crowd that has already begun to arrive for the Peace Corps' Office of the Third Goal, "Global Connections: Stories from the Peace Corps." (View the event webpage and watch the event here.)
John F Kennedy, of course, was the president who launched the Peace Corps in 1961. So, it's fitting that the performing arts center that bears his name would host a gathering of Peace Corps storytellers. One can imagine that, although his bust is not situated to see the storytellers who will take the stage, he might hear them. What would he think if he could? The storytellers presenting tonight are all Peace Corps staff members whose careers and lives have been deeply, and positively, impacted by their relationship with his agency.
Just before 6:00 p.m., when the event begins, all the chairs set facing the stage are filled, and dozens of people stand at the back. Dotted through the audience are attendees wearing traditional embroidered Ukrainian shirts or holding Ukrainian flags. They have come to hear the story told by Ella Sokoluk, who has travelled for three days from Kyiv, where she worked for Peace Corps Ukraine before the Russian invasion, and where she still lives. But we're getting ahead of ourselves. The chairs are packed, there's a hum by the Peace Corps recruiter's table—the swag is changing hands and recruiters are deep in conversation.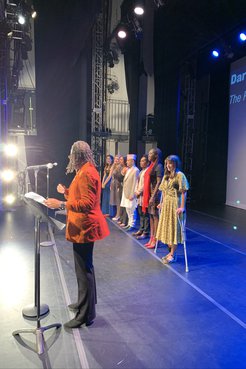 Darlene Grant takes the stage first. As the senior advisor in the agency's director's office, she's hosting the night's event. Grant, a returned Peace Corps Volunteer herself, ends her opening remarks by saying what all returned Peace Corps Volunteers and all staff members know to be true, "It is the Peace Corps' approach, grounded in mutual respect and collaboration, that has been a catalyst for some of the best storytelling in the world—stories about transformational connections."
Brianna Maltez, who served in Mozambique, is the first storyteller. Her story, "Won't You Be My Neighbor?" centers on a friendship she forged with Vivi, a young woman who lived in the same shared compound and who became an incredibly important figure to Brianna's life in Mozambique. When Vivi becomes pregnant with a girl and not only decides to name her daughter "Brianna," but also to ask Brianna to be the baby's godmother, Maltez finds herself engaging in Mozambiquan traditions she never could have expected. The story Maltez tells ends with her describing how she looked at Vivi, and sees, not simply a friend, but a "person who had singlehandedly filled me up with so much love and kindness and friendship that this Mozambican community truly became home. Vivi, who had bestowed on me one of the biggest honors I'd had in my life and, through that, made my Peace Corps experience more than I could have ever even imagined." Later, Maltez says she hopes the audience sees "love between friends" in her story, and maybe also see that friendship like that can be found in unexpected places.
When Ella Sokoliuk crossed the stage to begin her story, the audience members with the Ukrainian flag waved them wildly. For a moment, her voice was drowned out, but she repeated the first sentence in a soft, measured voice "I have traveled here from Ukraine, but my story is not about the war. My story is about friendship, and love, and connection." It's hard not to cry as she speaks of a Peace Corps Response Volunteer who was evacuated due to COVID-19, but who kept in touch, first through Virtual Service, and then, when the war broke out, via a heart emoji exchanged every day, without fail. "My heart sent meant that I was alive. His heart sent back meant that he was there, waiting for me to send the next one. A connection. A light in darkness."
Anisa Rahaman was never a Peace Corps Volunteer, but she's worked on the Peace Corps staff for years and has availed herself of several opportunities to work with immigrants through her Peace Corps staff position. For her, identity played a role in the story she told. "I wanted tell a story that allowed me to show up as my full self: to present my Islamic culture, my femininity, my Blackness…all my identities." She adds, "I wanted to share a story that touched on themes of peace, hope, sorrow, connection, and empowerment. I wanted something real. I wanted something showing beauty within tragedy—and positive and empowering representation in the face of overwhelming grief and tragedy."
She continues by pointing out that, "Everyone won't know what it feels like to be a refugee, or to try to help during a crisis—but everyone knows what it feels like to be hopeful in the darkest times, to offer help not knowing if it actually is helping anyone, to be unable to communicate or express yourself when you have so much you want to say." Her story, "From Mourning to Morning," centered on a connection she made with a young girl from Afghanistan who she met while working at a refugee camp in Virginia. Although they didn't share a language, the time they spent together impacted each deeply.
Dinesh Karki travelled from his home in Nepal when he was selected to be one of the speakers at the event. For him, the most important thing his story illustrated was that "a change in perspective can be life changing." He added that the Peace Corps gives that opportunity to Volunteers, but also to staff, like him. His moment of perspective-changing clarity came during a casual lunch-time conversation with a Volunteer in Nepal about Karki's arranged marriage. Although the Volunteer was fascinated by the fact that Karki married his wife having only spent one hour talking with her, the epiphany came later in the conversation. The Volunteer asked Karki what his wife did, and Karki answered, "nothing, she's a housewife." The Volunteer prodded, asking questions about who prepared the family meals, took care of the kids, and who maintained the family home. Karki's answer to all these questions was, "my wife." When the Volunteer pointed out that Karki had initially said his wife didn't "do anything," and then listed a long string of jobs she, in fact, did, a switch flipped in Karki's mind. He went home that evening, he told the rapt audience in the Kennedy Center Hall, and immediately thanked his wife and told her, "My success has only been possible because of your support."
Kelsey McMahon began her story with words of advice for anyone considering Peace Corps service. "One, always travel with a good book and roll of toilet paper. Two, you can never own too many buckets; there's a size for every purpose. Finally, don't underestimate the power of children." In her story, McMahon used the universal language of soccer to forge connection to her new community, and realized she'd succeeded when a tiny child saved her from being arrested. "I hope audiences leave feeling inspired to seek out a new community no matter where/who that may be. I imagine they will be equally as surprised as I was at just how quickly and fully, they are accepted," McMahon later says.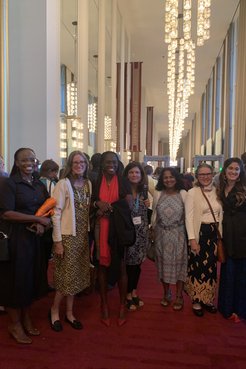 Herizo Ramanantsialonina, who works for Peace Corps in Madagascar, says he wanted audiences to take from his story the lesson that, "the way leading to a powerful connection is not often comfortable, but it becomes more and more interesting when obstacles and difficulties arise." In his story, a Trainee tells him how much his new host family loves him—with food and hugs as evidence. Ramanantsialonina agrees, pointing out that these are the Malagasy ways to show a guest is honored. Later, when the Trainee tells Ramanantsialonina that he feels he might have lost the respect of his host family because the food is not special anymore and they greet him more casually, Ramanantsialonina assure him that this, also, is the Malagasy way. "You are their true family now, no longer an honored guest," he told the Trainee. "And, in Madagascar, we prefer to lose money over losing kinship so, you see, you are dearer to your host family now that you are family, not simply a guest."
The last storyteller is Aisha Harris-Parker, who works for Peace Corps Jamaica. Her story, "TALAWA: We are small, but we are strong," centers on how a small group of Peace Corps Jamaica Volunteers connected deeply with a Jamaican audience at a conference by using their nearly fluent Jamaican patois. Harris Parker is clear about the role of stories in her life and how she wanted to use this one. "Stories connect you to the experiences of others and build cultural awareness. They have the power to move people to action and inspire them to change the world. Also, stories do not have to be long to make an impact." It is fitting that Harris-Parker is the last storyteller of the evening. The light slanting though the tall Kennedy Center windows is dimmer now, it's starting to get dark. The crowds gathering for Hamilton are enlarging, and the red-coated ushers are busy urging them into the Opera House. "The Peace Corps understands the power of the heart language," Harris-Parker says as she finishes her story. The audience, of course, erupts into applause. And when Darlene Grant takes the stage one more time to thank the storytellers, she says what all of us in the Peace Corps community know to be true, "We can stay up all night telling and listening to stories like the ones shared here, couldn't we?"
The Peace Corps is a human-to-human endeavor, an agency with a mission to promote global peace and friendship, and what are human interactions, after all, but stories? They help us connect, see past differences, and merge us into a common humanity. We love to hear and publish Volunteer stories, but this event, uniquely, centered on staff stories. What the audience left knowing—and what, if the bust of Kennedy could hear, it would have understood, too—is that Peace Corps staff are as often and as deeply affected by the connections nurtured by the agency as Volunteers are. And their stories are just as worth hearing. Watch this space for each of the stories to be published in the next few weeks.
---