Karibuni Tanzania: How I learned to play bao
Bao is a mancala game played in East Africa, and I made a set as my first major woodworking project upon my return from Tanzania.
I am a returned Peace Corps Volunteer who lived and worked there from July 2014 to August 2016. I made this board game as a kind of memorabilia for the country and people I have missed very much since bidding them farewell last year.
Bao (Swahili for "board") is among the most complex mancala games in terms of gameplay, and masters of the game are held in high regard much in the same way that chess masters are esteemed in other parts of the world. Elders are often seen playing the game while discussing politics and other important matters at the end of the day.
I recall vividly an image that recurred throughout my experiences in Tanzania: sundown at a bustling bus stand and tired old men ignoring noise and distraction so they can instead furrow their brows at seeds scattered in divots in wood, bothering to speak only if an onlooker dares challenge their strategy or if election news comes on a nearby shop's television.
The game is not played only by the old and wise, however. In fact, the first Tanzanian opponent I played was a pupil of mine named Yusufu. He would commonly visit me after school so we could prepare English sentences to use during Friday afternoon debates; he was one of the sharper and more studious kids, but surely the class clown as well. So one day while writing, I decided to distract him since he had been working so hard on that week's debate topic. I challenged him to a game of bao on a smaller board I had picked up as a gift for my father. Now, I taught this young man physics for two years, but the grin that filled his face with one little victory in bao showed that it was enough for him to realize there was something he knew how to do that I didn't. It's a point of pride for all — young and old — to win a game of bao.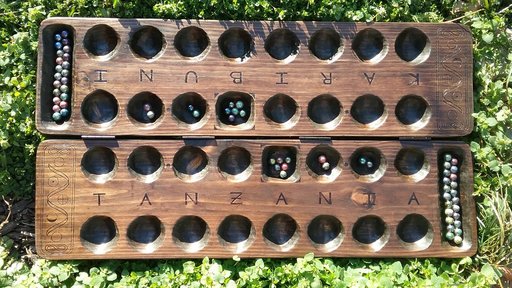 Though I learned to play bao late in my term of service, I was fascinated with it early on and instances of sighting it are interwoven with many of my fond memories of Tanzania. At one point, I met a fellow Volunteer and master's student conducting research for her thesis on the rare blue monkey, which happened to be rumored to inhabit the mountains not far from my village. As is the Tanzanian way, I offered her a bed in my home and even to escort her on her research excursions since I was more familiar with the area. I remember the first trip we took up to a remote mountain village that most people from my own larger village had never been to, let alone foreigner scientists.
We arrived at the village center and quickly attracted a crowd. One of my greatest pleasures of living in Tanzania was the overwhelming appreciation the country folk had for those who learned to speak Swahili well and our introductory speech about our bizarre quest for the blue monkey is probably still talked about today. Without hesitation, we had a couple young men volunteering to guide us on a monkey sighting hike. After a long and tiresome day with little success, we took a rest in a shaded area where two youths had sat down for a game of bao. I remember becoming entranced by the speed with which native players of the game throw their counters — usually seeds — quickly yet precisely flicking their wrists to spread them across the board. I even collected a few videos of them playing just because I knew I would like to remember it some day.
When I noticed that the Swahili phrase "Karibuni Tanzania" ("All are welcome in Tanzania") would fit perfectly between four rows of eight wells each, I knew it would become a prominent feature of the project. Those words emblazoned in the midst of the playing area symbolize my deep gratitude to the Tanzanian people for their sincere welcoming nature. Rarely a day of service passed when I did not hear some variant of the Swahili for "welcome." Now, some months later, I am left with this nice thing, a monument to the time I spent in Tanzania, but there is something missing that a mere material reminder cannot replace. I love the game partly because of its analogy to the unpredictability of the future despite our most extensive planning and calculations. 
However my seeds come to be sown across the board in life, I trust that I will some day return to Tanzania. When I do, I hope to find the time to play a round of bao and tell my story of how I learned the game.