Investing in girls: it just makes sense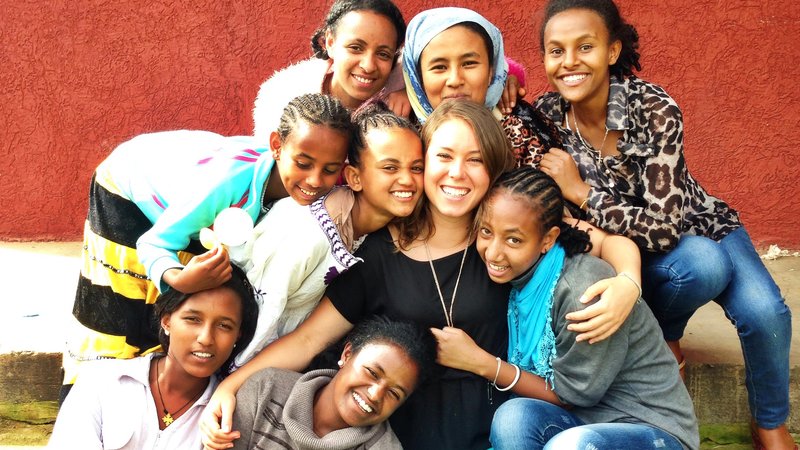 Oct. 5, 2015
"This is the moment when the world sees that I am held back by every problem, and I am key to all solutions." – The Girl Declaration
As the world realizes the potential that adolescent girls hold in creating social and economic change, it's becoming more and more apparent to me that my gender work in Ethiopia has put me on the right career path. I knew I loved what I was doing, and I knew that it was important, but I'm now realizing that it is also essential for this current moment in history. We can see the push for worldwide gender equality when we look at the creation of initiatives such as Let Girls Learn, the UN Sustainable Development Goals that put gender at the forefront, and the millions of people being inspired by young leaders such as Malala Yousafzai.
A recent Peace Corps partnership has got me thinking about the future for gender equality and the role that I am currently playing in it. Let Girls Learn is an exciting initiative created by First Lady Michelle Obama that will partner USAID, and Peace Corps to empower young girls around the world. "The initiative will increase gender awareness by delivering targeted trainings which will aim to reach thousands of Volunteers and tens of thousands of community leaders over the next six years to be champions of girls' education." 
I was really excited when I heard that Ethiopia was selected as the 14th country to be accepted into this program. For me, the most important part of this movement is the focus on community led solutions, and of course the fact that it's all about adolescent girls.
Over the course of my time in Peace Corps, my work adapted based on what I felt was most relevant for my community, and also what was most interesting to me. As a result, I found myself working mainly with adolescent girls on empowerment and leadership. I was motivated by programs such as Peace Corps' Camp GLOW, organizations such as Girl Effect Ethiopia and, above all, I was inspired by the Ethiopian girls in my community. When a girl is educated she creates a brighter future; by gaining the skills to provide for her family, she increases the likelihood of community development. Women are family driven, so when they become educated, they provide for their household. If we have healthier and more educated families then we have stronger communities. Investing in girls is a cycle that will help to reduce poverty.
It is obvious to me that adolescent girls are the most powerful force for change. With up to 24 percent of the Ethiopian population being girls aged 10 to 19, it is crucial that we put them at the front of everything we do. Generally development programs focus on women, and youth programs target boys, so as a result girls are left behind. That's a huge amount of the population that's not contributing to development. Going forward we need to have more programs that better address adolescent girls' needs. Programs such as Girl Effect and Let Girls Learn aim to do just this, and I am lucky enough to have the opportunity to contribute to both of these programs.
Ethiopia is ranked among the worst in the world for gender inequality, coming in 121 out of 134 countries worldwide (The Global Gender Gap Report, 2010). Around 7 million girls live on less than $2 USD a day and half of those girls are married by the age of 15. 
Besides the fact that these economical and societal barriers make it very difficult for girls to contribute to development, there are also many traditional and cultural barriers that they face. Household norms are the determining factor on gender outcomes, and since girls are usually put last in the family it can be detrimental to their livelihood. Girls are required to do a heavy amount of household chores and most spend so much time at home they become completely isolated. One in 5 girls say that they don't have a single friend that they can trust. While their brothers get to walk freely in the street and be with friends, girls have to stay in the house and work. The average Ethiopian girl aged 12 to 16 does 28 hours of housework per week. This is five times the amount that a boy would do. It is no wonder that the drop out rate is much higher for girls, since they end up being late for school, not having enough time to study, and feeling disconnected from their peers.
I've seen immense potential in each and every girl I've worked with in my time here in Ethiopia. They all have dreams to grow up and become doctors and engineers. As for the specific group of girls I worked most closely with, I saw how evident it is that girls want to provide for their community. These girls were given opportunities by Peace Corps Volunteers to improve their education and instead of taking that knowledge and using it to their advantage, they willingly become peer mentors and taught the girls in their schools what they had learned. They created clubs and became junior counselors in gender programs. They believed that one of the most important things they were doing was creating friendships. 
As I said before, most girls feel alone and it can be extremely empowering to have a friend and a role model. Peer mentorship is something I strongly believe in and I hope to have the opportunity to advocate for this type of programming in the future.