'Into the Light': Destigmatizing HIV and AIDS one step at a time
Paul O'Brien went to Botswana with the idea that, besides his service with the Peace Corps, he'd find stories. He's a storyteller, after all.
In his own words, Paul O'Brien is not someone who forces things to happen, but he's also not someone who lets something like a few lost toenails or a global pandemic get in the way of pursuing an excellent story.
With over 10 years of media production experience under his belt, O'Brien joined the Peace Corps with his wife in 2018. They were posted to Botswana. His assignment there was in civil society capacity building which, in Peace Corps Botswana, meant working with nongovernmental organizations (NGO) supporting and advocating for people living with HIV and AIDS.
"I worked with NGOs supporting HIV awareness, testing, antiretroviral treatment adherence, and destigmatization. I also collaborated and liaised with the government, other NGOs, and like-minded groups."
O'Brien's assignment was not atypical for a Peace Corps Volunteer, but he went to Botswana with the idea that, besides his work with the Peace Corps, he'd find stories. He's a storyteller, after all.
"Coming to Botswana, it was a goal of mine to find a story and tell it. I wasn't too concerned about what medium I'd use — podcast, film, stills. … I didn't know what it would look like, but it's one of the reasons I brought my gear. I brought everything required to tell a story: cameras, action cameras, lenses, mics, and audio recording equipment."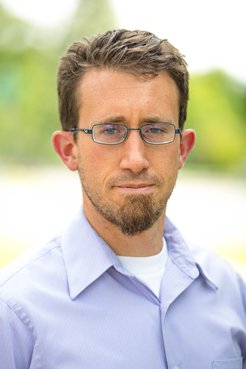 Appropriately for a filmmaker, the story he found began on the silver screen. Early in his Peace Corps service, O'Brien happened to see a documentary on AIDS activists. One of the activists profiled was Stanley Monageng, a 72-year-old AIDS activist in Botswana. Coincidentally, Monageng lived in Molepolole, O'Brien's Peace Corps site. There, Monageng worked as director of the Thusang Bana Center (TBC), a local NGO formed in 2017 with a goal of targeting HIV/AIDS education to young people, orphans, and vulnerable children. As director, Monageng focuses on empowering young people living with HIV/AIDS and encouraging them to be key players in national prevention, care, and support programs.
But Monageng is more than simply an activist and NGO director. He, like O'Brien, is a man on a mission. So dedicated to raising awareness of HIV/AIDS in his community, he began a practice of walking to the towns and villages in the surrounding areas to bring his message. In a lucky break, it turned out that O'Brien's Peace Corps colleague and sitemate, Isaac Devoid, knew Monageng. O'Brien immediately wanted to meet Monageng and, once introductions were made, the story's seed was planted. Quickly, the plan was hatched — the film, "Ke mo Leseding" ("Into the Light") would center on Monageng's longest walk — 370 kilometers over 11 days. Preparations began, and the film's journey began.
The journey within the journey
In a literal definition, a journey is "the act of traveling from one place to another." Clearly, Monageng journeys when he walks to raise awareness. That appealed to O'Brien in a personal way.
"A major means of raising awareness is walking. And Stanley uses walking as that literal and figurative 'vehicle' to reach people. He walks from town to town, village to village … he speaks at the kgotlas, (community town halls) raising awareness," O'Brien said. "For me, personally, walking, running, just physical movement — it's part of who I am. I'm an avid marathoner and just, in general, I value getting places on my two feet. That was a shared interest I could really get behind—the idea of walking dove-tailed nicely with who I am. And walking from point A to point B is a walking journey. The idea of 'journey,' is a throughline of the whole project."
The idea that the story waiting to be told already had a beginning, a middle, and an ending was appealing. After all, good journeys and good stories have those elements in common. But they also have other things in common: characters, setting, obstacles, drama, rising action, and some surprises. O'Brien had been in the Peace Corps for about five months when the idea for the film was set in motion. As every Peace Corps Volunteer knows, projects go better when you have buy-in. Early on, O'Brien and Devoid, who quickly became the film's ad-hoc producer, rallied for in-country support. Peace Corps Botswana provided it.
"That support would not have come without trust — trust built by showing up and being part of the organization(s), you work with," O'Brien said. He began getting involved with Monageng's TBC center, where Devoid had already solidified relationships and earned confidence. O'Brien noted that is something all Peace Corps Volunteers learn: "Continuity of service from one Volunteer to another can't be underestimated."
Many Peace Corps Volunteers also know that projects — and project success — don't happen in a vacuum. O'Brien is expansive in his graciousness about the people who helped prepare for what would be Monageng's longest walk, and for the filming that would happen with it. Both took a lot of planning, cooperation, and help.
Finally, in May of 2019, after almost four months of preparation, and just eight months into O'Brien's service, the walk and the filming began. Starting at the kgotla in Molepolole, Monageng and O'Brien began walking. They were supported by the TBC Center's educators, who drove the route and prepared for the events ahead of time. Sometimes Monageng and O'Brien were joined on the walk by other AIDS activists, Peace Corps Volunteers, or other supporters. They walked for 12 days, stopping at the kgotlas in the towns they passed through, eating and sleeping at the homes of local community members who showed never-ending generosity.
During stops, Monageng and the TBC sexual health educators led sex-ed talks and raised awareness of issues related to HIV and AIDS. Sometimes there were special events — including one with U.S. Ambassador Craig Cloud, who walked a couple of kilometers with Monageng. "For the finale, we had a highly visible awareness walk with a great turnout. That walk went through the capital city (Gaborone) from Game City – a major mall – all the way to the Three Dikgosi Park," O'Brien said.
The finale was supported by several NGOs, fellow Peace Corps Volunteers, and Peace Corps Botswana. In a film, these joyous, important moments of the journey might be shown as part of a montage. Maybe there'd be music swelling the background, too. But O'Brien assures us that there were moments of struggle along the walk, too.
"The walk tested our mettle. I lost toenails and ended up with a case of plantar fasciitis. We pushed ourselves," O'Brien said. "We pushed ourselves as far and hard as we could. And every day, in the lead, was Stanley Monageng." Each day, they walked the basic equivalent of a marathon — 26 miles.
On the longest day, O'Brien remembers that he needed a break. He elected to ride to the next stop, but Monageng soldiered on. "He was 72 at the time, walking — in one day — the distance of an ultramarathon. Alone." O'Brien is still in awe. "He just hoofed it, and every four hours or so, he would call me and say, 'I'm making it, I'm on the road, it's ahead of me.' Meanwhile, I'm recuperating, just dying, just surviving. He's unbelievable. … The energy Stanley has … that's why I was able to make "Ke mo Leseding," Stanley is the energy behind it all."
After the walk, life for O'Brien got back to normal. He let the footage sit, as he says, "to get some perspective," until October. For the filmmaker, this is when the real work began — editing, adding interviews, fleshing out the story and ensuring the message was on target and the film was compelling enough to entice audiences around the world. This process had been underway for about five months when the world began shutting down because of COVID-19.
"I woke up on Monday, March 16, to the news that the Peace Corps was evacuating us the following Friday," he said. "I was in the capital city for a scheduled training. I still had interviews to get for the film, though, so my last hours in country were spent on combis (public transportation vans) getting to hospitals and offices and acquiring those last necessary interviews before riding back to my village to pack up and leave. By Friday, we were back in the States."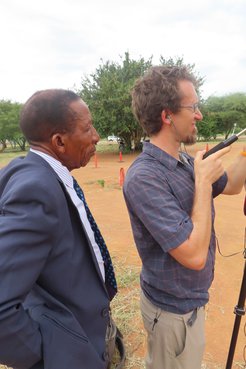 Here's another place where a montage would be effective if this were a film and not a story. You'd see Zoom video calls and coffee cups, COVID-19 news flashing across TV screens, film being edited, long-distance phone calls being made, a virtual showing at the Sotambe Film Festival in Zambia. You'd see backdrops of the Pacific Northwest, where O'Brien was; the East Coast of the United States, where Isaac Devoid was still producing; and the towns and cities and villages of Botswana, where Monageng, and the film's supporters and champions were making plans for its eventual premiere.
The film came together and will premiere on World Aids Day on December 1. It's the culmination of a massive group effort by TBC, the Peace Corps, and so many others. In a way, even the pandemic and the resulting evacuation played a role in the film's journey. The project required counterpart support and the evacuation made it necessary for O'Brien to let go — to depend on others. This, in turn, created sustainable capacity building.
"I always knew that I had a due date [to leave Peace Corps Botswana], and I wasn't going to just take the film with me," O'Brien said.
Adding to the sustainability aspect is the fact that the team behind "Ke mo Leseding" also developed an accompanying facilitator's guide and curriculum. The press release for the film's premiere points out that although the documentary's supplementary tools were created for use in HIV/AIDS education, the best practices and lessons learned are appropriate for all pandemic responses. In today's world, that seems like the best kind of sustainability — something sourced locally with global application, something as simple as a man spreading a message with his feet, yet customizable for all types of interventions.
When asked how he's feeling about the film now, O'Brien sums it up nicely.
"This whole story is just like the walk; one foot in front of the other, one step at a time. That's what we all did, and it's what we're doing now. And it's all been exhilarating, and I love it. [It's] not how I expected it to turn out, but what does, you know?"
That's a sentiment any Peace Corps Volunteer can endorse and embrace.