International Women's Day Mapathon: Making maps by and for women
Can you imagine a Google Map that doesn't show a drug store where you can buy family planning materials or feminine hygiene products?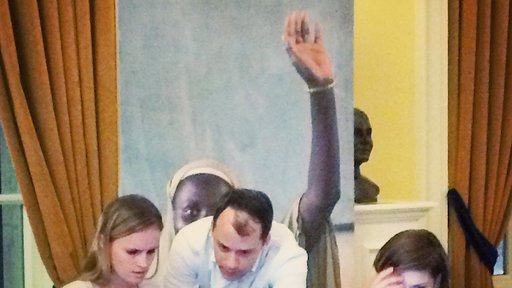 What if your GPS didn't show the local hair salons or kindergartens? In some maps, the elements that largely affect women are not recognized, while other venues such as strip clubs, bars and brothels are over-represented. Maps can be biased by the creator, leaving out critical parts of the community infrastructure. 
On March 8, 2016, the Red Cross and the Peace Corps partnered to host an International Women's Day mapathon to discuss and improve the representation and participation of women and girls in OpenStreetMap, working with the 2016 theme #PledgeforParity.
Before the mapping began, Alyssa Wright presented on the current status of women in technology, mapping and the open source community. She shocked the room with the statistic that only 3 percent of the OpenStreetMap contributors were women. As her slides showed, mapping should be a journey that leads to a representation of the community. If women aren't on the map, where are they in the community?
Katie McSheffrey from the Peace Corps Let Girls Learn program presented a different kind of mapping initiative that has Volunteers "plotting" girls in a community. The one-year-old Let Girls Learn initiative, specifically the Girl Roster, does this by asking simple questions to girls, such as her age, education status, marital status and who she lives with. By doing this, community leaders learn how many girls aren't going to school and why, building a resource that can create solutions to get all of those girls back in school. Additionally, it makes girls visible in the community when they are not represented on a map.
At this mapathon, we intended to make women visible on and off the map.
The task for the night was a malaria-prone region in Mozambique. The high percentage of women affected by the parasite highlights other critical areas of inequity such as lack of access, limited mobility, larger workload and attendance of family needs above their own. This specific location was chosen because the 2,293 buildings and 430 kilometers of roads edited over the night will soon be used by Peace Corps Volunteers and their counterparts to collect data on malaria prevention programs like bed net distribution and indoor residual spraying. Volunteers across the country will also be training women and girls in their community how to map, giving them access to education, technology and a voice that they will pass on. A never-ending cycle of mapping!
Though there were many edits made at this event, there is still more to do! Make mapping your #PledgeforParity by joining the mapping revolution. Visit OpenStreetMap to make an account and get started helping Peace Corps with this task, or sign up for email updates.