International Day of the Girl Child: What's good for girls?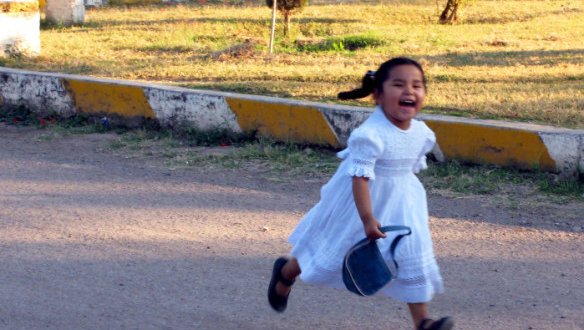 Oct. 10, 2014
Nearly 20 years ago in Romania, a group of Peace Corps Volunteers and their counterparts responded to what they together saw as a need in their communities. 
They wanted to teach girls leadership skills because there were few women in decision making positions, and they wanted to help the girls develop a sense of civic participation and responsibility because they were not being encouraged to do so. Finally, they also aimed to promote cultural awareness and understanding between ethnic Romanians and Hungarians. The Volunteers brought girls together from different parts of the country to get to know each other beyond the stereotypes they had learned. The camp, called Girls Leading Our World, or GLOW, has continued in its mission of girls' empowerment and is now implemented in every Peace Corps country in the world.
October 11 marks the third anniversary of International Day of the Girl Child. This year's theme is "girls' education," a topic that resonates with many Volunteers who have engaged girls in different activities to build their self-esteem and confidence, increase their self-awareness, and help them develop skills in goal-setting, assertiveness and life-planning. Volunteers have been finding ways to ensure girls' access to education long before the United Nations recognized this day.

Volunteers lead from the sidelines. They facilitate, encourage and motivate. They try to support the girls, boys, their parents and their teachers to discover community solutions to problems. They serve as role models and mentors; they talk about possibilities. They encourage their communities to think outside of the box and not get bogged down with the impossible — even if that means challenging gender norms.
For example, Lauren LaVare, an education Volunteer in Malawi, collaborated with the regional social welfare office, the women's network on gender and the police victim support unit to address why girls drop out of school, focusing on issues such as lack of tuition, resources and support from family and, too often, gender-based violence. The group provided training to teachers on how to respond to violence, counsel victims and create safety plans to ensure that girls stay in school. Teachers are able to report directly to the social welfare office. Students were able to "name" the abuse and connect with a counselor at the school. Girls in the program who experienced violence have stayed in school, and, although the Volunteer has left, the program still exists.
In Peru, Betty Zambrano, a youth development Volunteer, held an after school class during an academic year based on Peace Corps resources for her girl students who were frustrated confronting machismo. The Volunteer watched her girls gain confidence as they dug deeper into topics such as critical thinking, vocational orientation, gender equity and sexual health through discussion and writing.
In Georgia, and elsewhere, girls who attend Camp GLOW are often tapped to be camp counselors. The girls return to their communities and begin GLOW clubs for younger girls where they provide training and engage in projects all year long. These Club GLOW organizers are future leaders in their communities, and this program will continue after the Volunteers leave.
When Volunteers return home, they continue to make a difference in the lives of girls by promoting the Peace Corps' third goal: to help promote a better understanding of other peoples on the part of Americans. Nearly 100 middle- and high school-age Girl Scouts, along with 25 adult volunteers, attended a Blog It Home event on September 18, 2014, at Peace Corps headquarters in Washington, D.C. The Girl Scouts met and interacted with nine Volunteer bloggers representing Albania, Cameroon, China, Dominican Republic, Guinea, Senegal, Thailand and Uganda. The girls earned their Global Action Award while learning about the Peace Corps' efforts to empower girls and promote gender equity. Check out Paul D. Coverdell World Wise Schools for lesson plans on girls' education and gender.
Educating girls CAN make a difference. According to the United Nations, investing in girls' education and health will have a long-term positive economic impact on a nation. The risk of maternal death is 2.7 times higher among women with no education; when girls and women earn income, they are 90 percent more likely to reinvest it. Peace Corps Volunteers want to change the world and supporting girls' education, whether in a camp or a classroom, is one way to do that.