An inside look into the Peace Corps experience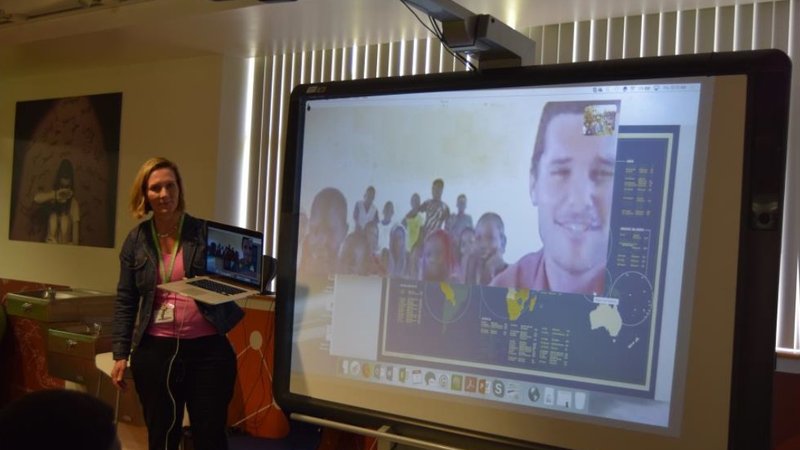 April 20, 2018
Middle school students at State College of Florida Collegiate School (SCFCS) recently got an inside look into the Peace Corps experience.  
Kristen L. Anderson, program director of special programs at State College of Florida, Manatee-Sarasota and a returned Peace Corps Volunteer (Niger, 1981-83) organized the presentation along with three of her colleagues who are also returned Volunteers, Matthew Keirle (Paraguay 1990-92), Brian Sidoti (Nicaragua 1997-99) and Anita Rogers (Afghanistan 1960s). 
Jesse Durst was also invited to speak before departing in April for her service in Vanuatu. Durst spoke about what she knew of her country of service and expectations for her Peace Corps experience.

The highlight of the program for the students was being able to talk to students in Senegal. Ian Thompson, a current Volunteer and Anderson's son, joined the presentation virtually with about 15 of his students from his Senegalese village of 5,000 people. During his service Thompson organized a pen pal exchange between his Senegalese students and students at SCFCS. The pen pals were able to meet each other face-to-face, with Thompson translating most of the conversation.
The students asked questions about homework, studies, sports and daily life in Senegal. Students in Senegal said they get up early to fetch water from a community well, build a fire and cook breakfast before heading to school at 7 a.m. Most of the Senegalese students spoke at least three languages. The nearly 70 SCFCS students were a little in awe of the African students who rose so early and had so many responsibilities.
To connect your learners with the Peace Corps experience, visit the Paul D. Coverdell World Wise Schools program.