Income-generating activities for women artisans in Peru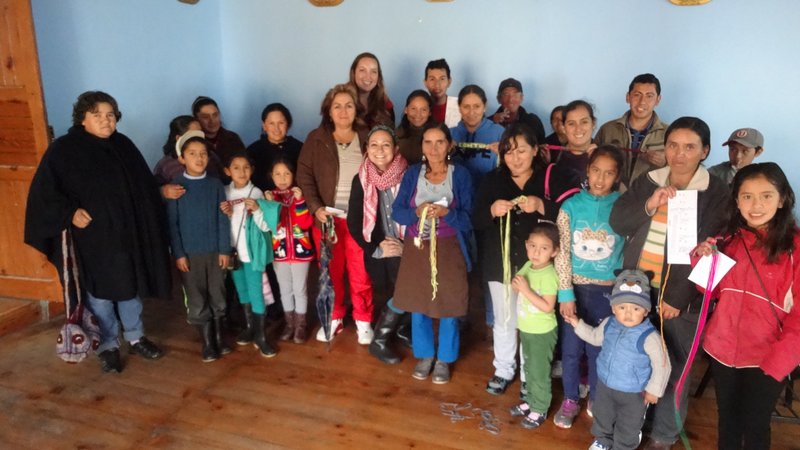 May 19, 2016
Meet Ruby. She is a mother, spouse and teacher.

Every day she walks an hour up and an hour down a dirt road through the Andes Mountains to get to the elementary school where she teaches 1st and 2nd grades.

On Wednesdays she walks especially fast down the mountain to get home in time to make lunch for her family and then come to our Women's Empowerment and Income Generating Activities meeting every week.

When asked what goals she has for her future, Ruby responded, "I am a Peruvian woman; happy and sincere. I achieved my goal to study Education and now teach elementary. I love to work with my hands and especially crochet! I want to have my own business and increase my family's income little by little." Ruby is not alone, and every Wednesday I have the privilege of meeting with 12 beautiful, talented women who also want to better their futures and be leaders in our community!
The women come with varying levels of education and skills. Most have only finished elementary school, while a few had the opportunity to attend community college. All are mothers, spouses, artisans and sisters. We create a safe space built on trust and learning each week, incorporating entrepreneurship and basic business practices with the important lessons of self-esteem and how important our role as women leaders in the community is to the development of gender equality in Peru.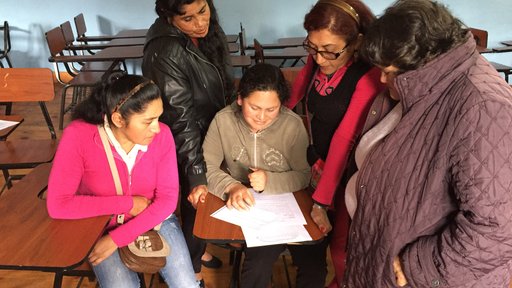 The first six weeks we explored themes like market research, supply and demand, basic finances, costs and customer service. We used pictures and dinamicas to bring the classroom to life and make sure all of the women understood the lessons.
Then, with the help of my counterparts, we were able to bring in specialists to work with the women in product development and diversification. The first specialist to come was another Volunteer, who also happens to be an expert bracelet maker. Since the women artisans in the group are professionals in working with string, yarn or nylon, it was the perfect fit! We started with simple arrow and line designs, but by the end of the two-day workshop the women were doing bracelets with the name of our town.
It was such a success that some of the women even brought their husbands to join in on the fun!
At the end of the workshop the group was challenged to add their own style to the designs and figure out a way to incorporate the new products into their current collections. Each week I'm amazed by the new patterns and creative designs that the ladies bring to class. Some have started incorporating beads and others have designed thicker cuffs using crochet techniques. The second specialist was none other than my mom! My mom is an expert scrapbooker and card maker, so it was a no-brainer that she would be put to work during my parents' recent trip to Peru. We held a card making workshop and all of the women showed up on time and eager to learn a new craft. Card giving is really popular in Peru for birthdays, Mother's Day, Christmas, weddings, etc., and we have all of the necessary supplies available. After doing their market studies, the women found that cards are a product that could feasibly be produced and sold in our town.
Basic stamp and ink pad care, color combinations, paper designs and practice doing different stamping techniques was first on the agenda, followed by a few pre-cut card kits to practice designs such as paper punching and tearing. The women had a blast, laughing and brainstorming how to personalize their cards. It was an eye-opening experience for the women to hear about my mom's life in the United States – how she was able to be a stay-at-home mother to five kids and still have several businesses on the side to earn extra income for our family. It was interesting for the women to see that all over the world their peers live in very similar situations, and that it is possible to take care of a household and still be an entrepreneur.
I am proud to report that some of the women have sold both the bracelets and the new greeting cards, but I am even prouder to report that I have seen a physical and emotional change in all 12 of the women who have given up their time each week to learn and explore options to better their lives. The true success is the woman who can't read but led a small group of her educated peers in a discussion about setting prices, or the woman who could not tie a knot during the first class and asked her peers for help outside of class, and is now selling cuffs. Leaders are born when women are given the tools to succeed.
Curious to learn more? Explore the World Wise Schools resources on this topic.
Explore