"If a girl furthers her education, she can become a leader..."
In southern Ghana, Peace Corps Volunteers, along with their counterparts and students, shared the importance of self-advocacy and leadership during their annual Girls Leading Our World (GLOW) Camp.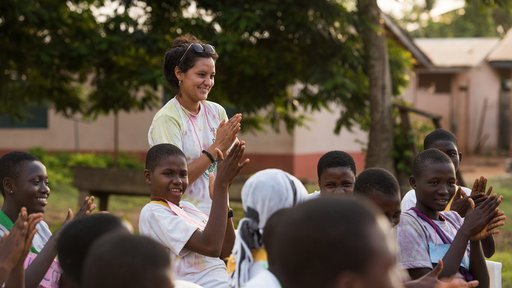 During the week-long camp, Volunteers used specialized curriculum and learning experiences to inspire and focus the energy of the adolescent girls in their communities, culminating in a planning session on future goals and careers. Girls often face barriers to achieving their dreams, but the supportive environment helped them talk about the difficulties — and their goals.
Stephanie P., Volunteer: "Life is busy for a girl in Ghana. When the girls wake up at dawn—literally at dawn when the roosters start crowing — they get straight to work on their chores. They sweep the compound and fetch the water for their family's baths. They start making breakfast, and maybe even hand-wash their clothes. Then they go to school. But before they know it, they are back home cooking dinner and taking care of their brothers and sisters. They're busy. They don't even get to do their homework most of the time until 9 or 10 at night. And then they're doing it by candlelight. The experience for a Ghanaian boy is typically very different: After school they are running around playing football or completing their home.
Mariana, age 14:
"If the boys wake up, they will not sweep. They think that it is only for the girls to sweep. And they will not do it. If a girl wakes up, she has to sweep, wash, and clean everything."
Lisa I., Volunteer: "In Ghana, when it comes to educating girls, the main issue is that they're not given as many opportunities as the boys. Sometimes that's a bit disappointing and hard to see, because they have so much to offer."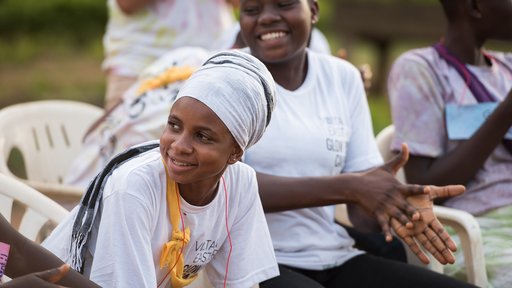 Courtney L., Volunteer: "It's a very disappointing bias. A lot of my students are already struggling, both the boys and the girls. A lot of them are currently selling things on the side, like vegetables, fruits, certain products in order to make money to go to senior high school.
But as far as in the classroom, you do see that sometimes there is a difference between the boys and the girls. At home, most of the time, the girls are the ones doing a majority of the chores — of the work. So the boys just get that extra advantage. They get to focus on studying when they get home or they get to focus on just relaxing. Sometimes when you have that extra time to just relax, it really helps you, and it allows you to continue and work harder."
Francisca, age 12: "For me, sometimes I cannot go to school because when I wake up in the morning then I have to sweep the compound. After sweeping, I wash some of the dishes and clean the room. So that makes me to go to school late. I have to do it because I am the only girl. I have to do it."
Courtney L., Volunteer: "I don't know if the community recognizes the impact of girls' education. When you look at it from a societal view, if only one gender is really shining, then the whole community or the whole society will not succeed. In order for a nation to thrive, you need both genders to be powerful, and you need both of them to be able to think independently, to work together in unity.
"That's why all of the great programs within Peace Corps that promote girls' empowerment and girls' education are so important. The GLOW Camp is a fantastic camp that brings girls together and gives them the self-esteem and self-motivation to say, 'Yes, I can do this. Yes, I will keep doing this.'"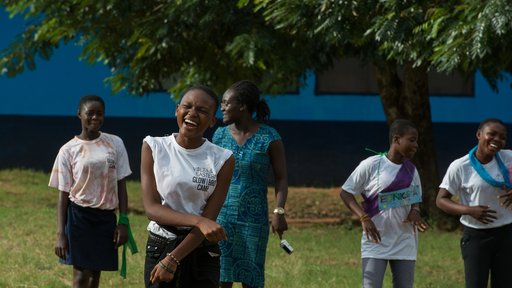 Stephanie P., Volunteer: "And along with the fellowship, they are receiving concrete skills. On the last day of camp we had a session on goal setting and thinking about the future. We brought in professionals and had a career panel. The guests encouraged the girls to think about what they might want to be one day and think more immediately about what lesson affected them the most and how they will share those lessons with other girls in the community."

Mariana, age 14: "Education is important because it can help us to be prosperous, so that we can become a developed country one day. I have learned a lot of things at the GLOW Camp, like how to prevent malaria and how to educate a girl-child, and how to be a leader. The GLOW Camp was here to educate girls, especially the girls, and to show how a girl can become a leader. If a girl furthers her education, she can become a leader in anything."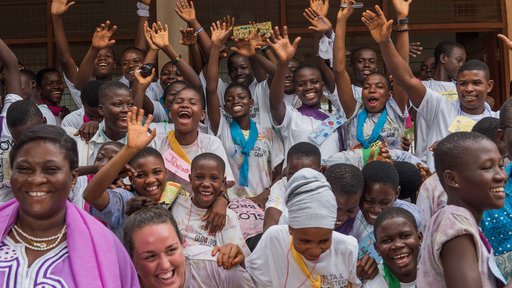 Atsima, age 15: "With my education, I want to be a bank manager. And I'm learning mathematics to be successful in the accounts lesson."
Francisca, age 12: "I want to become a midwife because, in some countries, when someone is pregnant they don't have the best things that help them to give birth."
Lisa I., Volunteer: "I think Camp GLOW works because you're in a setting with Peace Corps Volunteers and girls where you're teaching them these very important lessons, but it's in a much more casual environment. It's not rigid like being in school, where they're scared that they might say something wrong or they are going to get ridiculed.
"I feel Camp GLOW fits into the initiative of Let Girls Learn because it's giving the girls a platform to feel that, 'Hey, I am of value, just like a boy. I'm able to learn things just like a boy. I'm able to have opportunities, and to have different aspirations. I could be a doctor. I could be a lawyer. I can be happy with how I look. I'm just as smart and as capable as a boy.' And I feel Camp GLOW gives that to the girls. And by encouraging them, it will push them, hopefully, to continue their education from junior high school to senior high school and beyond."
Click here to see a poem written and presented by one of the GLOW Camp attendees, Dorcas. Inspired by her peers at the camp, she wanted the world to know the strength of Ghanaian girls.
Curious to learn more? Explore the World Wise Schools resources on this topic.
Explore