I was this Chinese family's first foreign visitor
One of my favorite students, Hannah, invited me to visit her family for the Chinese New Year. Her family lives in Lijin, a village in northwest China with 78 families, all of whom are farmers. I was also going to be the first foreigner anyone in her family had seen in real life.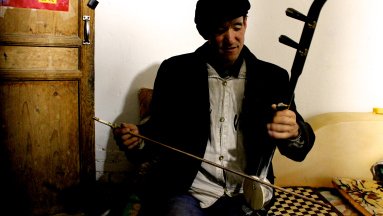 Hannah met me halfway and as we arrived together, her father opened the main gate with a smile across his face. Her mother, Ayi, came out from the kitchen, still wearing her apron. I shook their hands and introduced myself; they were smiling, silent. They motioned me inside to sit around the fire, and after several minutes of her elder brother and father staring at me in silence, we went to the other room where Ayi was making noodles. She served me two bowls and when I finished, Hannah moved me into the other room to watch TV with her elder brother. Hannah and I waited for her mother to come into the room before turning out the lights for bed.
Ayi woke up at six o'clock the next morning to cook breakfast while the rest of the family slept until it was ready. Hannah got out of bed shortly after Ayi to collect water from the well to wash her face and brush her teeth, and to provide Ayi with water for the day's cooking and washing. We all sat down at the table for breakfast while Ayi continued to make egg soup until everyone had finished. Ayi ate at the table alone because everyone had left the room as soon as their chopsticks hit the table.
Baba, Hannah's father, was smoking cigarettes and drinking tea in the other room while villagers came to sit and chat. Since I was there, the chat was mostly focused on me:
"How much did your shoes cost?"
"How many cars does your family own?"
"Do you think my village is poor?"
"How much money do you make?"
I resigned from the conversation when I had exhausted all of my Chinese skills.
Dinner was being served and I was told to sit. Again, Ayi stood at the stove serving us bowls of noodles, and she sat only once everyone was nearly finished. After Hannah and her mother cleaned the dishes, they joined the boys and me in the other room. Baba turned on the television to watch the Beijing opera, and he played the erhu (Chinese fiddle) in unison with the music. At 10 o'clock, the boys retreated to the other room; Ayi, Hannah and I prepared ourselves for bed. We slept against the dying fire, our bed heated by the warmth of burning donkey waste beneath, in a room perfectly silent except for the rote ticking of the clock.
It started all over again the following day.