"I succeed if everyone else does too"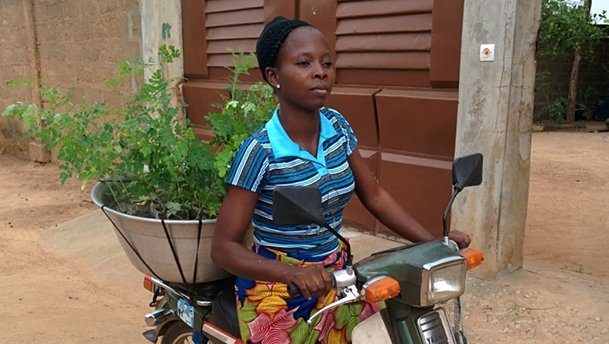 March 10, 2017
I met Pierette Djeme in 2013 when I was a Peace Corps Volunteer in a small town in central Benin. 
She was the last participant to sign up for a Feed the Future-funded training I was facilitating on moringa, a fast-growing and drought-resistant tropical tree with leaves that contain a high concentration of proteins, vitamins and minerals. At the time, neither Pierette nor I knew that, in three years, she would be a successful entrepreneur running one of the largest moringa powder businesses in Benin.
At 28 years old, Pierette's life has been defined by misfortune. I will never forget the first time she told me her story. "My mother died when I was 11, so I had to leave school to help around the house," she explained. "When I was 17, I got married, started having kids, and was entirely dependent on my husband. While pregnant with my fifth child, my husband suddenly died. His family tried to force me to marry one of his relatives, but when I refused, they disowned me. I was left alone to support my five children and had no family, money, or education to help. I had to go house to house asking for work washing clothes and sheets. When I woke up every day, I never knew if I would make enough money to feed my children." 
Pierette's path toward entrepreneurship started when she signed up for a Peace Corps moringa training supported by Feed the Future. While leading the training, I told the participants that moringa powder is highly sought after in Benin, but most powder on the market is expensive and often contaminated. After learning this, Pierette created a vision that would simultaneously make money for her family and empower people in her community. She wanted to make the highest quality, most affordable moringa powder in Benin.
Over the next two years, she started building a network of households in the community to provide her with moringa leaves. Going household to household, Pierette taught families how to plant moringa trees and prune them. In 2015, she planted over 3,000 moringa trees at 83 houses.
Although she could have planted her own trees to reduce costs, Pierette's vision went beyond her own needs. By purchasing leaves from these houses, Pierette was able to provide her moringa growers with additional income and financial stability. "I didn't want to plant [my own] trees because then I couldn't help other people make money," Pierette said. "I succeed if everyone else does too."
While working towards her vision, Pierette organized and trained 10 women — all widows like her struggling to make ends meet — to process the moringa leaves into powder. She was rigorous with sanitation practices, ensuring that all the women frequently washed hands, wore gloves and masks, and properly sanitized the rooms where they dried the leaves and stored the powder. 
Today, you can find Pierette's moringa powder bottled and sold in markets, health centers, pharmacies, restaurants, and shops throughout Benin under the brand name "Super Moringa." In 2016, her company made nearly $4,000 and is projected to increase profits this year. 
Watching Pierette's growing success is both inspiring and instructive. She showed me what undiminished determination and true compassion looks like, while also teaching me that Peace Corps Volunteers can make meaningful contributions in the communities where they live and work. I know my decision to spend three years in Benin was completely worth it. 
There are millions of people like Pierette across Africa. With the support of Feed the Future, Peace Corps Volunteers like me can tap into their energy and entrepreneurial spirit, making small but valuable contributions to empowering people and promoting self-reliant communities. 
This post first appeared on Feed the Future.