I knew the president when...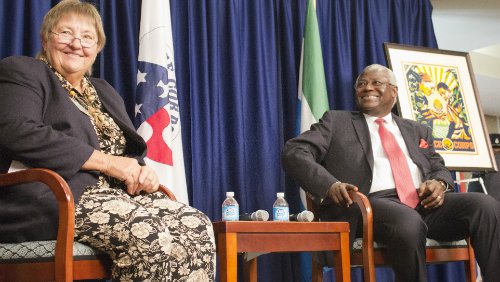 June 6, 2013
Sharon Kasper Alvarado arrived in Sierra Leone in 1964 to teach children chemistry, biology, health, English, and math as an education Peace Corps Volunteer.
During her service, Alvarado developed a close friendship with Alice Koroma, a fellow schoolteacher. "She was a warm, modern woman. She would have been at home in New York, Paris or London. She lived in a small African town, but raised her child for the world."

That child is now the President of Sierra Leone.

Alvarado and President Ernest Koroma reunited in March at a Peace Corps event in Washington D.C. They had not seen each other for nearly 50 years.
"President Koroma was just one of the little kids at our door and attending the grade school behind our house," Alvarado said. "What an unbelievable thrill to find out one of those kids grew up to be president."
First elected in 2007, President Koroma has focused upon rebuilding Sierra Leone's national infrastructure after the civil war, fighting corruption, and improving the country's health care system. In November 2012, President Koroma was reelected for another five-year term.
"President Koroma grew up at a time when things were good. The values he learned then, he kept in his heart, despite of the horrible war Sierra Leone had to endure. He brought back all the warm and happy feelings I had for the people," Alvarado said.
The two reminisced about Sierra Leone together. "We talked about his mother, of common things; the house, the flowers, the lories, the roundabout in the middle of our little city," she said.
Alvarado volunteered at a time when many African countries were winning independence, and many were requesting education Volunteers to teach math and science.
When I got [to Sierra Leone], I was surprised the city was diverse with many very modern sections and very primitive, mud huts, side by side," Alvarado said. "To my surprise, the schools were just like in the southern United States, but with no air conditioning. What was taught was just like in the U.S."
But there were also challenges for Alvarado and her students. "The one big problem was that we didn't see anything for these kids to do after secondary school. Where would they go after they left us?"
Alvarado said that her Peace Corps experience changed her career goals. "Right before I went into the Peace Corps, I obtained a job at a water filtration plant. I expected to be a chemist for the rest of my life. But after Peace Corps, I knew I wanted to be a teacher, and I was for 35 years.
Whether or not you teach a future president, service abroad broadens your horizons: "Peace Corps teaches you to appreciate other people and their culture. It lets you know you are not the best in the world. And it lets you know the simple life can be very rewarding."