"I am a nurse because…": Anselma's story
Through interviews, Global Health Service Partnership (GHSP) Nursing Volunteer Hannah Bergbower highlights her extraordinary nursing students, the stories that motivate them and their insights into the future of nursing in Tanzania.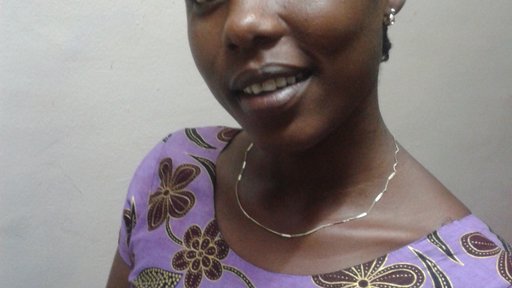 For many students, this is a nerve-wracking time of year as they prepare to graduate and become licensed clinical practitioners. Rather than overwhelmed with anxiety, third-year student Anselma is overwhelmed with excitement as she is about to fulfill her dreams of becoming a nurse-midwife.
Anselma's drive to change health outcomes for pregnant women in Tanzania as a nurse-midwife is inspirational. Even though Anselma was taught that nurses are secondary to doctors, she came to realize the invaluable role nurses play in health care delivery and wanted to be part of making that difference.
"Too many people [in Tanzania] are suffering from [health-related] difficulties that are unnecessary," she explained, "…and I just had this feeling inside me that I should do something about it and be with these people."
Anselma, however, did not simply commit herself to becoming a nurse. She has been striving to become a nurse-midwife so that she will have the necessary specialized clinical skills to improve the often life-threatening situations pregnant mothers and their babies face. For every 10,000 live births, 41 mothers and 210 neonatal babies will die in Tanzania due to complications, while only three mothers and 40 newborns die in the United States across the same population size (UNICEF, 2013).
In addition to these national statistics, the stories Anselma heard from women in her community underscored for her the vital importance of providing skilled midwifery care. One of these women we will call Asiya. Asiya had given birth many times at home alone because she was afraid of the hospital and its staff. She also explained that she felt that home delivery was the safer option due to her negative prior hospital experiences. Since Anselma spoke with Asiya, she has had conversations with other mothers who share the same fear. This apprehension of the health care system troubled Anselma since she knew these women could have faced serious conditions without the skilled care of a trained professional. By becoming a midwife, Anselma hopes to foster an environment where women feel comfortable delivering in a health facility and where she will be able to provide them with the highest quality of care they may need.
Anselma sees her role as a nurse-midwife not only as a clinician, but as an educator as well. She believes that education will help reduce maternal and neonatal mortality rates. She asks, "How can… mothers know that what they are doing isn't right or isn't the best option available for them if no one has ever actually told them why?" Anselma sees nurses in a pivotal position to deliver this education since they not only work closely with their patients, but also have the ability to become leaders and educators in their community. As she explains, "What [mothers] should be afraid of is what they are choosing to do [by not giving birth in a health facility], yet they don't know that. I can't bear the thought of these women or babies dying at home when I can help. I want them to know better and have a chance for more."
After graduation in May, Anselma's journey as a nurse-midwife and her dream of changing maternal and neonatal health outcomes in Tanzania will officially begin. As she eloquently states, "I am a nurse because I believe I can impact my country's current maternal mortality outcomes and provide education so that a woman should never be so afraid of a hospital and the providers in it that she would choose to put her and her baby's life at risk by delivering at home alone."
This post first appeared on Seed Global Health