How to support a Ugandan farm's transformation while at home in Colorado
After serving as a Peace Corps Health Volunteer in Uganda from 2008 to 2010, I always wanted to return to East Africa.
However, once I returned to the United States, I worked a 9-to-5 job and raised a young family. That prevented me from continuing the type of capacity-building projects overseas I'd done while serving as a Peace Corps Volunteer. But then came the COVID-19 pandemic, which brought with it a silver lining in the form of a way to serve abroad virtually.
When the Peace Corps Virtual Service Pilot (VSP) invited me to serve, I was presented with a unique opportunity. It allowed me to once again volunteer in a Ugandan community. Since the service was virtual, it was easy for me to work with my counterparts on our digital communications service project in my free time — all from my home in Colorado.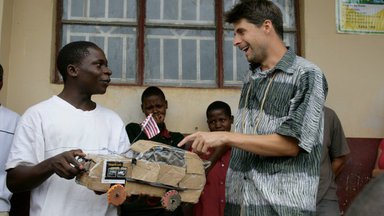 Through regular online discussions, my host country counterparts and I supported KWIFABI Eco Farms Uganda, a social enterprise with a mission to transform smallholder farms in rural, southwest Uganda from traditional subsistence farming into agribusinesses. KWIFABI achieves this by showcasing commercial farming best practices and through farm-stay tourism.
My counterparts and I supported KWIFABI so it could develop the digital marketing skills it needs to create a larger online presence. During the VSP, the team developed a website, produced videos, and crafted social media strategies to reach a greater audience of stakeholders. And they did it all during a global pandemic, when staying connected mattered the most.
Before the VSP, KWIFABI had created a digital library in a format accessible only through a local network at a specific location on the farm. Access to the information the organization wanted to share was limited.
During the VSP, KWIFABI explored ways to create a more accessible digital library. To address the need for more agricultural information, the team developed a website for the organization, created a file archive in a shareable location, started a YouTube account for videos, and developed a communications strategy for its social media channels. Now, although the local server on the farm continues to remain available for farm-stay trainees and guests, interested readers everywhere else can also access the information on these platforms.
"As a result of our partnership with the Peace Corps VSP, KWIFABI has a better way to hook potential students and partners to more specific agricultural education content online. We are finding an increase in interest from Ugandans who want to sharpen their knowledge about farming through accessing our content."

Tukundane Cuthbert, KWIFABI's director
To better identify themselves and the agricultural resources they provide to a larger audience, KWIFABI developed a messaging framework for how the organization will talk about their work to potential visitors and students. This handy communications tool ensures the team thinks through certain criteria before uploading library content, updating a social media page, attending an engagement, or responding to questions they receive. The messaging framework tool also helps provide a focus when the team plans communication activities.
The new skills learned from the Peace Corps Virtual Service Pilot helped KWIFABI increase their online visibility and attracted interested partners to help build their tourism enterprise. Ukarimu, a tour company, discovered the organization and offered a two-week capacity-building training for KWIFABI staff. The training will help them create a deeper impact through community tourism. KWIFABI also had the opportunity to register with Tripesa, an online marketing platform for tourism hosts.
"As a result of our partnership with the Peace Corps VSP, KWIFABI has a better way to hook potential students and partners to more specific agricultural education content online," said Tukundane Cuthbert, KWIFABI's director. "We are finding an increase in interest from Ugandans who want to sharpen their knowledge about farming through accessing our content."