How to shrink 7,000 miles to zero over Zoom
I realized this was my opportunity to give something substantial — not a mere token of appreciation, but something akin to what I'd been given when I'd been a volunteer: time.
Over the years, I've had the pleasure and fortune to speak to many returned Peace Corps Volunteers. They often share many traits, but one stands out. They all have goals of returning to their countries of service to give something substantial back. Like me, everyone who enjoyed the pleasure of working alongside a supportive host community came home to the realization that their work as a Volunteer didn't end at their close of service but, instead, had only begun.
As an RPCV from Armenia, where I served from 2008 to 2010, I've endeavored to repay the Armenian community's kindness. The Armenian hospitality I was gifted is legendary, though, and has proved difficult to return. My attempts to give back to Armenia what it gave to me have always felt meager; incomplete.
For years, I kept in touch with my Armenian host family and close Armenian friends but, after 10 years and becoming a parent, my efforts to stay connected had tapered off. My own growing family and work hindered many opportunities to reconnect on Skype. I stopped following Armenian news as closely and the 7,000 miles between my family and my antanik ("family" in Armenian) began to feel much more substantial – a world away. When I had time, I wondered if I'd ever fulfill my commitment to give back to Armenia in a meaningful way. Then, in May 2021, I received an email.
My former Peace Corps colleagues were inviting me to return to service with the Peace Corps' Virtual Service Pilot (VSP). After all these years, they'd remembered the classes we'd taught together. I was flattered that they thought I might be right for a project teaching The Fundamentals of Literature to Armenian university instructors. They were excited about the opportunity to work together again.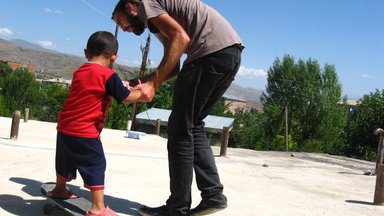 I was excited, too, but while such an invitation was flattering, I had a 2-year-old and 2-month-old at home. I was working and, between watching the kids, I hardly felt I had enough time to finish to the work I already had. I hesitated. Did I need more work on my plate? When I mentioned the class to my wife, she raised an eyebrow higher than I thought possible. I understood. Yes, perhaps this was too much. But I realized this was my opportunity to give something substantial – not a mere token of appreciation, but something akin to what I'd been given when I'd been a Volunteer, the thing I'd always longed to give back: time.
All the people who invited me into their homes in Armenia; all the people who had shared coffee with me; the people who had walked with me, introduced me to others – they gave me their time and they weren't fickle with it. They'd given it like trees give fruit. And now it was my turn. Not to return the favor, but to show I'd learned the lesson I'd was taught as a Peace Corps Volunteer — that there is no obligation to help, only the opportunity.
I'm profoundly thankful for this most recent lesson Armenia has taught me. The literature course through VSP has been incredible. I forgot how amazing classes could be with dedicated and engaged students. There were even some familiar faces among the participants. After that first Zoom meeting, almost at once, the 7,000 miles between my home and Armenia shrank to nothing. I returned to my country of service and my antanik with each class.
It may have taken 10 years, but I finally had the opportunity to offer the time that was so freely and graciously given to me by Armenia and its people. I do this not to repay a debt, but to give as a tree gives fruit.