How to find your origins in another hemisphere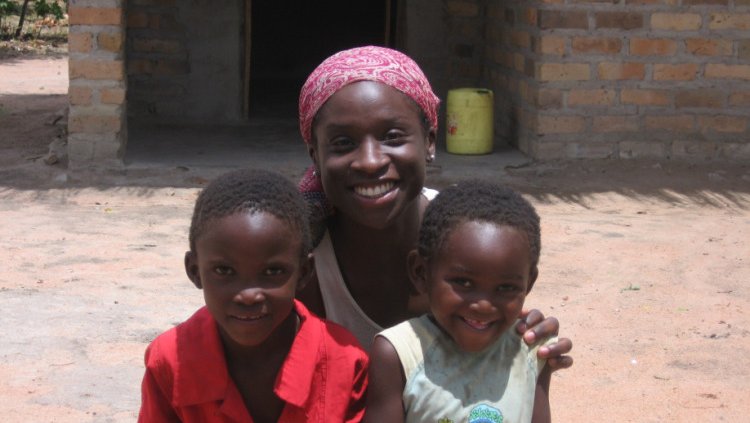 Feb. 26, 2015
When she joined Peace Corps, New York resident LaShaya Howie knew she wanted to serve in Africa as a way to connect to her roots as an African American. What she didn't realize was how significantly the country would affect her perception of her own identity.
"I knew it would be the most meaningful experience being able to learn the language & stay for two years and really be immersed in a different culture & feel like I was at home," said LaShaya, who served as a Rural Education Development Liaison in Zambia from 2007 to 2009.

During her two years of service, the Howard University alum worked to decentralize the local school system while facilitating training sessions for teachers & extracurricular activities for students. She also became proficient in speaking Chinsenga – a Bantu-based language frequently used in Zambia – to better communicate with people in her host community.
While working in a remotely rural village, LaShaya quickly realized that she was the very first African American to live among her neighbors. She found herself explaining notions about her racial identity that she had never openly discussed, such as the migration of black people to the United States.
"Being in Zambia reinforced what I expected to feel about race," said LaShaya, who soon learned that Zambian racial lines derive from class, wealth, locality & religion. "Outside of the U.S., 'American' is equated with whiteness. When I traveled to more urban environments, people knew about African Americans but only in relation to pop culture and, now, President Barack Obama."
When President Obama was elected to his first term in 2008, LaShaya used the first African American president to demonstrate diversity in the United States for locals in her village while discussing African diaspora.
As part of this cultural exchange, she would often give copies of Ebony or Essence magazines to her neighbors to observe the United States' diverse racial spectrum – looking at pictures of celebrities like Beyoncé or Halle Berry – though would receive questions as to why she didn't have lighter skin or straighter hair.
"My Peace Corps service made me more keenly aware of my Americanness & I embraced the good, the bad & the uniqueness of it," LaShaya explained. "I recognized & grappled with the privileges of it including the effects of the exportation of American popular culture, the face of which is primarily African American.
"Zambia also reinforced my identity as an African descendant person connected to all people of African descent around the world," she added. "Being in Zambia also made me more aware of gender politics in Zambia & in the U.S. & deepened my identity as a feminist/womanist."
Six years after closing her service, LaShaya credits her time in Peace Corps as a "truly transformative" experience that exceeded all of her expectations & encourages any interested applicants, particularly African Americans, to explore their origins.
"For the people that we encounter through international service, regardless of the place, it's important to see black people from America who aren't entertainers or the president!" LaShaya said. "For the Volunteer, you have an opportunity to experience another culture which is rare for anyone in the world. It's truly a privilege.
"For me, it was important for me to experience a place in Africa or where other people of African descent live outside of the U.S.," she added. "It makes the world smaller & we all benefit."