How STEM careers can be boosted by Peace Corps service
Many students pursuing engineering majors have questions about how the skills they've developed through their undergraduate programs translate into Peace Corps service. We caught up with Bryan Ramirez and Andrew Meluch, who both worked in Peru as Health Volunteers. Each are engineers who served together as Peace Corps Peru's first same-sex couple.
A Closer Look: Water, Sanitation, and Hygiene (WASH) Volunteers
Ramirez and Meluch were Water, Sanitation, and Hygiene (WASH) Volunteers, working alongside counterparts in the town's municipal government office.
"WASH Volunteers in Peru live and work in rural municipalities that oversee the water supply system of several smaller communities, called annexes," Meluch said.
Peace Corps Volunteers work alongside these leaders in a train-the-trainers approach, becoming familiar with local, provincial, and national policies, and implementing routine training sessions together with municipalities.
While in Peru, Ramirez and Meluch trained and supported community-led water committees on learning better management strategies to organize water fee payments, routine water system cleanings, water conservation, and safe water storage and usage practices.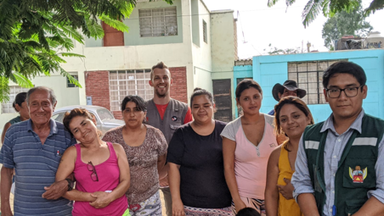 "I got to work on various health campaigns related to WASH, including good hand-washing practices and safe drinking water treatment and storage at local schools. And I had the chance to help the local veterinarian with a rabies vaccination campaign, which was a fun and unique side-project," Ramirez said.
Students in STEM programs are equipped with various technical skills that translate seamlessly into corporate jobs. Peace Corps recruiters often explain how these technical skills are utilized in the field.
With bachelor's degrees in civil engineering and mechanical engineering respectively, Ramirez and Meluch both participated in several international development initiatives through their university's engineer service-learning program. From their academic and service-learning program experiences, they learned how to design and analyze water-supply systems that directly applied to their work in Peru.
"Being able to understand the challenges with working with communities in a rural, developing nation was a huge help when it came to putting it all into practice during Peace Corps service. Having that engineering mindset was helpful when it came to the more technical aspects of the work I was doing in the Peace Corps," Ramirez said.
For Meluch, participating in the university programs fostered his passion for using his engineering skills in service of others.
One important aspect of Peace Corps service is the professional and personal development each Volunteer experiences through working with local communities and during their integration journey.
Peace Corps service offered Ramirez an opportunity to further apply the engineering skills first developed in college, but he is most appreciative of the endurance skills he learned during service, including soft skills he gained such as resiliency, flexibility, patience, and problem-solving, which have helped him be successful in his current role at the Environmental Protection Agency.
Much of the experience of being a Peace Corps Volunteer is building metaphorical bridges, as Meluch calls it —connecting various stakeholders to one another so they have larger, more sustained impacts.
Meluch says he developed adaptability, resourcefulness, patience, and humility during the networking and exchanges of information.
"Your role as a Peace Corps Volunteer and the work you seek to accomplish is often just a small part of your counterpart's job," he said. "Combined with the fact that things are rarely accomplished at the pace we're used to in the U.S., it can be challenging to feel a sense of progress or accomplishment. Plus, you're doing all of this in a new language. So, developing and practicing all these skills is crucial to your success and overall well-being."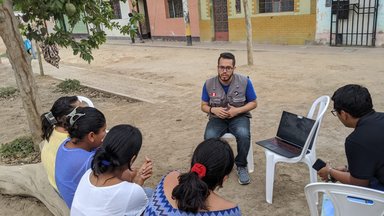 For many students and career professionals who want to know how the Peace Corps stacks up against a corporate engineering job immediately after graduation, Ramirez and Meluch agree that the Peace Corps challenges Volunteers in unexpected ways, from expanding their comfort zones to teaching the importance of failure in finding sustainable solutions.
Ramirez explains that most engineering students will have similar academic experiences, but not many will have the had the opportunity to develop and sharpen crucial skills and have an immersive experience away from the typical office setting.
"You'll face numerous challenges, but the knowledge, skills, and attitudes you'll strengthen as you work through those challenges throughout your service – not to mention the rewarding successes you'll have once you've worked through those challenges – are going to set you apart," Ramirez said.
"There are countless learning opportunities, and you gain a new perspective from having lived and worked in a developing area that is likely very different than anything you could have imagined," Meluch added.
Ramirez doesn't believe it's necessary for engineering majors considering the Peace Corps to solely work in STEM-oriented Volunteer positions or that Peace Corps should only be considered by someone planning to work for the federal government.
"Peace Corps service will undoubtedly leave you with tangible skills and unique experiences that many other engineers simply won't be able to share and highlight during their application and interview stages of the hiring process," he said.
"Peace Corps service is about more than numbers, analysis, and the typical way of thinking in a traditional STEM job," Meluch said. "You may be the smartest person in the world with the most elegant solution to a problem, but if you cannot communicate and connect with your community leaders and various stakeholders, it will never materialize."
---