How standing out abroad becomes vital for change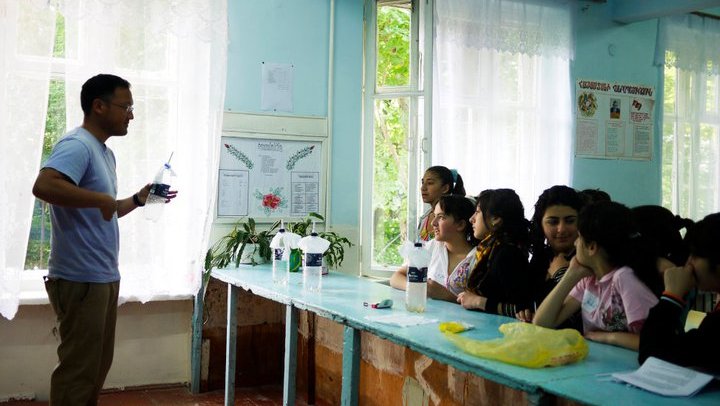 Aug. 3, 2015
Returned Peace Corps Volunteer Michael Kim recalls what he learned about his Korean American identity while volunteering in Armenia from 2010 to 2012. 
Before departing for his service in Armenia five years ago, Returned Peace Corps Volunteer Michael Kim packed up minimal expectations while preparing for that long-awaited adventure overseas. In two years, he welcomed moments that both fulfilled his aspirations and flourished unexpectedly – such as meeting his wife of three years.
"It would be disingenuous to say that I had zero expectations," said Michael, who served as an Education Volunteer from 2010 to 2012. "I expected the language learning to be very difficult and that ended up being true. I thought I wouldn't spend much time with other Volunteers during my service and that ended up being false. I also didn't expect to marry a fellow Peace Corps Volunteer, but I'm happy to say that we'll be celebrating our 3-year anniversary this July!" 
While settling into his Armenian village, the Rock Hill resident taught English to students at a local secondary school, facilitated after school programs and developed curriculum and trainings for the school's faculty. He also spearheaded a cross-country awareness walk called "Border 2 Border," which involved two teams of six Peace Corps Volunteers walking from opposite ends of Armenia and touring different villages to conduct daylong workshops on children's health. Today, according to Michael, the awareness walk has since been adopted by new Volunteers and has grown into "something of a Peace Corps tradition in Armenia." 
As his large-scale projects gained momentum – even years after his service – Michael learned during his time in Armenia that daily goals he achieved proved just as valuable in the long run. 
"Coming into Peace Corps, I had heard time and time again about how one's service will be defined by the small victories and the relationships one builds," he explained. "I thought I had a pretty good handle on this advice, but I had little idea just how small some of those victories would prove to be. Ultimately, I think I learned how to be patient and understood the importance of building relationships, which became my proudest accomplishment." 
When it came to forging such connections in his community, the Cornell University alum would often educate his neighbors on his identity as a Korean American in different ways, from teaching his students in English class and cross-cultural workshops to just informing people in daily conversation. 
"Before getting to know me, people would often assume I was Chinese," Michael said. "However, the issue of my race never really came up once my villagers got to know me. I came to be known simply as the American Volunteer." 
Though he faced some difficulty standing out from the popular majority in Armenia, Michael soon realized that embracing the odds worked even better than beating them as a figure of American diversity. 
"Being a minority Volunteer in the Peace Corps will come with a unique set of challenges," Michael explained. "You may find that you're getting more stares than your fellow Volunteers.  You may find that some locals will be incredulous when you tell them that you're American. You may even find that some of your fellow Volunteers will have trouble relating to what you're going through."
"However, I told myself that this was all part of why I had joined the Peace Corps," he continued. "One of our goals as Peace Corps Volunteers was to help our neighbors develop a better understanding of America and its people. I felt that I had a unique opportunity to help my villagers understand how America is truly a melting pot of cultures and ethnicities. In other words, I felt that I was there because I was different, not in spite of it."