How Peace Corps service can spark the pursuit of professional passions
In the late 1990s, during her sophomore year at Morgan State University, Valencia James wanted to fulfill two goals upon graduation: to leave Baltimore and to help others. Joining the Peace Corps after graduation fulfilled both goals. Her service in Madagascar also planted the seed that would ultimately grow into a career in fashion design.
While skimming through a magazine during her sophomore year, James came across an ad for the Peace Corps with the famous tagline, "The toughest job you'll ever love." Coincidentally, she had just watched "The Josephine Baker Story" on television and was inspired by the entertainer's Red Cross volunteer service during World War II. Soon after spotting the ad, James met with a Peace Corps recruiter.
To gain experience that would help her qualify for service, James began working for AmeriCorps and eventually submitted her application for the Peace Corps, listing the three regions she was interested in: West Africa, the Caribbean, and Latin America (applicants could not apply to specific countries at the time, but they now can). Upon graduation, James was invited to serve in Madagascar.
When James drove to the Peace Corps staging event in Philadelphia with her mother and aunt, she began to feel nervous. The feeling was amplified when she learned she was one of just two Black Volunteers in her cohort.
"Having grown up in Maryland and then attending an HBCU (Historically Black Colleges and Universities), I was always within a strong Black community," James said. "At staging, it was only me and another girl who were Black. No one else looked like me in my cohort of 21 Volunteers."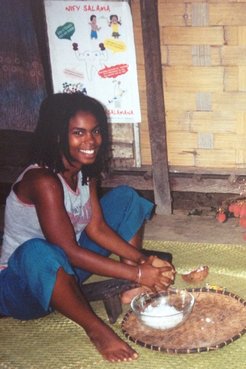 Perseverance was among the first skills James learned that day—a skill that was strengthened throughout her training and service in Madagascar, where she lived and worked in a community in the northeastern part of the country. Community members often seemed to lack patience with James as she learned to speak the local language. Her host family often remarked how another Volunteer was so mahay (adept) with the local language and pointedly asked James why she was not.
The cultural directness took some getting used to but, thanks to a prized boombox she'd brought from home, James soon discovered a way to connect with her community: a shared love of music and dance. On her boombox, James played music by Mary J. Blige and Sade. She taught community members popular dance moves from the States while they shared Malagasy music and taught her traditional Malagasy dances. This shared passion helped connect James to her community and fostered relationships that enabled her to thrive as a Volunteer.
As a Health Volunteer, James spent much of her time at the local clinic, weighing babies, providing nutritional counseling, and creating songs to promote personal hygiene habits. She made an extra effort to create engaging health messages for children to encourage life-saving habits, such as not drinking from tainted water sources.
A regular visitor to the local open-air market to purchase household items, James was intrigued by the sight of vintage sewing machines and the way locals created unique outfits by combining secondhand American clothing with Madagascan accents, such as a lamba, a rectangular piece of cloth draped around the body. She also took up the local custom of using fabrics to create outfits inspired by photos from fashion magazines.
"Although I wasn't a seamstress at the time, I do come from a family of sewers. It's in my DNA. My mother, grandmother, and great grandmother were all seamstresses," James said. "I appreciate the effort and art of the process."
In 2002, with only a month to go before her service ended, James and her fellow Volunteers were evacuated from Madagascar due to political instability.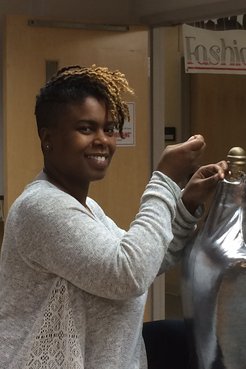 She returned to the States and began working to reduce recidivism among youth in the juvenile justice system but didn't have a clear idea of where she wanted to head next. During this time, a Washington Post article about her Peace Corps service reminded James of her interest in art and fashion. She decided to take night classes in fashion design while continuing to work full time. Eventually, she began teaching fashion and design classes part time.
James was invited to put on a 10-minute fashion show as part of Baltimore's Artscape, the largest free arts festival in the city. She not only designed the fashion, but produced the show, securing music and models for the showcase. Adaptability, persistence, presentation, and flexibility – skills she honed during her Peace Corps service – enabled James to pull off her first fashion show.
With her first big fashion success under her belt, James eventually decided to pursue an master's degree in fashion design in San Francisco. There, she delved deeper into her interest in Malagasy textiles. With the pandemic easing, James is now looking to source textiles for her design creations from local women's cooperatives in Madagascar.
Now in Los Angeles, James is teaching high school while continuing to pursue fashion.
She's also making headway in other art forms. She's a nail artist for celebrity clients and she's revamping a jewelry and accessories company that incorporates repurposed denim and textiles from Africa and Latin America.
James' career path has been filled with unexpected challenges, exciting opportunities, and quiet moments of clarity and focus. James believes the skills she gained through Peace Corps service – the ability to pivot, adapt, persevere, and be flexible – are lifelong benefits that have helped her succeed in her chosen career of fashion design and teaching.
"The Peace Corps gives you a set of foundational skills that can never be taken away. It becomes a part of you," she said.
---