How I used trees to encourage female financial independence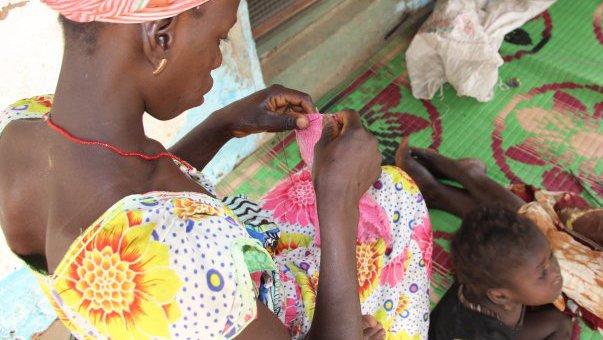 April 27, 2017
It's cashew season again!
If you didn't already know, in The Gambia, cashew is business. And right now, business is booming. Seriously. Bags on bags of cashew seeds are hauled into major cities to sell, and the average cashew farmer makes almost USD $100 for a 50-kilogram rice bag full of seeds. A few seeds are saved so cashew farmers can plant more trees for future harvest.
Me? I love cashew season. You can find me sitting on the bantaba all day every day, eating all the cashew apples that get separated from the seeds. The fruits have no monetary value so I'm never short on these delicious gems during harvest. I've learned that cashews are my favorite fruit in The Gambia (and quite probably the world).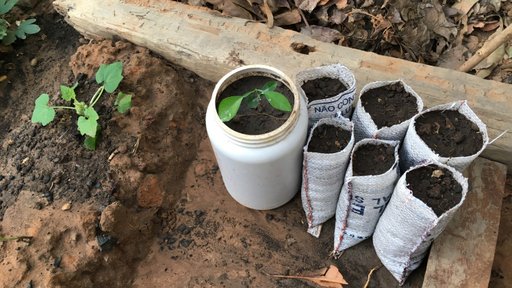 My sister, Wolimatu, came to me a couple weeks ago and asked if I could plant some cashew seeds for her and give them to her when they were grown. I asked why she couldn't plant them herself and she responded, "Because I don't have polypots and I don't have money to buy seedlings that have already been grown."

Polypots are small plastic bags used to plant tree seeds before outplanting the seedlings. Most tree seedlings can be sold for anywhere between D15 and D30 (15 dalasi is about 30 cents) so getting into the tree nursery business and selling quality seedlings can be quite the lucrative undertaking. In The Gambia, though, plastic bags are banned, so polypots are a problem for many people.
You know what's not banned though? Rice bags. And boy, do Gambians use a lot of rice. It just so happens that I know how to turn rice bags into the coveted polypots, so I responded to my sister with a proposal: Let's invite the ladies over and have an alternative polypot design workshop that kickstarts a home nursery competition.
My idea was met with enthusiasm including, but not limited to, happy dances, clapping and whooping (especially after I told the women how much one seedling was worth!). If there's one thing any Gambian loves besides attaya, it's a competition. And, just like Americans, they love free stuff. So I promised some sweet swag to the winner and gave every person who signed up a free sewing needle.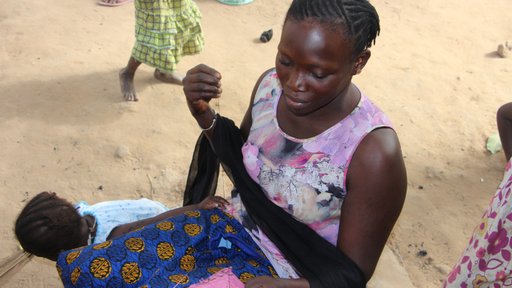 So after lunch last Tuesday, nine women came over and listened as I taught about different alternatives they could use instead of polypots and showed how they could make eight polypots out of just one bag of rice. We also talked about sewing sugar bags, cutting water bottles and using Pringles cans and other containers as free polypot alternatives.

The women learned about what types of soil are best for filling their polypots and each woman talked about what types of seeds they planned to collect. We also chatted about what they planned to do with the trees once they grew too big for their temporary polypot homes. 
Some women said they wanted to outplant their trees in orchards or around their compounds. My sister Saffie said she wanted to sell her seedlings to buy her own cell phone, some perfume and other things, and I helped her do the math to figure out how many seedlings she'd have to sell for each item she wanted. 

I know this seems small since in the U.S. each individual has their own finances to control, but this is a big deal where I live. Since men traditionally control the finances of the family, these women are rarely given money for "frivolous" things like extra vegetables, soap or shoes. Saffie and these other women making their own money is a really empowering thing as a female in The Gambia. I want all my ladies to feel confident, independent and self-sufficient before my time ends here. 

Every woman claimed that they were going to win the competition because of the prize for the winner: one watering can and 100 polypots to start a more serious tree seedling operation. After the workshop ended, three more women came to me and asked to join!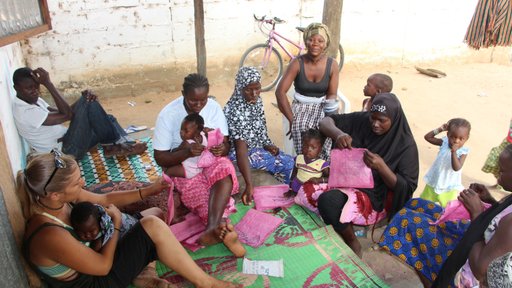 This competition will go until the end of June and the participant with the most germinated trees in alternative polypots will win the prize. Already women have sought me out to tell me about the different trees they're planting and to ask where they can get the best soil (compost training is pending now). 

Not only that, but they're just blowing my mind with the amazing questions and knowledge they have. One woman wanted to know about grafting preparation ("How do we know when they're ready? I want to graft my seedlings so I can sell them for more money."). Another asked about seed treatment and storage. And then yet another surprised me by telling me about her own secret soil mix — it was compost and she didn't even know she was making it!
Everyone is really excited about making bags and planting trees. And they're excited about the prospect of becoming (at least somewhat) financially independent. That makes me excited. The enthusiasm my community exudes when they're doing something they're really invested in is seriously infectious.
I hope you'll join me in wishing all my ladies good luck and happy polypot making!
Learn more about serving as a Peace Corps Volunteer in The Gambia
Read stories