How do you get girls involved in global technology? Just ask.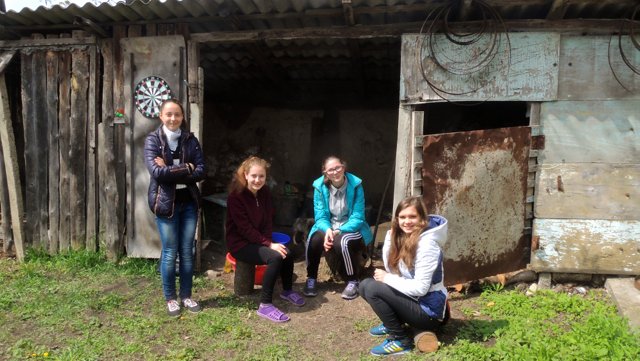 Dec. 8, 2014
Last January, my girlfriend proposed that I organize and lead a group of girls from my school, in rural Moldova, to participate in an international coding and business competition for girls called Technovation Challenge. 
At first, I laughed. The idea was kind of funny. Didn't she realize how busy I was with teaching English? Or that I knew very little about business, not to mention even less about software development? Plus, I really couldn't imagine any of my students being interested in something as out-there as computer coding.
Seeing my hesitancy to take on such a project, she presented an infographic that showed how the projected number of jobs in computer science was growing at a much faster rate than the people expected to study computer science. By participating in this project, I could share economic opportunities with my students that they didn't know they had access to. This could mean a career path and better future, here in Moldova, and no green card or a work visa needed. Plus, she noted that the curriculum is in English, and it would be a great way to get some students to practice outside of class. My reluctance waned as I saw it as a way to nudge my students into extra English practice. Economic opportunity would be a tool to draw attention to the usefulness of the English language.
I was surprised how many students were interested in participating right off the bat.
There were about a dozen young women at the first meeting. The numbers didn't reduce much over the next few weeks, but for the sake of there not being enough hours in the day, we voted in the four hardest-working girls.
Technovation Challenge is a 12-week program during which the team has to create an Android application that solves a problem in their community. It sounds daunting at first, but Technovation provides a well-designed curriculum that covers idea development, how to develop a business and write a sound business plan. On the coding side, the girls learn basic coding logic with a fantastic program from MIT called, AppInventor, which uses color-coded blocks that fit together like puzzle pieces. It is fun and easy, kind of like training wheels for coding.
My passion for the project grew once the girls had decided on the problem that we would address: the poor quality of water in the villages of Moldova. After learning that 67 of the 300 students in my school suffered from Hepatitis A as a result of drinking the water from the wells, I knew that this problem was a righteous one to address and one that the American judges would consider a noble cause.
For the next three months, the girls and I worked tirelessly developing our idea and our application. It was not easy, but I grew even more motivated as I saw how the girls were growing in the process. Their English was improving each week, they were learning new useful skills on a daily basis, and they were growing more confident in themselves as a result.
The result was Aquamea. When it came time to turn in our final work, I reassured the girls that we had a winning idea, and that we had worked hard enough to be recognized for it. The competition would be held in San Francisco, my hometown, and I thought about how excited I would be to show them around if we got invited. Which…
WE DID! Out of 844 teams globally, we were chosen as one of eight teams to go to San Francisco (all expenses paid) to pitch our application and a chance to win $10,000 in seed money to start their business. I can't even begin to explain how exciting this was for the girls and me. For them, they had never been outside of Moldova, never been on a plane, never had Mexican food, never seen the ocean, in fact there were about 1,000 "nevers" that they would get to experience. For me, I was so excited to bring my Peace Corps experience home, a kind of show and tell to my friends and family in California. PC goals #2 and #3: CHECK!
Although the trip was covered, it wasn't easy to get there. We had three weeks to get all the documents needed and prepare the girls to eloquently present and answer questions in front of a large crowd in a foreign language. This is where being a PCV was an invaluable resource. Upon our invitation, we instantly had a task force of Volunteers and PC staff with a variety of skills to help figure out the logistics of getting the girls to San Francisco on short notice, and organize in-depth tutoring sessions to improve presentation skills and general business knowledge. Needless to say, without this network of support from our amazing Peace Corps family, we would never have been able to obtain the travel documents, nor would we have been prepared enough to win. Which, is what they did! We took first place internationally, bringing $10,000 home to a very proud country.
Winning for them was about more than just the money and the opportunity to start a business; it was proof that with enough hard work and determination, a group of girls from a small village in a country that most people have never heard of could win something big. It's not the knowledge they've gained, nor the skills learned that gives me the most fulfillment from this experience, but rather the transformation of their attitudes. They confidently display a newly instilled sense of hope and optimism that have replaced uncertainty and doubt. Although Moldova is poor and its people lack a great deal of opportunity, opportunity can be made with hard work and a good idea.