How a teacher in Malawi carried on despite hurdles caused by the pandemic
Madalitso Ackim was a secondary school teacher in a Malawian village for 12 years when, in 2018, she began working alongside Peace Corps Volunteer Vishakha Wavde as a counterpart. She is proud of the Peace Corps-supported work she completed in recent years, which benefitted more than 600 students and created new professional skills and opportunities.
Prior to her involvement with the Peace Corps, Madalitso was deeply involved in programs that worked to increase access to education, empower girls, and prevent the spread of HIV/AIDS at her school in a village several hours south of the country's capital, Lilongwe.
"I was well-liked by the head teacher, staff, the local hospital, and the community because of all the activities I had engaged in with students," she said. "When Vishakha arrived at my village, she was looking for a Chichewa language teacher and a counterpart to work with on various programs. Recognizing my desire to volunteer and my background, the head teacher encouraged me to become Vishakha's counterpart."
Madalitso has worked on a variety of Peace Corps projects over the years, including a Grassroot Soccer program that educates youth on topics related to HIV/AIDS; malaria and tuberculosis prevention education; a sanitary pad project; and a program that helps girls develop life skills and awareness about teen pregnancy and early marriage.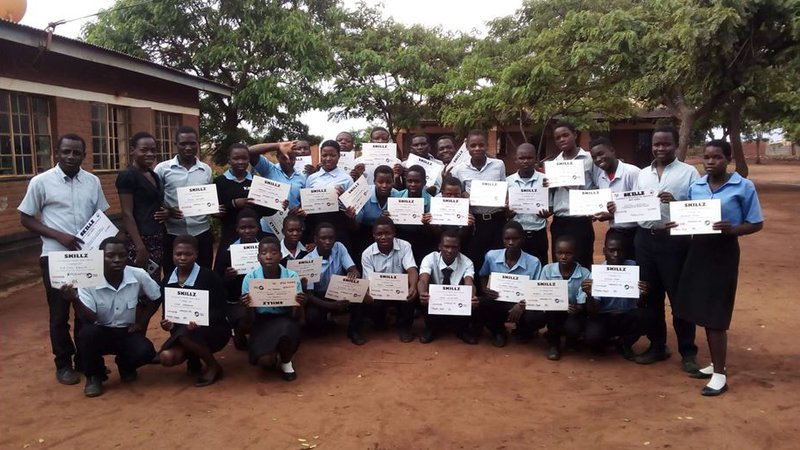 "Vishakha was a friend, support, mentor, and guide in all my activities," Madalitso said. "Our relationship started out work-focused, but gradually developed into a personal one. She loved spending time with my son, who was 3 at the time. We had tea or coffee every evening, shared food, and talked about life. When her husband came to Malawi, we took a trip to visit my parents and the rest of my family. Vishakha and I became part of each other's family. My sister even named her daughter Vishakha."
Madalitso felt isolated as the only female teacher on a staff of about 16 teachers at her school, and she welcomed Vishakha's support.
"I was happy to have Vishakha at my side when she was here. I could talk freely to her, discuss projects, run ideas by her, and rely on her as a partner to carry out projects," Madalitso said. "She always looked for additional ways to support my school and community. She helped me plan budgets and activities, gather information and resources, and write grant proposals. We worked hand-in-hand. We were open, supportive, and respectful of each other while sharing ideas and skills."
Volunteers evacuate, but service continues
After Peace Corps Volunteers were evacuated worldwide in March 2020 because of the COVID-19 pandemic, Madalitso carried on.
"While I missed the teamwork and support that Vishakha offered at school and in the community, I felt more capable because she had helped me become more assertive and independent." she said.
Peace Corps Malawi provided materials and support to Madalitso and other Peace Corps counterparts after the evacuation, including a refresher training on Grassroot Soccer, guidance about COVID-19 prevention measures, and sanitizing supplies.
"Peace Corps staff gave us ideas about how to reach out to the community during the pandemic while keeping students and community members safe. They kept in touch on a regular basis to provide support for activities and even organized supervisory visits to my village," said Madalitso.
Madalitso has made significant improvements to her Peace Corps projects.
"For the sanitary pad project, I was able to locate a female tailor in the community to sew higher quality pads more quickly and efficiently. Because the tailor business in Malawi is male-dominated, this female tailor has become a role model for other women. Our program has definitely empowered women in my community," she said.
Madalitso is proud of the ways she's been able to support her community in collaboration with the Peace Corps.
"I have trained more than 150 girls and boys in the Grassroot Soccer program. Some students have gone on to become support staff and coaches to train the next group of students, and have participated in new HIV prevention activities," she said. "More than 300 girls have developed greater self-esteem through the girls' empowerment program. With their new knowledge of a world beyond their village, they now talk about wanting to study and have careers."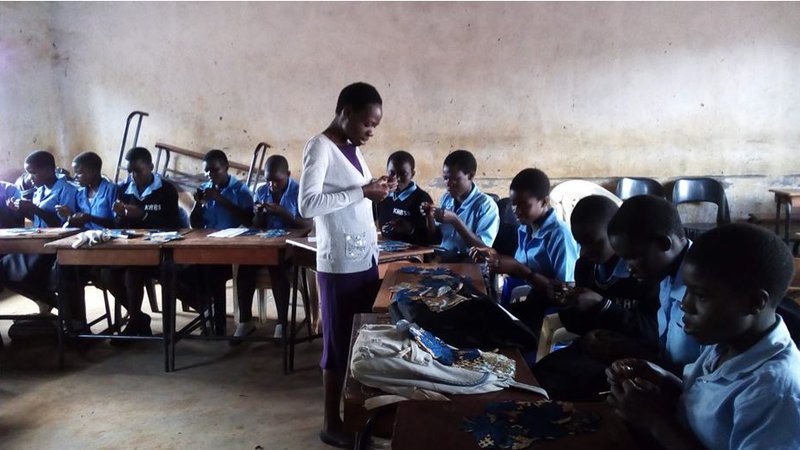 Peace Corps also introduced Madalitso to new professional opportunities. In 2019, at the suggestion of Vishakha, she applied to be a mentor for students in the Pan-Africa Youth Leadership Program (PAYLP). After being selected, she traveled with five students from different parts of Malawi to the United States.
"The experience taught me how to work in a team environment and be a good leader. We were also taught project management skills," she said.
With Vishakha's support, Madalitso also applied for and implemented a PAYLP-funded project to construct girl-friendly toilets and changing rooms at her school, providing more than 500 girls with a private, safe, and sanitary location to use during their menstrual cycles.
In addition to the benefits to her community and the professional skills she gained, Madalitso values what she's learned about the spirit of service.
"I feel positive about playing an active role as a volunteer in my community. Kindness goes a long way. I have become more compassionate towards others in my work and in my community," said Madalitso.
Madalitso recently transferred to a new school near the capital, where she continues to carry out Peace Corps projects. She looks forward to the eventual return of Volunteers to Malawi.
"Peace Corps Volunteers bring innovative ideas and help people in my community develop technical skills in areas like soap making, tailoring, and other businesses," she said.
"I appreciate the ongoing support from Peace Corps staff. Reporting on the outcomes from my projects makes the gains feel concrete and helps keep me motivated."