Honoring my program manager through continued service
Her legacy was my motivation to keep all my commitments and continue to support the people of Ecuador. I wanted to keep my word to her.
"I look forward to working with you again."
It's deceptively simple statement, yet one that reflected my exact feelings when Peace Corps invited me to participate in the Virtual Service Pilot (VSP). Coincidentally, when I expressed interest in taking part, it was also what my program manager said to me.
I met her when I was a Peace Corps Volunteer in Ecuador. She held everyone, including herself, to a very high standard. Maybe because her praise and approval needed to be earned, people sought it out. At the beginning of my Peace Corps service, I remember feeling frustrated when she critiqued my teaching style and told me I needed to avoid taking on so many commitments. It took a long time to realize how much I learned from her constructive criticism — including the need to value my well-being and safeguard my personal time to avoid burnout.
I worked with her more closely near the end of my second year of service and during my third-year extension. Together, we planned district-wide spelling bees, teacher trainings, camps, clubs, and numerous other projects. With her guidance, I was able to win a grant to build a new English lab and library at my school. As we were finishing that project and my extension was ending, she chose me to be the first Peace Corps Volunteer to return to the Galápagos Islands. Unfortunately, I was evacuated due to the COVID-19 pandemic and couldn't go.
We continued working together, though. Early in the pandemic, we developed and implemented virtual teacher training workshops and English clubs for Ecuadorians. The Peace Corps' Virtual Service Pilot was a formal extension of the work we had already started — virtually supporting Ecuadorian English teachers and students. During the first phase of the program, I was nervous about stretching myself too thin. I have two demanding jobs at a school in the United States and I'd just started my first semester of graduate school. There were times I wondered how I was going to find time to create a lesson plan, meet with other virtual Volunteers and staff, actively train teachers for four hours per week, grade homework assignments, and manage all the logistics that are part of teacher trainings.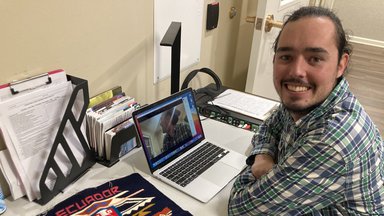 My program manager passed away just as the VSP began. Her legacy was my motivation to keep all my commitments and to continue to support the people of Ecuador. I wanted to keep my word to her.
I gained so much during my service, including many skills that helped me develop into the person I am today. Without my time on the ground as a Volunteer, I would not have learned to speak Spanish, and I would not be as resilient and hard-working as I am. My time in Ecuador tested me in many ways, but helped me immeasurably. The students and community members I worked with there are some of the kindest students, neighbors, coworkers, friends, and family members I have ever met. I am eternally grateful for my experience in Ecuador, and I hope to continue to find ways to support them — even if, for the time being, I can only do it virtually.
I joined Peace Corps with the hopes to serve others in some small way. I am proud of the work I accomplished in Ecuador and can confidently say that the biggest achievements I made were when I collaborated with local people. The contributions of the local community means that the work I was involved in as a Peace Corps Volunteer is sustainable. Community members played an active role in every aspect of every project. With the memories of my program manager in my head, I tried hard to ensure my VSP project was sustainable, too.
The participating teachers were asked to present a final project they could implement in their own schools either virtually or in-person. To successfully complete the course, the English teachers presented these projects to me and their peers in October. We have now started the second phase of the program — a conversation club, in which participating teachers not only practice their speaking and listening skills, but also gather ideas for implementing clubs at their own schools.
This second phase has been especially rewarding for me because I have reconnected with teachers from the first phase and counterparts from my earlier Peace Corps service. By participating in Peace Corps' Virtual Service Pilot, I have not only been reminded of my permanent connection to Ecuador, but I can honor the memory and the legacy of my program manager.