Helping HIV+ teens build confidence and camaraderie in Botswana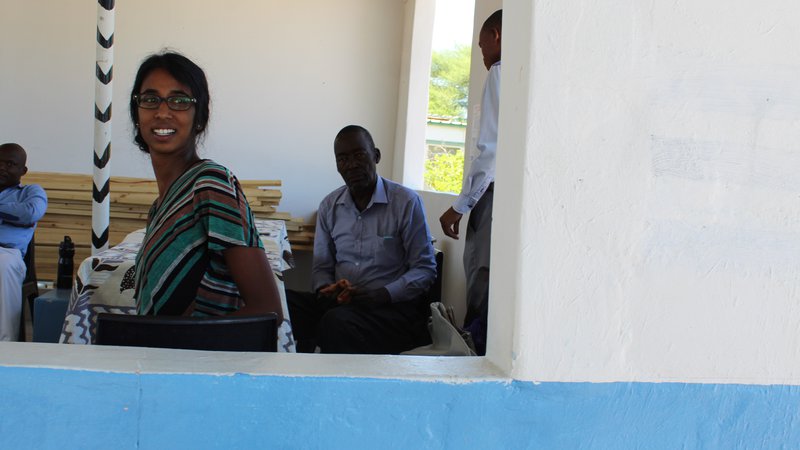 Aug. 5, 2019
I observed the row of beaming faces in front of me, and felt an overwhelming sense of happiness. Today marked one year with these bright, young superstars in Botswana.
On a weekly basis, I go to the local clinic and help at "ARV day." This is the day that People Living with HIV (PLHIV) come to the clinic to get a check up from their doctor and are given their medications, also known as ARVs. It was during my time of dispensing medications and talking to patients that I met very timid students who were were also HIV+.
It made me flashback to my Peace Corps pre-service training, when we had the privilege of meeting a young woman who was born with HIV. Both her mother and father passed away before she knew she had HIV. I remember her talking about how an HIV+ support group called "Teen Club" changed her life. It helped to instill self-confidence in her as a young teenager, and it gave her a safe space in which she always felt support and recognition. Today, she has done so much work to help those living with HIV by openly sharing her story.
After reflecting on all of this, I started having conversations with clinic staff. Most had never heard of something like "Teen Club," but they thought that it was absolutely necessary for the youth of our community. We started talking to pre-teens and teenagers who were HIV+ and learned that there was an overwhelming interest in an HIV+ support group for young people. Eventually, we were also able to acquire funding from an NGO to cover food and transport for the club members. In June of 2018, we had our first official Teen Club meeting. The club members were quiet and hesitant. We knew that we had a long way to go, but we had opened up a space for these kids to feel safe and accepted. It was definitely a start.
Just one month later, all of the kids in our club had the opportunity to go to a week-long camp near the capital, all expenses paid! Most of these kids had never left the town, much less been to the capital. The kids learned a lot, played games and consumed healthy meals. They came back to our village with such excitement.
We wanted to continue Teen Club with that type of energy. For every Teen Club meeting, we planned a session on a specific topic; whether it was nutrition and health, sex and relationships or ARV adherence. We paired these topics with real-life stories, fun energizers and interactive games. We also ensured that we were providing healthy snacks and lunch.
It hasn't been a quick process, but we have seen noticeable growth in our club members over the course of one year. Many of these students have experienced bullying from their peers, and severely lack self-confidence. Now these kids have greater self esteem and are not afraid to speak up. We always tell the kids to "be free" and speak their mind.
We try to emphasize the importance of supporting one another and being kind. Last month, a boy who is a Teen Club member was bullied by his peer and, without hesitation, a group of girls from Teen Club ran over and stood up for their friend. It's moments like these that make this experience truly worth it.
I am grateful for the Teen Club facilitators in our lovely village who have dedicated so much time and effort since the beginning of this support group. I also have so much gratitude for the club members who have been open and supportive of their peers. Although my time in my village and Peace Corps is coming to a close, I feel honored to have been part of something so special that will continue for years to come.