Heading to Nepal — in 1962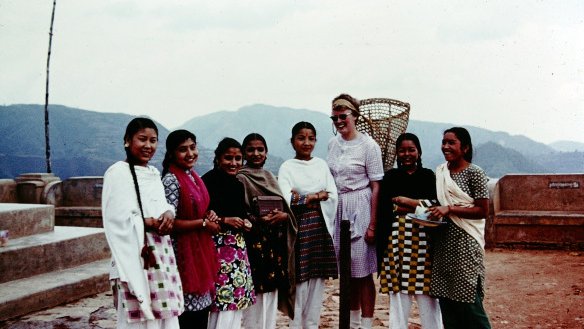 Aug. 22, 2014
At just 18 years old, Jane Gore packed her bags, said goodbye to her friends, family and classmates at the University of Illinois, and headed to Washington, D.C., to begin training as part of the first group of Nepal Peace Corps Volunteers. 
More than 50 years later, as she prepares to retire and leave her position as chief of evaluation in Peace Corps' Office of Overseas Programming and Training Support, we celebrate her contributions to the agency and to Volunteers by sharing her story, which begins in the summer of 1962, just one year after President John F. Kennedy urged the nation's youth to become peace ambassadors for the United States.
A University of Illinois undergraduate student at the time, Jane was to receive her training at George Washington University — an experience marked by lengthy lectures on American foreign policy, lots of language training, health assessments and frequent check-ins by Sargent Shriver, the first Peace Corps director. "Every few days, Shriver would stop in and ask us: 'How's training going? What have you learned? What should we be doing?'" Jane says. "We called these 'Shriver chats.'"
To prepare Jane's group for Nepal's mountainous terrain, Volunteers were flown to Colorado for four weeks of training in the Rockies — including rappelling, rock climbing, and map reading (despite Nepal likely not actually having any maps) — led by the Outward Bound school.
Volunteers were required to start each day with a mile run and a jump into an icy river, which was standard for the school's typical students at that time: adolescent boys in need of structure. (The average age of Jane's group was 26.) "That lasted three days," Jane says with a laugh. "We told the instructors that this part of our training was over — and the next day, they said that the morning run was optional."
In September 1962, Jane, about 70 other Volunteers, seven language teachers and four American staff members — including a medical doctor, a secretary and two mountain climbers, Robert Bates and William Unsoeld — boarded a charter flight to Nepal. After a four-week stop in New Delhi awaiting the end of the monsoon rains, they arrived and continued their journeys to their villages.
After a 20-mile ride by motor vehicle, the road stopped and Jane, three other Volunteers, and several porters continued on a two-day, 18-mile hike through the Himalayan foothills into a village outside of Kathmandu Valley. This is the place that Jane would call home for the next two years.
The house Jane (above with some of her students) shared with the three other Volunteers was a three-level gem that the villagers proudly called the best house in town — "a little ostentatious for a Peace Corps home," Jane says. She and her roommates turned many of the rooms into a place for their students to hang out, speak English and play games.
Without the experience of previous Volunteers to draw from, they embarked on many initiatives that are Peace Corps staples today. For example, Jane remembers planting a garden at their house — but with no fences and plenty of goats, cows, and kids, "I don't think we ever harvested anything," she says. Similarly, their attempt at raising chickens did not produce. One of the Volunteers who had been an industrial arts teacher created a cookstove with a steel top for cooking, a firebox with a pipe for venting the smoke, an oven and a water tank. "For the most part, it was very effective," Jane says. "The downside was that it required a lot of wood" — way too much for villagers to widely adopt the practice.
During her two years of service teaching English at a district center, Jane says two moments stand out in demonstrating the humanity that all Volunteers experience. First, she remembers the compassion of her host community when hearing the news of President Kennedy's assassination. "They made every effort to walk over, shake our hands and tell us how sad they were," Jane says. "It's just one of those experiences you never forget."
Second, on their last night in the village, Henry Stebbins, the American Ambassador to Nepal, helicoptered in to visit the Volunteers. Although Jane and her roommates had already sold their possessions in preparation for their departure, they invited the ambassador to see their quarters. Much to their surprise, when the Volunteers and their esteemed guests arrived at the house, it was fully ready for entertaining, with hot water on for tea. In the hour it took for the ambassador to reach the home, villagers had returned every piece of furniture, utensil, and item — "even the table cloth was back!" Jane remembers — so that Volunteers could treat their visitor in true Nepali fashion.
As pioneers in international service, Jane says, the Volunteers took their lessons learned in stride and felt a strong sense of pride in what they accomplished — namely, helping to equip their communities with practical skills in speaking English and improving health and sanitation. Most important, she says, is that Volunteers developed meaningful relationships with a community across the globe, improving lives where they served and also bringing back invaluable new perspectives to the United States. In other words, Nepal Group 1 succeeded at advancing the agency's three goals, which remain untouched today.
For as much as the world has changed over the past 50 years, Jane points out that the Peace Corps Volunteer experience is largely the same: "My story, your stories, our stories — they really haven't changed much over the years."