These were the words I uttered to my mother, two weeks before leaving for my Peace Corps service in Morocco. There we were, me in the driver's seat and her in the passenger seat. Her eyes filled up with tears and my throat felt as if there was an enormous baseball in it. The air was tense, but the conversation continued. "What? Who knows? Who did you tell? Oh my God!" Her reaction was similar to any Caribbean mother's, worried of the judgment I would now face from family and friends and concerned for my wellbeing.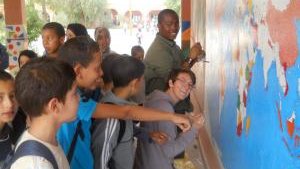 Growing up in Brooklyn, New York, I knew that one day I would have to come out to my parents, and coming from an extremely conservative, religious Haitian household, I would've never expected it to unfold the way it did, right before leaving for the Peace Corps. Some might think the way I went about it was cowardly, telling my mother something so heavy and then two weeks later, leaving for Africa to spend the next two years of my life in a mud house (yes, they had the audacity to put this NYC divo in a mud house) but I made it #Werk. [smile] Internet access would be limited and phone calls too expensive to make on a daily basis. I left New York with the hopes that by the time I came back my mother would miss me too much to care what sex I was attracted to.

Just as I was dealing with the fact that Mother was now aware of my sexuality, I was going right back in the closet to my host family and neighbors in Morocco. Article 489 of the Penal Code of Morocco criminalizes "lewd or unnatural acts with an individual of the same sex." Same-sex sexual activity is illegal in Morocco and can be punished with anything from six months' to three years' imprisonment. However, the law is sporadically enforced by the authorities. The laws against LGBT people living in Morocco stems largely from traditional Islamic morality, which views homosexuality and cross-dressing as signs of immorality.
So here I am in the middle of the High Atlas Mountains in rural Morocco, where my sexuality can lead to a prison sentence of up to six years. They called me "Seide," which in Arabic means "gay" (oops, I mean "happy"). My neighbors in my village gave me this name due to my jocular attitude toward life and the constant smile I had on my face, though I secretly think that my catwalk struts to and from the market were a dead giveaway that I was indeed "happy."
I felt like it was a much safer decision not to come out to my neighbors in my village of barely 1,000 people. Many, if not all of them had very little interaction with the outside world. The notion of someone being gay, totally normal, educated and kindhearted was unheard of to them. As I write this I can't help but wonder, was I the person that should've opened their eyes to the fact that there's nothing wrong with people who are attracted to the same sex? Well, there's no use in feeling guilty now, what's done is done. It isn't uncommon for Peace Corps Volunteers to come out to their communities while in service. I actually knew a couple of Volunteers in Morocco that were courageous enough to come out to their host families and close friends who were locals. For the most part the news was well received; some lost friends and very few were shunned by their communities.
In most Peace Corps countries there is a Pride Committee for LGBT Volunteers and those who are supporters of our community. We held quarterly meetings where we would discuss everything from Beyoncé's new album, which during the time of my service was "4" (a very fierce album, might I add) to ways we could support one another and be there for our Moroccan friends who were struggling with their sexualities in such a religiously stifling society.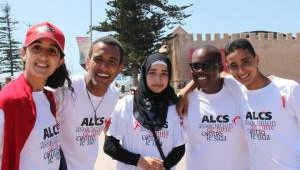 It isn't easy being thousands of miles away from loved ones, but there's something about moving to a totally different environment and culture that allows you to see things in a new light, gain another perspective about the world we live in and grow as an individual. Having to keep a huge part of who I am to people who became like family to me in my village made me realize that I was tired of living a lie to my own family back in the States. I grew more confident about who I was, which in turn made me more proud to be a Black gay man of Haitian descent. The amount of confidence I gained from my Peace Corps service is phenomenal and I can honestly say that if I didn't serve as a Volunteer I probably would still be in the closet to so many people today.
As soon as I came back to the States I had dinner with my older brother and my father. During my Peace Corps service I came out to my older brother via Facebook. Now it was time to tell Pops. There was this feeling of anxiety prior to our dinner. A million and one questions kept running through my head: "Will he disown me? Will I make him cry? Angry?" So we sat down for dinner, ordered our drinks and then I said it. He looked at me smiled and said something so beautiful that I wish every parent to gay children would say: "Gay means happy and if you're happy being happy, I'm happy for you." And yes, Seide is happy. Happy he served in the Peace Corps, happy he has the freedom to write about this without worries of being sentenced to six years in jail, but most importantly, I'm happy being happy.
This story first appeared in Swerv Magazine.