Growing and glowing at Camp GROW
At 5'1", Kavita – a 15-year-old Dalit girl with round cheeks who studies at my local government school – stands only a few inches smaller than the rest of her family. Although shy, Kavita's an astute observer, often picking up on little details in the world around her that others would have missed. 
When I asked teachers for their recommendations for students to bring to Camp GROW (Girls and Guys Reimagining Our World, a six-day food security and social justice camp put on by Peace Corps Volunteers in the Palpa District of Nepal), Kavita was their top pick. The day I went to school to pick up the completed applications, Dolraj sir, the science teacher, handed me her application separately. "She is such a great student," he said emphatically, "and she is so deserving of this opportunity."

And so, after reading through all the applications, seeking advice from the principal, and visiting the families of different applicants… I picked Kavita.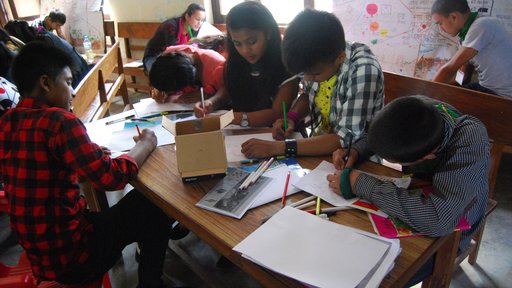 Early on the morning of May 15, my bags stuffed full, I made my way to Tansen, the capital of Palpa. I walked upstairs to the girls' room and found book bags and clothes and cell phones and hair ties and notebooks strewn throughout the room. My eyes scanned for familiar faces among the 19 girls of mixed ages and castes, when suddenly I heard a blended chorus of "Hi Rachana didi!" I turned to find my three girls all huddled together on one bed, Kavita squished in the middle and gleaming with excitement.   
Camp GROW's schedule was full, with three to four interactive trainings a day. Day three ended with a trip up to the Srinagar Viewing Tower on the top of the ridgeline from which Kavita, like most of the rest of the youth, returned sweaty and red in the face from her enthusiastic climb up to the viewing tower.
On day four, the students participated in a cooking competition to make the most nutritious and best-tasting tarkari (curried vegetable dish). The energy was high, and the developing sense of group identity and pride, palpable.
As the days progressed, we led social trainings (on leadership, caste equality, and gender equality) that encouraged everyone to think critically about social dynamics and power structures in their villages. Agriculture trainings (on soil health, home gardening, nursery development, tree management and land management) taught sustainable, organic, local, low-cost techniques that could be used to help improve food security.
By the end of the week, the students walked into day five, the Action Plan day, with new friendships, new skills, and new confidence. That day, they had the chance to tie all of the previous week's lessons together during a land management training, then come together into their Village Development Committee groups to create action plans for how to bring their new knowledge and skills back to their communities.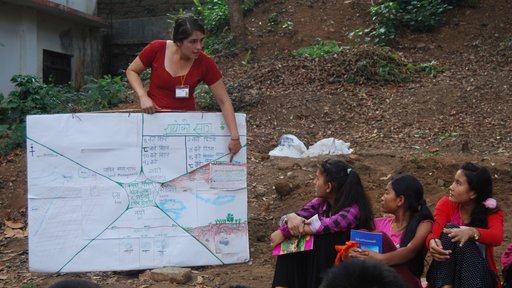 In my group, the chaperone, four students and I chatted hurriedly to navigate all of our ideas and consolidate them onto paper.  When khajaa (snack) break rolled around, we filed out of the training hall to pick up our fruit. It wasn't until I was almost finished that I noticed Kavita was missing. I heard her familiar voice yell, "Rachana didi, eta aunus ta!" ("Rachel sister, come here!") from behind me and went back into the training hall to find her still on the floor, crouched over her village action plan.  

She was busy designing the process she would take to make a vegetable nursery at her house – utilizing soil, bamboo, dried leaves, seedlings, and other resources from around her community – and she excitedly talked me through the whole plan, soliciting my thoughts and feedback on each step. She then turned it over to the back, where she had listed the most important resources that she'd need to make her dream a reality. She timidly smiled and pointed out the first point on the list: "hamro Peace Corps swimsaywika" ("our Peace Corps Volunteer").  
When Camp GROW came to an end, the students packed their bags and wiped their eyes as they exchanged phone numbers and promised to call their new friends. During our post-camp meeting, all 10 Volunteers shared success stories from the week. When it was my turn, I shared my experience watching Kavita open up and grow over the course of the camp. And then, as others shared their stories, I realized that many of my friends shared a similar experience to my own – that we were all amazed to watch how Camp GROW had profoundly impacted, and encouraged growth in, all of our youth.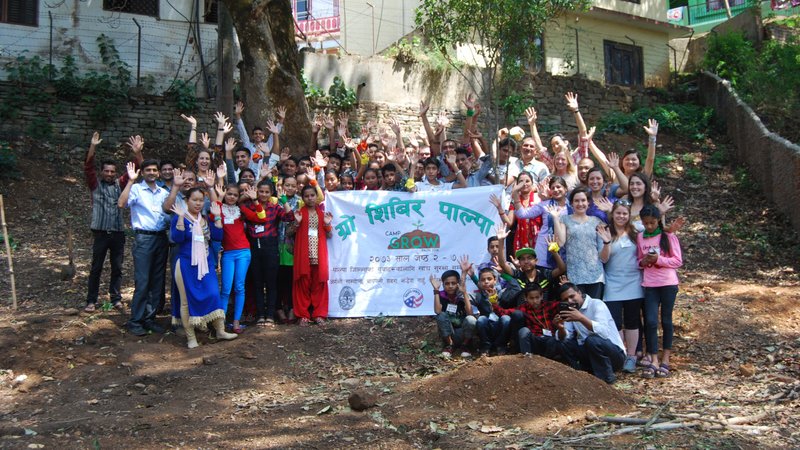 Three days after the end of Camp GROW, I went for a morning jog and decided to visit Kavita's house. As I approached, she came out and smiled. When I asked her what she had done since camp, she rattled off a long list as she walked me around her yard: here was the spot she had picked out for her vegetable nursery, there was the rich and moist soil that she had dug from under a tree to use for the seedlings, this was how she had thought she could make holes in old chow-chow (ramen noodle) bags to convert them from trash into polybags in which to plant, and that was the peat moss she collected to do air layerings to propagate some fruit trees in her yard.  
As we sat together and picked out the rocks from the soil for her nursery bed, she even asked me if I could help her find curilo (asparagus) to plant in her nursery!  
We then washed the dirt off our hands and sat down for tea – or rather, I sipped my tea as she talked excitedly about wanting to try making jhol mal (a natural insecticide), how four local students and I should get together to plant seedlings in the next few months to take advantage of the upcoming monsoon rains, and how we should plant at least one tree at the house of each of the students so that their respective neighbors could learn as well.
Before Camp GROW, I had always known Kavita to wear a reserved smile. But that day, as I sat with her in the shade of her front porch, discussing her hopes for the future, I saw a new type of smile grow – one that lifted her full cheeks up high in her face, nearly covering her eyes with happiness and dreams of growth to come.