Global service storytellers share a slice of their lives at Kennedy Center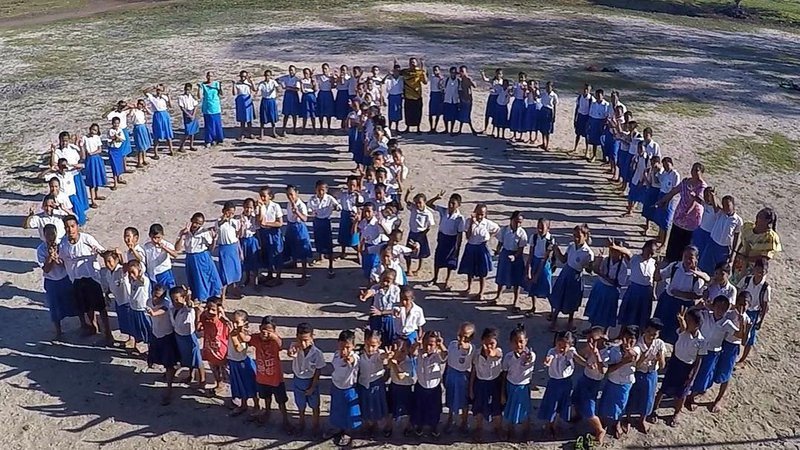 Sept. 30, 2022
Stories from the Peace Corps that build upon global connections were shared by seven returned Peace Corps Volunteers (RPCV) and staff members at the Kennedy Center on September 24, as part of the performing arts center's 50th anniversary celebration. Darlene Grant, senior advisor and a returned Peace Corps Volunteer who served in Cambodia, hosted the event, ushering in storytellers onto the nation's stage.
First was Brianna Maltez, a virtual service outreach and selection specialist. Part of a multigenerational Peace Corps family, Maltez was a Peace Corps Response Health Volunteer in Mozambique, and befriended Vivi, who lived in Niassa — the most sparsely populated province in the country — and became her guide in the community. When Vivi gave birth to a baby girl, Maltez was asked to be the godmother, an experience she cherishes to this day. The girl was named after Maltez, and during her first birthday, as godmother she prepared the birthday outfit, party meal, and even sang during the event.
"This town in Mozambique became home for me. Niassa is not the forgotten province, it is the unforgettable province," she said.
Next was Ella Sokoliuk, public health specialist for HIV/AIDS Key Populations at Peace Corps Ukraine. She spoke about an evacuated Volunteer, Bobby, who returned as a Virtual Service participant and engaged in HIV prevention online, guiding LGBTQIA+ individuals on community empowerment. Alongside Vanya, a physician, the three of them formed a bond that has lasted to this day. When Russia's war against Ukraine started, Bobby would check up on Sokoliuk, and she would respond that she is alive.
As Ukraine liberated villages from Russia's occupation, Sokoliuk volunteered as a clinical psychologist to these villages, with Bobby as her virtual counterpart.
"Each villager looked tired and scared, but after consultations, they would smile and ask for hugs. This story is about love, friendship, and connection, which only transcend during times of war, as the three of us are still connected," she said.
Third to the stage was Anisa Rahaman, the chief information office's product manager at Peace Corps headquarters. In 2021, she volunteered with Afghan evacuees new to the United States. Rahaman recalled how the male evacuees would gather in unison each morning for the communal prayers, and "it was beautiful to see them in harmony." She befriended a teenage evacuee whom she called "Laila" to protect her privacy. Despite the language barrier, she formed a powerful bond with Laila, as they did drawings together. She would tell the young girl, "Say your name loud and proud," instilling a sense of confidence before she embarked on her new life in America. When the caseworker processed her case, Rahaman gave her a give goodbye hug, as Laila faced the new morning.
Fourth on stage was Dinesh Karki, deputy program director at Peace Corps Nepal. Having more than 25 years' experience in development, he remarked on how reciprocal learning has been a key feature during his tenure at the Peace Corps. During a lunchtime conversation with a Volunteer, he explained how arranged marriages take place, even if the couple has met for only an hour before making a decision.
"In our culture, if we understand the smallest particle of a substance, we can understand the galaxy. We can understand a person in an hour, or may not understand the person in a lifetime."
Likewise, the Volunteer helped him realize the immense value his wife brings, despite not being employed, she looks after his two sons, the household, and represents him in the community. "Being raised in a patriarchal society, I underestimated the work my wife does. A lunchtime conversation changed my perspective on how my wife supports me and my family, as I previously said she does nothing."
Fifth was Kelsey McMahon, Virtual Service participant support specialist at Peace Corps Response. As an education Volunteer in South Africa, she wasn't making headway interacting with the school kids until one day, when she joined them playing soccer. This led to the entire community accepting her, as the children looked favorably at her. During a morning run, she was stopped by the police. At this point, one of the students happened to be walking by and vouched for her, leading the police to leave.
Her parting advice? "If you are an outsider, don't rule out the children."
Sixth was Herizo Ramanantsialonina, health programming and training specialist at Peace Corps Madagascar, who explained the heart of Malagasy hospitality. He painted a vivid picture of Peace Corps' training site in the highlands of Madagascar, where agriculture is the mainstay of the economy. A Volunteer expressed concern to him, that initially the host family made a great meal for him, the special treatment is now gone. He explained to the Volunteer that whereas he was first treated as a guest, now he is part of the family, as you are sharing the same meal. "We prefer to lose money than kinship, which is worth more than anything else," he said.
Finally, Aisha Harris-Parker, language and cross cultural coordinator at Peace Corps Jamaica, spoke about the connective power of language. For the 100th birthday celebration of Jamaica's cultural icon Dr. Louise Simone Bennett-Coverley, she assisted a group of Volunteers to perform poetry conducted with music at the University of West Indies. As the Volunteers interacted with the audience in the local language, a delightful experience took place for those in attendance.
"The Peace Corps understands the power of heart language. All our volunteers will go out, learn language, use this to make connections," she said.
Darlene Grant concluded the ceremony and said, "At minimum, your story will make someone laugh or cry, but at most your story could be the spark that leads someone to apply to serve as a Peace Corps Volunteer."
The returned Volunteers and staff members crafted stories that celebrate diverse perspectives and collaborative successes, illuminating the Peace Corps mission of establishing world peace and friendship. They shared their unique service experiences for those gathered in the nation's stage, establishing a connection between the storyteller and audience. These memorable stories provided everyone with a window into their global experiences.