Global Handwashing Day: Let's keep it clean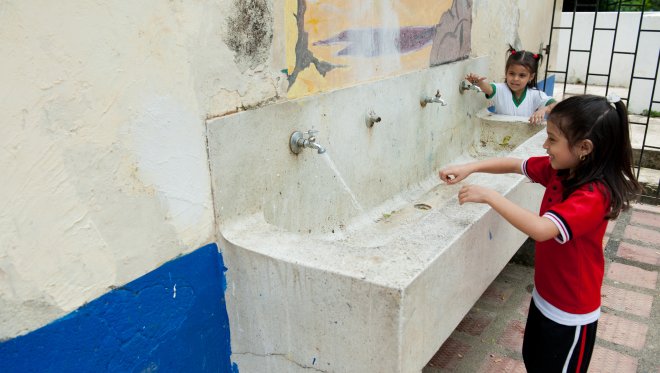 Oct. 15, 2014
Each year on October 15, the Peace Corps joins more than 200 million people in over 100 countries around the world to celebrate Global Handwashing Day. Although Global Handwashing Day comes just once a year, Peace Corps Volunteers work year round to promote handwashing in their communities. The theme of Global Handwashing Day this year is Choose Handwashing, Choose Health, which is the focus of Volunteers' work: helping their communities to make healthy choices through long-term and culturally-adapted behavior change approaches.
Handwashing with soap is the most important and impactful hygiene practice. Soap, when used at key times such as after using the toilet or before touching food, can reduce the risk of diarrheal disease by nearly half and cut the risk of pneumonia by nearly a quarter. These two diseases alone are the cause of 1.7 million child deaths each year, particularly among the poorest communities of the world. In addition, handwashing with soap can prevent skin and eye infections, intestinal worms and influenza.
Unlike many development challenges, handwashing with soap does not require any special skills or equipment, and it's within the economic reach of households everywhere.
In fact, handwashing with soap is the most cost-effective way to prevent diarrheal disease. Research has shown that the availability of soap is almost never a limiting factor in handwashing: Almost all households around the world, even in extremely low-resource settings, have soap. Yet it is often prioritized for other household tasks such as laundry or dishes, rather than handwashing.
Awareness of the importance of handwashing with soap followed by steady practice are key steps to promoting lasting uptake of this essential health behavior. However, making handwashing with soap a habit remains a challenge around the world. Cultural norms vary greatly and are often deeply rooted in belief systems and habits. Because Peace Corps Volunteers understand local handwashing practices and perceptions in their communities, they are uniquely able to promote handwashing behavior change through targeted messaging and long-term reinforcement.
Volunteers build handwashing stations at schools to promote the handwashing habit at an early age and work with teachers to include hygiene lessons. Through youth groups, Volunteers advocate for handwashing using community theater performances and murals. They work with women's groups to emphasize the importance of handwashing for their own health and that of their children. Volunteers also promote handwashing behavior through informal interactions with their colleagues, for example before sharing a meal with neighbors.
On Global Handwashing Day each October 15, Volunteers celebrate by holding community events, painting school murals, and working with children to make pledges to wash their hands at key times. Volunteers compose songs in local languages to sing children and build low-cost "Tippy Taps," simple handwashing stations made with plastic jugs, sticks and string. Global Handwashing Day is a great way to catalyze interest in this practice.
Ultimately, while handwashing is an individual behavior, it takes all of us to ensure that our communities experience the health benefits. Join hands with Peace Corps Volunteers around the world in celebration as we work to promote universal handwashing with soap!