Giving back to America and Armenia in ways I never thought possible
When we sign up to be Peace Corps Volunteers, the last thing we think about is the Third Goal. 
We are enthusiastic about giving our time and expertise to the people of another country, excited about teaching people about America and learning about a new and different culture ourselves, but the idea of teaching Americans about the country we serve in is furthest from our mind. 
Now, nearly six years after I returned from Armenia, Third Goal activities have turned out to be the most important part of my service. They have allowed me to give back to America and my host country of Armenia in ways I never thought possible.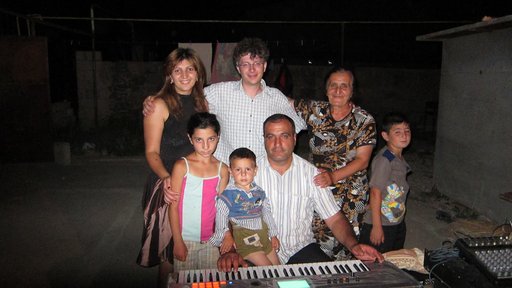 A few years after I completed my Peace Corps service, I found my dream job: working as a law professor in the David D. Reh School of Business at Clarkson University. One of the staples of our business program is that we require every student to study abroad, and we make this possible with faculty lead trips each summer. For me, it was a no-brainer to lead a trip to a place that I know and love: Armenia. 

I was initially worried about whether I would even get students to sign up. "Armenia," so many asked, "where's that?" But my enthusiasm for this place was infectious, and my first year I got eight intrepid students to sign up—a number that has grown in each of the years I've offered the trip. I decided to bring students to Georgia as well to round out the theme of the trip: looking at two post-Soviet countries and the different directions they've gone since their independence. 
I wanted to bring students back to Armenia because it is, quite simply, my favorite place in the world. When I was a Peace Corps Volunteer there, I fell in love with this country, its culture and the intrepid entrepreneurship of its people. I wanted to share that love with my students and help more Americans learn about this region.
There is so much to love about Armenia. Culturally, it is the friendliest place I have ever visited. On so many occasions—both as a Peace Corps Volunteer and as a visitor years later—I have been dragged in to a stranger's party and treated like an old friend. Plates of Armenia's famous BBQ—khorovats—and glasses of Armenia's iconic fruit vodka—oghi—were thrust in front of me. I would hardly have a moment to eat or drink before being dragged away from the table to dance in that signature Armenian way—hands up, in a circle—in the center of the room. 

It is always awesome to me to see my students experience this for the first time: a bit shocked that strangers would want them to join the party, and then quickly delighted by the energy of an Armenian feast.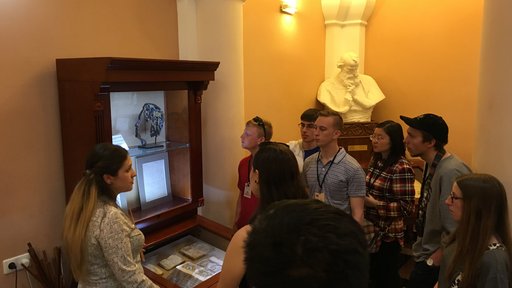 All of my students are majoring in business and I can't think of a better place for them to learn about real entrepreneurship. Yerevan, Armenia's capital, is exploding with startups, and one can hardly keep track of all the companies that are scattered through the city. 

But this isn't just in the cities—we've visited startups making iPhone apps based in small cities such as Gyumri and businesses making more traditional crafts in the villages. 
There is an exciting energy to Armenia—it feels like around every corner there's a project to get involved in, a connection to be made or a idea ready to come to life. The more limited resources in Armenia have forced people to innovate in ways we don't always see in the United States and my students walk away from the trip telling me that what they learned in the South Caucasus supplemented their education in a way they never thought it would. They learned a new way to look at business, a new way to think about innovation and it's changed their lives.
But perhaps the greatest thing to me about this Third Goal activity has just been helping more Americans learn about Armenia. I'm incredibly proud to think that because of my Peace Corps service I have brought over 30 Americans to the country I served in, and that number continues to grow every year. I feel like I'm giving back to Armenia in a different way than I was when I was a Volunteer, this time by sharing my love for Armenia with others and helping them learn about this country and its people buy actually visiting. It's been an amazing experience. 
This is what Third Goal activities are all about. Whether you have the opportunity to lead a trip back to your country of service or if you are able to go to a local school or library to talk about your trip, the joy of sharing the country and culture you love with people who otherwise would never have known about it is like nothing you can possibility imagine. 
It's these people-to-people interactions—whether during our service or after we return—that make the Peace Corps so valuable. This is how we promote world peace and friendship, one conversation at a time.