"Girls are powerful and can change the world"
Third-year Peace Corps Volunteer Leader Trisha Chang sat down with youth club leader Josephine N. to talk about her personal transformation through participating in Peace Corps camps and clubs programs.
When I sat down with Josephine on a Friday afternoon, she had just come from a weekly meeting with her girls group in a central Ugandan village. She started the group to pass on the lessons and skills she has acquired through six years of participation in Peace Corps Uganda leadership and women's empowerment programs.
Josephine's motivation to pay it forward comes as she sees so many girls in her community without access to support or positive role models. A sentiment Josephine expressed several times throughout our meeting: "Everyone was born to be everyone." In other words, all of us are born with the potential to be anything and everything we want to be, but we need support to get there.
Listening to Josephine tell her story, I was struck by her optimism and tenacity, and equally, by the appreciation she has for the Peace Corps Uganda family.
Josephine's story is one so intertwined with Peace Corps Volunteers, and so embraces the vision of Peace Corps Uganda's Girls Leading Our World (GLOW) camp program, it is hard to tell where one starts and the other begins. She began her relationship with Peace Corps Volunteers in 2009, when she was nominated by Liz K., a Peace Corps Volunteer at her secondary school, to attend her first GLOW camp. That week changed her life, as Josephine describes, by showing her "that girls are really great… they are powerful and can change the world. Before Peace Corps I never knew my worth, I never knew how important my voice was, I never knew that I could be part of change in my community… I never really understood that youth were the leaders of tomorrow."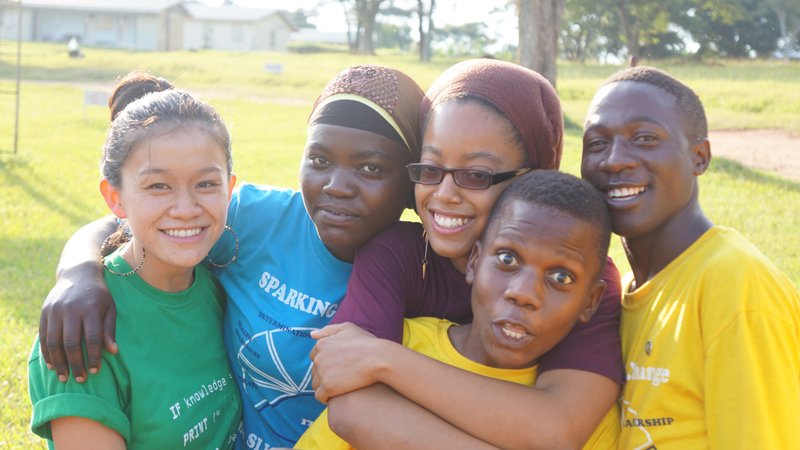 Since then, with the support of many Peace Corps Volunteers, she has attended two additional GLOW camps, one GirlTech camp to support women in science and technology, and was a lead youth facilitator throughout Peace Corps Uganda's Youth Technical Trainings in April 2015.
Engaging participants like Josephine on an ongoing basis reflects Peace Corps Uganda's long-term involvement model for youth development. Attending a local camp hosted by Volunteer and local partners is one entry point for youth to be brought into a system that aims not just to teach skills, but to provide ongoing opportunities for youth to develop confidence and practice leadership skills over time. Peace Corps Uganda, and Peace Corps more broadly, does not prescribe to one-size-fits-all
For example in 2013, Josephine and fellow camp GLOW alum worked with their local Peace Corps Volunteer John V. to inspire girls in village schools in their area to take on leadership roles by presenting lessons they learned from camp, expanding the reach far beyond the original goal. Through John's support and with the interactive and customizable camp curriculum, the girls had many opportunities to practice engaging with local youth and communities.
By October of 2015, Josephine had the confidence and leader ship skills to start her own community-based organization called YIELD, "Youth in Empowerment and Leadership Development." YIELD works through local schools to empower young people, like its founder, to better understand health issues like HIV/AIDs and malaria, as well as take on leadership roles in their community. As Josephine says, "I have not to wait for people, or for my parents to wait for me."
Through her tenacity and the support of Peace Corps Uganda's youth programs, she is already part of the change and a shining example that youth are not just leaders of tomorrow, they are leaders of today.
To learn more and support girls' camps and clubs, visit our Peace Corps Partnership Program page.
About Trisha Chang: Trisha is a native San Franciscan. After two years as a Health sector Volunteer with the Elizabeth Glaser Pediatric AIDS Foundation, Trisha now serves at the Peace Corps Uganda office as a Cross-sectoral Programming Priorities Peace Corps Volunteer Leader specializing in youth empowerment and gender equality.
Curious to learn more? Explore the World Wise Schools resources on this topic.
Explore