Getting closure through the Peace Corps' Virtual Service Pilot
Our main initiative was to help youth and women build futures in Kosovo, so I decided a good place to start was to build relationships by supporting, encouraging, and establishing trust and mutual respect.
I was a 60-year-old Peace Corps volunteer serving in Kosovo (May 2019 to March 2020) when COVID-19 arrived in my host city. I received a phone call at 10:30 at night. The city was going into lockdown, and I had to be out by midnight to avoid being stuck there for an unknown amount of time. The Peace Corps dispatched a driver to pick me up within the hour. I grabbed a suitcase and a backpack and packed what I could, then went to see my host family to explain why I was leaving.
At that time, I had no idea what was ahead for me, or for them. The last words I said to my host family were, "shihemi me vone" (see you later). Then I walked out to the car that was waiting for me. I thought I would be gone for a couple of weeks. Instead, I embarked on a seven-day journey that, ultimately, brought me back to my home in the United States.
I arrived in Washington, D.C., and spent the first evening there. The following morning, I headed onward to my home in Rhode Island. During a typical volunteer experience, the date of leaving your host country is known well in advance. Volunteers are given ample time to wind down and prepare to leave. They have time to find jobs and places to live, time to let friends and family know, time to set up the basics for a new, post-Peace Corps life. Unfortunately, I did not have the luxury of time, so I never had a chance to say goodbye or achieve closure with my host family, counterpart, or my host community.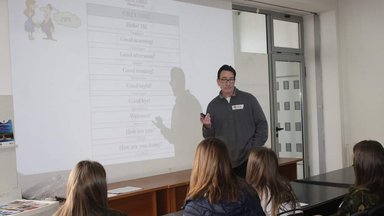 The transition back was hard for many evacuees. But in February 2021, I had the honor of being invited to participate in the second phase of the Peace Corps Virtual Service Pilot (VSP). It was a unique opportunity to engage with the people of Kosovo through Peace Corps again, but virtually instead of in person.
The most exciting part of this invitation was the chance to work with my Kosovo counterpart again and to continue the work I had started during my service there. The core virtual team consisted of five people, three in Kosovo and two in the U.S. – myself and another former Peace Corps Volunteer who was part of my cohort in Kosovo and lived in a nearby town. As a team, we were tasked with developing a work plan and committing to dates to complete individual tasks and the project.
From the beginning, we agreed to have a virtual team meeting every week for one hour. This would be a time to review what we had done, verify that we were on target, and adjust as needed to ensure we were meeting our goals. In total, the VSP experience was a commitment of up to fifteen hours a week. I broke my work down into manageable chunks, with the idea that I would spend a few hours, two to three days a week on the work—including the one-hour weekly meeting. Sometimes, our weekly meetings, included others we thought could help us in getting our work accomplished. For instance, we had a representative from a donor organization join our meeting to discuss grants and their process of reviewing grant proposals This guest helped the team understand how to write and present ideas for projects to secure funding more easily.
On The Peace Corps website, it states "older volunteers may find their age an asset in-country and will often have access to individuals and insights that are not available to younger Volunteers."
As an older male living in Kosovo, I found this to be true. It was not unusual for me to be greeted with a handshake by the older men in my community and then exchange pleasantries and conversations. I would often find myself sitting at a coffee bar chatting with employees, or someone sitting at a table nearby. Even within the municipality, I was able to meet with leaders and have conversations that were open and insightful. When visiting with my host family, family members would get up and move their chairs so that I would be sitting with the older family members. In my daily interactions with my counterpart and others, my input was sought and valued. While I realized I have experience and education, it was mostly because of my age that I was afforded these opportunities.
In my work as a Volunteer, most people I worked alongside were women ages 15 to 25. Not surprisingly, they showed me the same respect and courtesy everyone else did. However, with the younger generation, there was a flip side to all this, that could be a barrier to developing relationships.
Because of age, discussions initially tended to be one-sided. My input was sought and heard, but others withheld sharing their insights. I recall having a conversation with a group about their community and possible opportunities for projects. I commented that I could learn from them and their community. One member of the group seemed surprised, and pointed out that I have so much experience and then asked, "what could you learn from us?"
It became apparent that the youth felt their input had little value. Our main initiative was to help youth and women build futures in Kosovo, so I decided a good place to start was to begin building relationships by supporting, encouraging, and establishing trust and mutual respect. This was a breakthrough moment for me, and one which I believe may have missed had I not been living in-country with more time to engage and building relationships with so many people.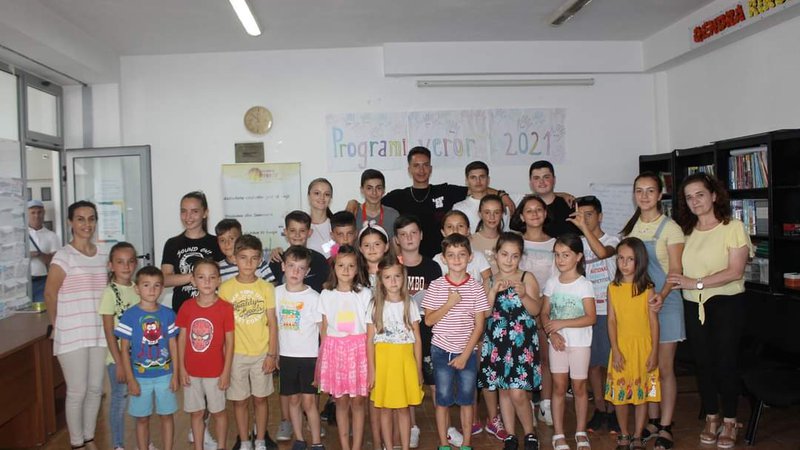 The VSP experience also helped achieve two of three Peace Corps goals. Goal Two is to promote a better understanding of Americans on the part of the peoples served. The Third Goal is to promote a better understanding of other peoples on the part of Americans.
Each week during our team meetings, we engaged in personal discussions that enabled each of us to get an intimate insight into each other's experiences. Over time, this helped us all better understand how we — from the perspectives of our different countries and cultures — viewed the world around us. We also took the time to discuss current events. We talked about events in Kosovo and the U.S., which helped inform each other what was going on within our respective countries. These connections we made were rewarding and helped us know each other better. The discussions also helped me better explain Kosovo and the Kosovar way of life to my American community.
I learned a lot by being participating in VSP. I, along with my team, developed an ability to overcome technology challenges and adapt. Internet connectivity can be intermittent and sometimes it was lost completely. When the internet was not working, we used message apps on our phones that helped us communicate and establish our next moves. We learned about the benefits of consistency, too.
At the beginning of our program, we decided to be consistent and meet virtually at least once a week. This format enabled our team to stay focused. It also drove us to commit to our schedules and complete our work assignment goals. I learned adaptability, too. Due to work and other personal commitments, along with a six-hour time difference, individual schedules changed. As a team, we adjusted our time accordingly.
We learned about reciprocity, too. By having an open environment that promoted sharing between team members, we were able to have back-and-forth" discussions that were respectful, engaging, and rewarding. By giving time and space for each member to contribute, and listening respectfully, we had a series of fruitful dialogues. It helped my American colleague and I lived in Kosovo and worked daily with the Kosovo-based members of our host organizations.
In my case, I was already friendly with my Kosovo counterpart. We were able to accomplish a lot while also having fun. Each week during our team meeting, I would see my counterpart sitting at her desk and know exactly where she was, what her office looked like, as well as the building, street, and community around her looked like. That experience transformed each meeting into a three-dimensional event for me.
Finally, through VSP I was able to get the closure I missed out on in March of 2020. Working on multiple projects during our six months together gave me the opportunity to finish everything before our program ended in July of 2021. It was so rewarding for me to see our work through to completion and see the results of our work impacting others.
I missed this piece when I served in Kosovo. For former Volunteers who want to serve with the Peace Corps again, but have life commitments (careers, family) that prohibit you, VSP is an amazing vehicle to recapture the experience of Peace Corps life without living overseas.