Get involved in digital mapping: Instructions for teachers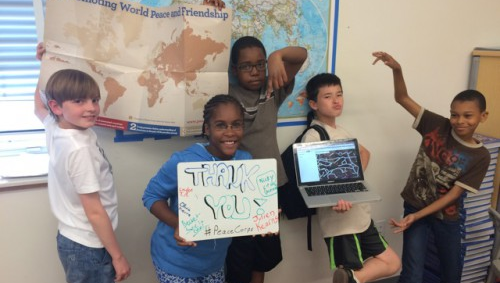 Sept. 11, 2015
Contributing data to OpenStreetMap empowers U.S. youth to actively participate in the international development process and provides a unique and comprehensive understanding of our host communities' human and physical landscapes. 
Through our World Wise Schools Correspondence Match program, your students will enjoy exciting conversations and learning opportunities with a Peace Corps Volunteer (PCV) in the field while helping to create a map for use in that Volunteer's projects and host community.
The majority of people in the developing world do not enjoy access to accurate, detailed maps of their own communities and countries. This lack of maps poses challenges when working to meet basic human needs. For example, when health centers need to understand the geographic element of a disease or an ecotourism business wants to promote environmentally friendly travel on a website. It prevents local governments from accessing data that could help them better allocate resources, and it leaves students without a clear understanding of how to understand their immediate world through a geographic lens.
Follow the instructions below to involve your classroom today!
*Recommended for students in the 6th grade and above.
1. Join Peace Corps' World Wise Schools Correspondence Match. Register for Peace Corps' World Wise Schools Correspondence Match program here. Indicate that you are interested in mapping via the drop-down menu titled "Areas of Work." We will match you with a Volunteer.
2. Collaborate with a Peace Corps Volunteer in the field. The Peace Corps will contact you to introduce you to your matched PCV in the field. We will match you with a Volunteer who is currently working on a mapping project with his or her community. Connect with your PCV to coordinate communication with your classroom and to set up your first video chat.
3.  Teach your students OpenStreetMap. Register your students or, if they have their own email addresses, have students register themselves for accounts at OpenStreetMap. To learn the basics of "Why" and "How" to map, watch these videos prepared by the Peace Corps' partner organization, MapGive. The interactive videos provide time for students to practice, so be sure to watch the videos next to computers while logged in to OpenStreetMap. Advanced users can also reference the pre-existing OpenStreetMap curriculum and assessment tools developed by TeachOSM.
4. Help create a base map of a Peace Corps community for use in a real field project. Your PCV and his or her community will need help creating a map of their community, and your students are perfect for the job. They will have the opportunity to observe, analyze and digitize satellite imagery for a Peace Corps community. Your PCV can provide context and a rich description of his or her project and Peace Corps experience during video chats with your students. Work with your PCV to identify the mapping task that your students should complete.