Get involved in digital mapping: Instructions for Volunteers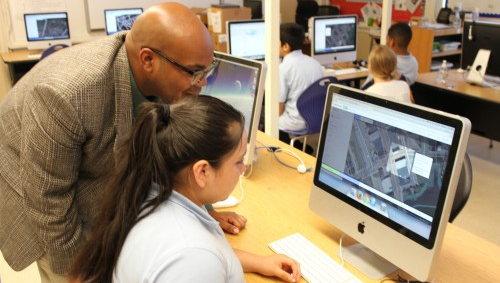 Sept. 11, 2015
Students are an excellent resource when you're working with counterparts to develop a base map of your community on OpenStreetMap. If you lack reliable Internet access or simply the time to create a base map, let U.S. students help you by tracing over roads and buildings in your community.
Once they are finished, you and your community will be able to refine the map and add your local knowledge through OpenStreetMap's user-friendly iD map editor. You can also contribute to Peace Corps' Third Goal by communicating with the students who map your community and helping them make sense of the satellite imagery they observe.

1. Join Peace Corps' Paul D. Coverdell World Wise Schools Correspondence Match Program. Register for the program here. Indicate that you are interested in mapping in the "How did you learn about this program?" box of the registration form by writing: "I am Interested in Digital Mapping." You can also choose an educator whom you already know.
2. Collaborate with a U.S. educator and classroom. The Peace Corps will contact you to introduce you to your educator who has already indicated that they would like his or her students to map on OpenStreetMap. Connect with the educator to set up your first video chat with the students.
3. Bring your project to life for students. In your first video chat with students, present your host country, community, family and Peace Corps experience. Provide a vivid context to help students understand your country and your role as a Volunteer. What do you eat? What is your house like? What is your day-to-day experience?
Once students have started mapping, share stories, pictures and rich descriptions of the geography of your community to help students make a connection between the satellite imagery they observe of your site and the humans who live there. PCVs have used a variety of media to communicate with their matched classrooms, including video chats, blog posts, captioned pictures, phone calls, and letters. If you need additional assistance planning your Correspondence Match activities, refer to the Correspondence Match Handbook.
4. Measure and report your results. As with any project, be sure to measure and report your activities and results in the VRF. Take note of how many students participate in your Third Goal activities. You can also ask the teacher to make sure students use a particular hashtag while saving OpenStreetMap edits and check their progress by searching for that hashtag on Results-Maps.