Generation GLOW: "Emancipation is not an import"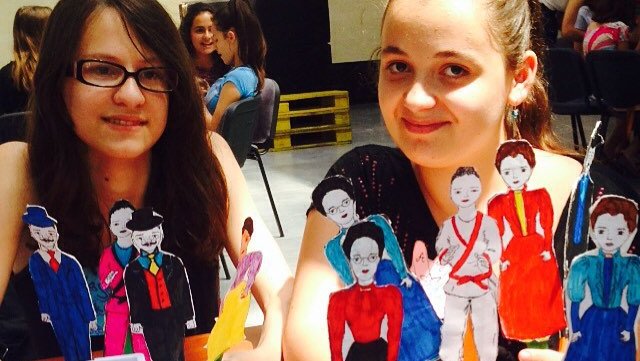 Nov. 12, 2015
In Albania's capital city of Tirana, ambitious school administrator and dedicated advocate of women's issues, Jonida Beqo, with the assistance of Peace Corps Volunteers, helped create a network of girls' empowerment groups. Beqo recruited 40 Albanian university women to participate in a GLOW (Girls Leading Our World) project.

The GLOW project, started by Peace Corps Volunteers in Romania 20 years ago, consists of clubs and day camps that create a safe and supportive environment for learning, cultural exchange, creativity, leadership development, and fun for young women.
Peace Corps Volunteers in Tirana quickly jumped on board to support the group's aspirations and worked to create a nine-week program to train the university women's group as GLOW Certified Leaders.
As part of their training, the GLOW leaders started 15 GLOW clubs at schools in and around the capital of Tirana. Using only paper, markers, time, creativity, and themselves, the GLOW leaders created engaging activities and developed relationships with over 400 girls. After their initial club meetings, it was clear that Tirana loved GLOW and wanted more.
So, the GLOW Tirana team developed a Let Girls Learn grant proposal to fund two GLOW day camps so that GLOW leaders could practice their skills and learn new activities in preparation their GLOW clubs—and reach more girls. The Let Girls Learn funding enabled the GLOW Tirana team to incorporate culturally relevant crafts, new leadership development and team-building activities, and healthy snacks into the long days of camp.
The GLOW Tirana club also piloted new curriculum at the GLOW Camp on Albanian women in history, "Emancipation Is Not an Import." This curriculum was developed to address the lack of women in Albanian history texts and stories. Through "Emancipation Is Not an Import," girls learned stories of Albanian women who have had an impact on their country. As part of this curriculum, the girls created paper puppets representing famous women from Albanian history, such as the Qiriazi sisters, who started the first school in Albania. The girls then decorated their own puppets and performed group skits detailing important moments in Albanian history. "Emancipation Is Not an Import" will be used by GLOW leaders in GLOW clubs throughout the end of the year, along with a dozen other historical figures GLOW Tirana has researched. Their creative work will culminate in a weeklong "Albanian Women In History" event, which will share these stories with the entire city of Tirana.
In addition to learning about new role models, the girls acquired and practiced important new skills in team work, life skills, and effective communication. At the GLOW day camps, the GLOW Tirana team picked activities based on what is often missing from Albanian girls' experience, and carefully considered activities that GLOW leaders could transport back to their GLOW clubs. The fun factor was top priority, as laughter and silliness are often discouraged for adolescent girls. In addition to sewing buttons, hammering nails, and three-legged races, topics covered included hygiene, reproductive health, consent, and life planning.
The Let Girls Learn grant to GLOW Tirana has lasting impact on the capacity of the whole team, from providing continued training to 20 GLOW facilitators to providing a camp experience for 60 Albanian girls and testing GLOW club curriculum for the coming year. The GLOW Tirana team continues to grow, with 12 more Albanian university women registered to take the GLOW Certified Leader training this November, and plans to create a collection of the historical puppets and their stories for publication.
Curious to learn more? Explore the World Wise Schools resources on this topic.
Explore