From Thailand to Namibia: A database built with love and friendship
Neil Boisen is a cultural chameleon of sorts. He can speak seven languages, including French, Mandarin, and Haitian Creole. He's lived in dozens of countries, including Chad, where he was stationed as a Peace Corps Health Volunteer from 1993 to 1994, South Korea, where he worked as a freelance journalist, and Taiwan, where the self-taught pianist arranged a song that won the equivalent of a Grammy Award.
He eventually traded musical notes for data points, facilitating database design workshops all over the world – from Myanmar and Guatemala, to Zimbabwe and Madagascar. And when the pandemic threatened to halt Neil's global efforts, he shifted his approach with help from the Peace Corps.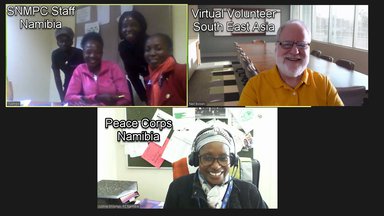 Neil was in his Bangkok home when he received an email inviting him to participate in the Peace Corps' Virtual Service. After reviewing the available short-term projects, Neil decided to lend his analytical mind and visualization skills to co-develop a database with Sam Nujoma Multi-Purpose Center (SNMPC), an organization that diversifies social and developmental needs for Namibia's Ongwediva community.
"Many Volunteers go on to get a graduate degree or have a family, and what they miss about their service is not just the experience of living in a different country – they miss the sense that they're contributing to a better world; the fulfillment that comes by taking a skill you have and sharing it with someone who wants to learn. That's what motivated me and why I enjoyed [Virtual Service] so much," he said.
SNMPC welcomed Neil to the team by recording a 10-minute virtual tour of their office. Neil also credits the Peace Corps staff in Namibia with providing the support and tools needed for the virtual project to succeed.
"At the start of the engagement, we were asked to create a work plan with clear tasks, a timeline, and indicators. That was really helpful. It communicated the process and allowed me to allocate time for multiple reviews, debugging, and training."
The fulfillment that comes by taking a skill you have and sharing it with someone who wants to learn ... that's what motivated me and why I enjoyed [Virtual Service] so much.

Neil Boisen, Virtual Service Participant
Once the team had a plan in place, Neil set out with the same approach he brings to his in-person workshops. "First, you have to listen and learn from the organization. What projects are they implementing? What are their needs? How do they manage their projects? What data collection forms are they using?"
Keeping these early discussions with his counterparts in mind, Neil designed the "Sam Nujoma Information Processing System" or SNiPS for short – a total of three databases integrated into a single, easy-to-use interface. Neil created and embedded 30 instructional videos to ensure sustainability. It was important to both Neil and his counterparts that for years to come, new SNMPC members would be able to learn how to properly use the system.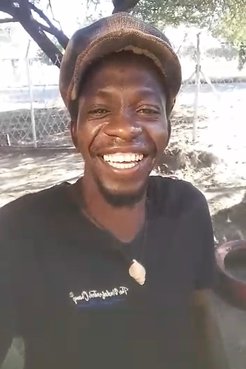 Neil is a perfect example of why there's no clear-cut answer when it comes to how many hours Virtual Service Participants donate each week. At the beginning, Neil's asynchronous tasks and his work collecting feedback from his counterparts required only the minimum of five hours per week. But as the project and weeks progressed, the amount of time Neil donated grew.
"My [donated] time varied based on where we were with the project. When I was developing, I did two 10-hour days just to get the database done. There were two weeks where I spent 20 to 30 hours on just this project."
Once the SNiPS database was complete, Neil trained the team on its various functions. He also hosted a few virtual workshops on how to effectively build and use Excel pivot tables for reports and analyses. The multi-day training was recorded so the techniques could later be revisited.
"In many databases, reports are hardwired into the system. This is problematic. What happens when, after several years, the team needs a new type of report and I'm not there? Therefore, in SNiPS, I linked Excel pivot tables to the database, so the local team could create any type of report on their own. I wanted to make sure they felt confident using pivot tables."
"I am glad to have been one of the participants for this training. It gave me a new understanding on how to work with databases and I think moving forward, generating information will be easier and faster," one SNMPC counterpart later commented.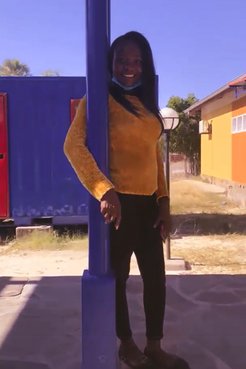 The average person might not associate a database or Excel spreadsheets with fun, but the average person hasn't been trained by Neil. Perhaps his strongest asset is his innate ability to bring a lightheartedness to otherwise mundane material through creative games and a jovial spirit.
"We would describe Neil as a people's person – he's very patient, dedicated, and passionate about his work. His calming demeanor puts people at ease and made the work run much smoother," said Peace Corps Namibia's Programming and Training Assistant, Justina Shilongo.
Each meeting kicked off with a game, riddle, or visual illusion. These games not only served as icebreakers, but they enabled Neil and his counterparts to learn more about each other and their respective cultures.
"As we played these games, little things would naturally come out about our lives," Neil beamed.
Neil encourages other returned Peace Corps Volunteers (RPCVs) to consider participating even though the world is opening back up. "I had the availability and it was an opportunity to give back. You're seeing people learn new skills that they can then use to support their community. It's quite fulfilling."
Today, Neil is working with several nonprofit organizations around the world by developing a medical information system for refugee camps in northern Thailand and supporting local social behavior change projects in Africa and Asia. In his spare time, he revisits his love of music composition.
---