From internet connection to human connection – reflections on virtual service
The opportunity to serve Armenia again through the Virtual Service Pilot struck me as something I didn't know I was looking for.
As I boarded my flight out of Armenia in December of 2017, I pledged that it wouldn't be long before I returned. Over the course of three years of service, I had wound my way around the small country. For my first two years, I taught English in Jrashen village. Later, I moved to the capital of Yerevan, where I worked both in the Peace Corps office and taught American literature and writing at the Russian-Armenian University. Since I left the Peace Corps in 2017, I'd only been back once for a three-month stay in Yerevan in 2019. Otherwise, my connection to Armenia had been purely digital, dominated by photo updates via WhatsApp and brief, choppy Skype calls.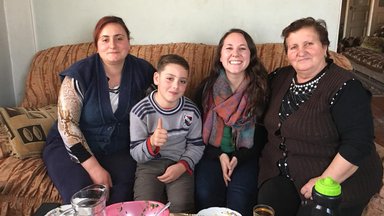 In 2020, at the onset of the pandemic, I was working as the training manager at a consulting company, trying to figure out how we were going to respond to the sudden shift to remote work in a field that typically revolves around in-classroom interactions.
The stakes were high. Many trainers were not familiar with virtual training platforms, but if we couldn't make the shift successfully – and fast— we risked losing the training classes on our calendar for the remainder of the year. Faced with this need to pivot, I was lucky I had experience serving in the Peace Corps in Armenia and the skills that time gave me:— the ability to innovate, resilience, and problem-solving.
I drew on my experience as a member of the inaugural Teaching English as a Foreign Language (TEFL) Certification group in Armenia to explore nuances of synchronous versus asynchronous learning. I remembered the best practices for online engagement I had gleaned from the online teacher-training curriculum that was developed during my service. These experiences, coupled with my teaching and curriculum-design training in Peace Corps, informed the approaches I ended up implementing in response to the pandemic for our new virtual, instructor-led training approach.
I was relieved I had past experiences to draw on, but I also spent time reflecting on the crucial lessons my Peace Corps experience taught me about the value of purposeful human connection – especially at a distance – both with other Volunteers during service and with my Armenian host community in the time since I left. I realized that each of these experiences were models that shaped my approach to, and success in navigating training, engagement, and connection during the pandemic.
While I was learning to shift gears in my own job, Armenia was being wracked by a devastating war and the pandemic. There was desperate need for connection and support, and all Peace Corps Volunteers had been evacuated due to COVID. After scouring news articles for names of fallen Armenian soldiers, hoping desperately not to recognize the names of former students or host family members, I was frantic for an opportunity to reconnect with the country I loved. I wanted to show the same care and support I'd received from the Armenian people during my service. My husband – also a returned Peace Corps Volunteer who served in Armenia – started Armenian lessons again, so the sounds of the language buzzing in my ears was a constant reminder of what I was missing.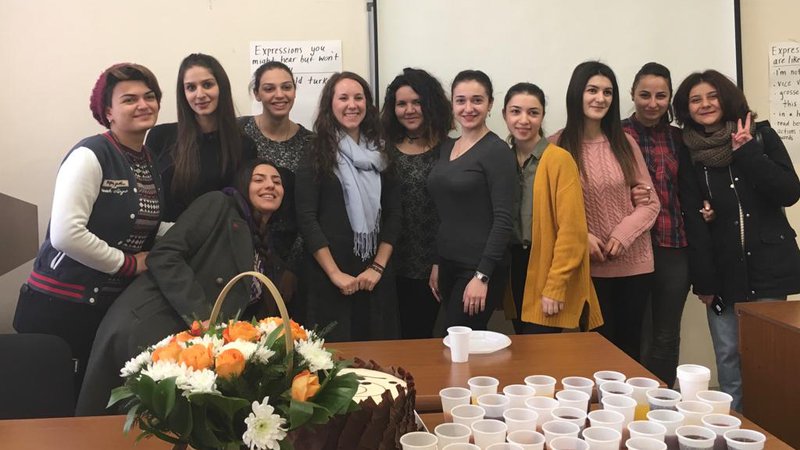 The opportunity to serve Armenia again through the Virtual Service Pilot (VSP) struck me as exactly what I hadn't realized I'd been looking for. I could serve again—and this time I'd be equipped with new lessons and best practices about virtual instructor-led training.
I began my assigned VSP project with the Armenian English Language Teachers' Association (AELTA) in July 2021. We partnered to deliver virtual teacher-training on the Fundamentals of Literature. When I logged into my first session, I was met with the first of many surprises. Among the eight registered participants in the course were three familiar faces — former students of mine from the Russian-Armenian University who were now teachers across the country. This moment humbled me. Just four years after my service, my former students and I were now sharing and workshopping best practices for virtual instruction.
Over nearly 12 weeks together, participants in the Fundamentals of Literature course have debated character motivations, engaged in close reading and annotation, and developed and delivered mock lessons spanning 20 different literary works. The teachers participating in the course have reported incorporating our readings and approaches into their classes and have returned with new resources and insights to share. A true community of practice emerged. One that bridges differences in geographical location across Armenia and the U.S., class levels taught, and access to in-classroom resources. In many ways, the shift to a fully virtual platform opened new and innovative opportunities for these teachers to explore both their personal development and to shake up their current approaches.
If I have learned one thing in my experience working with educators, it is that they flourish when asked to tackle a complex challenge. The VSP teachers have proven that tenfold.
These VSP participants' dedication to their students and professional development ushered them to a place of innovation that will continue to serve them in the classroom going forward. I am immensely grateful for the opportunity to continue engaging with my country of service. While my return to Armenia may have been over Zoom this time, I look forward to a day in the not-so-distant future that I'm able to connect face-to-face.