From City Year to Peace Corps, always wearing the red jacket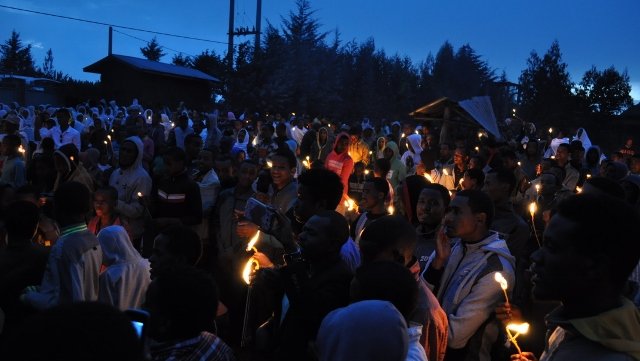 Feb. 27, 2015
City Year was an invaluable, life-changing experience for me.
Until I came to City Year Greater Philadelphia, I had spent most of my life with people who prayed like me and looked like me. Professionally, I had not worked with or led a team, I had not been tasked with representing an organization, and I had not contributed to the things I believe in (i.e., quality and equal education for all). Simply put, I was wholly unprepared for Peace Corps service. But, after two years of in-class tutoring, after-school programming, diversity training, technical trainings, leadership development and so forth, I was fully prepared for Peace Corps service. However, while the technical experience City Year service provided prepared me for my Peace Corps service, it was something else altogether that prepared me to embrace my role as a Peace Corps Volunteer.

As a City Year AmeriCorps Member you are tasked with "wearing the Red Jacket." You make a commitment to represent excellence and idealism when you put it on (which usually means 50-plus hours a week). When you get to your school at 7:00 a.m., when you get on the bus at 5:00 p.m. or when you walk home at 7:00 p.m., you are usually the most visible and easily recognizable person because of your red jacket, khaki pants and Timberland boots. Students, teachers, community members and passersby identify you not as an individual, but as "City Year." All eyes are on you. You influence and inspire those around you. Now, take away the jacket, the khakis and the boots (okay, keep the boots) and you are left with a Peace Corps Volunteer.
Though I don't wear the red jacket here in Ethiopia, I am still a very conspicuous and easily recognizable presence in my community. This is one of my favorite parts of service, because I get to be "the American" or the "the foreigner." As the first American to live in my community, I get the opportunity and responsibility of representing and sharing our culture. I get the opportunity to (figuratively) say, "Hey, we (Americans) are open to learning about and embracing your culture. By the way, here's how we live too!"
Today I sat down to drink coffee at a café I usually frequent. As I sat down, I was cheerfully greeted by five men who I didn't know well, but who were determined to know about me and about life in America. For nearly an hour we discussed topics that ranged from differences and similarities between Ethiopian and American romantic relationships to American crop production. For nearly an hour, I had the opportunity to sip delicious, dark Ethiopian coffee and participate in a relaxed and enjoyable cultural exchange.
When I got home, a girl on my compound, Hayat, asked if we could play wiffle ball. After some hesitancy on my part, I agreed and we ended up playing for about 20 minutes. When wiffle ball got boring, I took out my Frisbee and we tossed that around for another 10 minutes. By the end of our little session, we were joined by some of our neighbors, and just for fun, I incorporated some English language practice into the mix.
Sitting down for coffee with strangers, playing wiffle ball and Frisbee with your neighbors and teaching English during non-work hours are not in the Peace Corps job requirements. You could potentially have a very productive service without doing any of these things. Yet I happily do these things because I embrace being a positive representative of the U.S.A. and Peace Corps. The "red jacket" reminds me that people take notice of what "the City Year" is doing or, in my case, what "the American" is doing. The idea of the "red jacket" motivates me to give attention to the seemingly small things which, in turn, motivates and drives me to meet the objectives and goals of my assignment.
This post first appeared on City Year's blog.