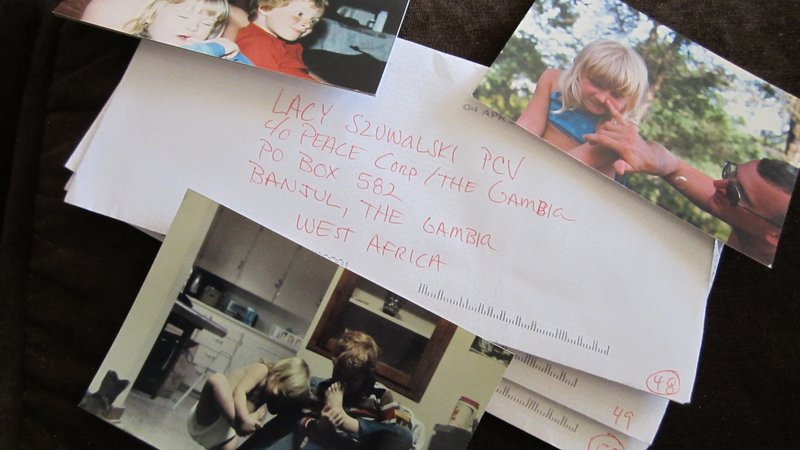 Oct. 28, 2013
There's something special about receiving a package or letter in the mail — especially when you're living and working abroad for two years. 
As a returned Peace Corps Volunteer, I know that seeing a familiar postmark and a well traveled envelope or box can make a Volunteer smile from ear to ear.
Volunteers serving in different countries want different things in their care package (although almost everyone seems to want peanut butter), but one thing they all want is that connection to home. 
What are the care package items Volunteers treasure most?
Lacy Szuwalski, who recently completed her service in The Gambia:
"My father wrote me over 90 letters.  In each letter he would put two pictures from my childhood.  It was the most touching act of love he has ever done for me. My aunt and my mother both have sent me countless packages with little comforts from home.  Each displayed a great amount of thought and would make me smile because I felt as though I could read their thoughts going through the item."
Aimee Edmondo, currently serving in South Africa:
"On my blog I created a list of care package items for reference, and my family is great about keeping a running tally of the things I've requested in previous conversations. Social media is definitely the easiest way to share my story with family; but I still send and receive handwritten letters as well, which is a great way to spend free time and makes for a nice surprise on days when I collect the post."
If you know a currently serving Volunteer, take a few minutes to write them note and head to your local post office to get an international stamp. If you are interested in sending a package, make sure to review the rules as to what can and cannot be sent through the mail. And remember, sometimes the mail can take a few weeks to reach its destination — so don't pack anything perishable! Depending on the size of the package, it will cost about $50 to send, but the value to a Volunteer is priceless.