From a counterpart to an intern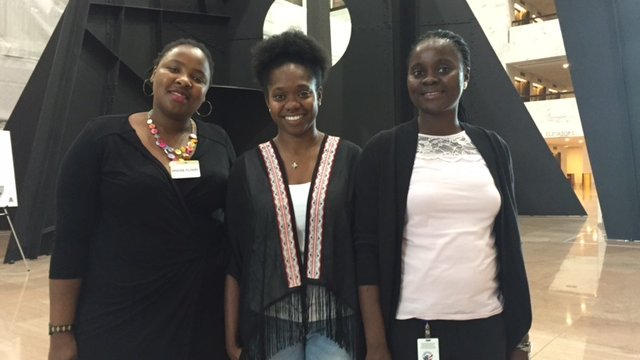 Sept. 14, 2015
Time is a resource and every young person must contribute part of his or her resources to benefit the community.
Volunteering is about giving your time to create positive change, working together to develop a healthy, vibrant community that is aware of its needs and wants.
Back in my community in Swaziland, I've been able to influence change and promote positive thinking among young people and adults alongside Peace Corps Volunteers. This year, I was able to participate in a formal international exchange program that got me a plane ticket to the United States of America to be part of the Young African Leaders Initiative (YALI) Network, working on African solutions for African problems through a six-week intensive training through the the Presidential Precinct at the University of Virginia. I am so humbled to have been part of the Peace Corps staff as an intern for six weeks, which opened doors for learning and helped me acquire skills across different teams.
Young people need to take the lead in identifying their own community's needs and find solutions to fix those needs; we are our own entrepreneurs for change. We are all ambassadors of our own communities so it is very important for us to build our community, including working with Peace Corps Volunteers in our community, because they are working with us for our own development.
Young African Leaders Initiative (YALI) Network
On June 19, the YALI fellows arrived at the University of Virginia excited to see how Americans get things done and looking forward to enhancing our own personal of resources. We came from very different backgrounds but as young leaders, we are all the change Africa has been waiting for.
We talked at length about design thinking and how we will be able to influence change through our messages and empathy.
As Dr. Allan Stam, Dean of the Frank Batten School of Leadership and Public Policy and Professor of Public Policy at the University of Virginia, said, "Leadership is the art of getting things done." He influenced me greatly as he talked about collaborative governance and the importance of organization when you are a group leader. I am going back home inspired and motivated to influence change by getting things done. As a leader returning to Swaziland, I will influence other young leaders through a mentorship program that champions the importance of quality education for sustainable development.
The most rewarding thing I can do now is to create a better tomorrow for the youth of my country. A community that will be able to eradicate poverty is a community that will work to make sure every individual can achieve his or her own goal in life.