The Franklin H. Williams Award honors a civil rights pioneer and exceptional Volunteers of color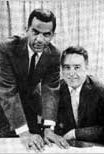 By all accounts, Franklin Hall Williams was a man dedicated to helping others. Born in 1917 in Flushing, New York, Williams served in the United States Army, graduated Fordham University Law School having already passed the New York Bar. He was almost immediately appointed as the special council for the Legal Defense and Educational Fund of the National Association for the Advancement of Colored People (NAACP), where he worked alongside Thurgood Marshall, who headed the Legal Defense Fund.
In these roles, Williams and Marshall won reversals of death sentences for several Black youth who had been unjustly convicted of crimes and sentenced to death in southern states.
In 1950, Williams moved to San Francisco to take leadership of the association's West Coast office. While in San Francisco, he campaigned tirelessly against racial discrimination in California and worked for civil rights reform. He won a major case involving school desegregation, managed to remove biased restrictions in real estate covenants, and helped secure laws against employment discrimination. By 1959, Williams was appointed assistant attorney general for the state of California — the first Black man to ever hold the position. While serving, Williams created the state's first constitutional rights division in the Department of Justice.
While Williams was working for justice in California, the Peace Corps was being conceived in the minds of President John F. Kennedy and Sargent Shriver. In 1961, Shriver invited Williams to help him organize this new Volunteer agency.
The two men traveled together to nine countries, where they pitched to leaders the idea of sending American Volunteers to work side-by-side with community members to address pressing problems.
Once the agency was established, Williams served as the Africa regional director for three years. In 1963, after his time with the Peace Corps, President Lyndon B. Johnson tapped Williams to serve as U.S. representative to the Economic and Social Council of the United Nations. Again, Williams was the first Black person to receive this appointment. Two years later, Williams was named U.S. ambassador to Ghana.
The relationship between the Peace Corps and Franklin H. Williams is deep and important and lives on in the annual award named after him. Each year, nominations are accepted for returned Peace Corps Volunteers of color who have demonstrated a continued commitment to the Peace Corps mission and Third Goal since completing their service.
The Third Goal, of course, is the goal of promoting "a better understanding of other peoples on the part of Americans" by teaching Americans about the countries where Volunteers serve.
The Director's Award is a separated honor given to a person of color — specifically someone who has not served in the Peace Corps — who has worked professionally or personally in areas that align with the Peace Corps mission of promoting world peace and friendship. The awardee must have a proven track record of consistent commitment to and steadfast support of world peace and civic engagement.
"Winning the Franklin H. Williams award was a surprise and true honor," said Diamond Butler, who served in Comoros from 2015-2017 and received a Williams Award in 2020.
"As an RPCV, I was committed to continuing my work that was connected to my service and never imagined I would be recognized. It was a moment I felt loved and seen. ... The award reminds me to continue the work and serve in every capacity where I am called."
Other 2020 award winners shared similar sentiments about the award and what it meant to them.
"Every time a student asks me about the Franklin H. Williams award, I've been able to talk about the Peace Corps, what it is, and isn't, and what good work it's doing. It raises their interest to check out the Peace Corps," said Sheldon Gen, a professor at a state university.
Cheri Bennett, an RPCV who served in Dominican Republic from 1991-1993, said that receiving her the award named in honor of Williams was a special achievement and one she is proud of.
"Mr. Williams departed his earthly journey in 1990, the same year I was beginning the long application process to become a Peace Corps Volunteer," she said. "I had no idea where I would be placed, but I trusted in the slogan that it would be 'The toughest job that I'd ever love.' It is with the same excitement and enthusiasm that I have continued to serve my fellow man.
"We can all make positive impacts on the lives of others in ways that are unique to us as individual contributors to the greater good of humanity."
---