Fostering an appreciation for Paraguay from afar
I worked side-by-side with other evacuated returned Peace Corps Volunteers and incredible Para La Tierra staff to boost membership and retention within their Eco Club Program.
I still find it hard to talk about being evacuated from my Peace Corps service.
To this day, when I think back to March 2020, feelings of sorrow, pity, anger, and fear tangle together to make a pit in my stomach. At the time, I was just starting to feel settled in my new Peace Corps site — a small community near the border of Argentina and Paraguay. I started making friends, I was an active member of my neighbor's Zumba group, and I was crafting project plans with my municipality counterparts.
On the day I learned I'd be evacuated, things were going well. There were birds singing outside my little casita, and the mburucuja (passionfruit) flowers were blooming. It's still hard to believe that in one sweep, everything crumbled and my happiness was suddenly replaced by fear — not only for my own safety, but also for the well-being of the Paraguayan friends, family, and colleagues I had to leave.
Within 48 hours of getting the call, I landed on my parents' couch with no job and no plan. I knew it would take me a while to process everything. Going outside my parents' house felt weird — there was concrete everywhere, no wildlife, no one said hello to me in the streets and, of course, there was a pervasive fear of COVID-19.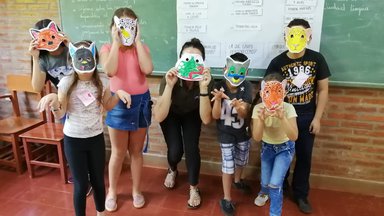 I knew I was beyond privileged to be supported by my family. I knew I was lucky their house was near a park, so I could take frequent walks in nature. Still, it took a couple of months before I began accepting that I would never go back to Paraguay and that maybe my plan of Peace Corps service was not in the cards. That was a hard pill to swallow.
But when our environmental program specialist contacted me about applying to participate in the Virtual Service Pilot (VSP), everything changed. Through VSP, a number of evacuated Peace Corps Paraguay Volunteers would be selected to work with a well-known Paraguayan nongovernmental organization, Para La Tierra (PLT), to build incentive and retention strategies for their Eco Club Program — PLT's youth environmental education program.
The term "Eco Club" meant a lot to me since I had worked alongside my Paraguayan host sister to run one in my community right before evacuation. I missed the students in my class so much. I had to apply for this opportunity.
I was accepted as a Virtual Service Pilot Participant (VSPP), and I was elated when I hopped on our first Zoom call and saw so many familiar faces.
There, on my screen, were the fantastic group of Paraguayan staff from training, our program manager and specialist, program director, country director, and of course, fellow evacuated Volunteers. Just seeing each one of them in their little Zoom boxes brought me so much joy. After being ripped away from this team in March, I was back. This felt like a new beginning and I needed to make my time as a VSPP as fruitful as possible.
For the next six months, I worked side-by-side with other evacuated returned Peace Corps Volunteers and incredible Para La Tierra staff to boost membership and retention within their Eco Club Program. Our project included rewriting, organizing, and structuring the environmental education manual and interweaving the program with the much-needed monitoring and evaluation initiatives that other fantastic VSPPs were working on. My Spanish came back in waves but, most importantly, my relationships with my previous colleagues flourished once again.
My VSP experience helped me feel a sense of closure after such an abrupt end to my Peace Corps service. I was able to grow professionally – I strengthened my program management skills and strategic growth mindset. I also grew personally – I was able to reconnect with past colleagues and Paraguayan counterparts. Most importantly, I was able to contribute to a youth program that sparks creativity, exploration, and appreciation for nature in Paraguay.
While my time as a VSPP was strictly through a computer screen, every single day I worked with Para La Tierra staff and Peace Corps affiliates allowed me to feel like I was back in my little casita, planning the day ahead with people who were passionate about this work. The birds outside my U.S. home may not sing the same songs, and the flowers that bloom may not be quite as beautiful but, by being able to reconnect to Paraguay virtually, I was able to end my Peace Corps chapter on a much sweeter note.
---