For this retired couple, serving together in the Dominican Republic is a dream come true
Katheryn Peck and Kent Rice both served with the Peace Corps in the 1980s in different places. He served in St. Kitts and she went to Honduras. The recent college graduates did not know each other when they left for service, but they met a few years later in 1989 in Iowa City, Iowa.
The Peace Corps was something they had in common. They bonded over stories of service and talked about serving again someday. They married in 1994 and in 1997, Kent and Katheryn decided they wanted to embark on another service journey, this time together.
In their 40s at the time, they knew they wanted to retire at 60 so they could serve again. That decision set the wheels in motion. Kent and Katheryn began saving and preparing for service in the future. It took years of planning and working with a financial advisor to reach their goal of serving again, but it's a dream that's come true – twice.
Katheryn and Kent served together in Paraguay from 2017-2019. Today, they're serving together once again in the Dominican Republic.
We discussed their mutual desire to serve as older Americans, and as a couple. Here's what they had to say:
Q: How do you think service is different serving as an older adult versus a younger adult?
A: There are very good things about serving as an older adult. Of course, we have a lot of experience. Some of the things in a developing country are similar to the way we did things when we were younger. We have the luxury of remembering when times in the U.S. were much different than they are today.
In some ways, our service in the Peace Corps reminds us of growing up back home on the farm, raising chickens, gardening, and doing chores. It is easier for us to spend time without air conditioning, instead sitting under a shade tree conversing or eating outside. Also, we generally have more patience than we used to. We are mentally here in country.
As younger Volunteers, we spent a lot of our time thinking about what will be next in our lives, where am I going to live and applying for jobs or furthering our education. Furthermore, we believe we get respect from local people merely because we are older. On the other hand, younger Volunteers learn much faster than we do, learning a new language is more difficult for us.
Q: Why would you encourage older Americans to serve?
A: Serving in the Peace Corps at any time is rewarding. Serving as an older adult exercises your brain, there is a lot to learn in the Peace Corps. You'll be training with many young adults and the average age is in the 20s. It is rewarding to try to keep up with them. It also works out well financially. The Peace Corps provides 100% medical coverage and adequate funding for housing, food, and a few incidentals.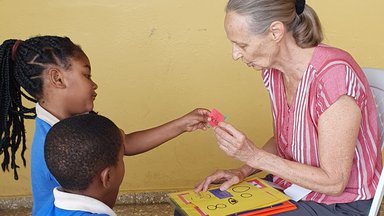 Q: So far, what has been your favorite part of service in the Dominican Republic?
A: Our favorite part of training is our on-the-job training. Kathy is working in the Education sector with early childhood Spanish literacy. She is currently working with 1st graders teaching the sounds of letters as they learn to read. Kent is working in the Economic Development sector with high school juniors teaching personal money management, how to get a job, and increasing entrepreneurship skills. It is a challenge for us doing these in Spanish in a new culture during training, but also very rewarding.
Q: What's it like serving together as a couple?
A: We really like serving as a couple. It is so helpful to have a companion/partner. The Peace Corps can be stressful and at any time one of us can have a bad day. But we have each other to pull the other one up out of a slump. We have someone there to brainstorm work ideas and activities. Other times we can complain together, but always we have each other to be happy together and we will have stories to share for the rest of our lives.
Q: What would you say to a couple considering service?
A: For a couple to serve in the Peace Corps, we suggest advance planning. It takes time to get your affairs in order. Medical clearance is tough, and you have to be healthy. It is a big time commitment, too. It can take nearly a year from the time you decide to apply until you are on the plane. Then almost three months of training before your two years of service begins. It can then easily take six months to return to "normal" life after service. That makes 3 1/2 to 4 years. It is a big deal.
All that said, it is some of the most rewarding times of our lives. The Peace Corps allows you, actually, requires you, to completely immerse in the culture in which you are serving. This immersion and bonding with our host country community is truly special. It gives a perspective and appreciation for others that we take with us and share with our family and friends in a way that no other experience can match.
Many people have done it, many more will do it, and you can, too.
---