For this mom and daughter, Thailand runs in the family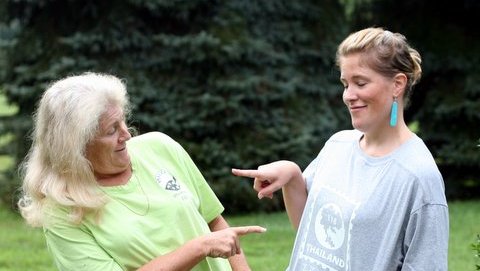 Jan. 17, 2014
Jerilyn Ray-Shelley thought it was too late for her to serve in the Peace Corps, but after a visit to her daughter, Caitlyn, who was serving as a Volunteer in Thailand, she changed her mind.
"After returning home I began to think that, with the support of my family, I actually had greater skills to be a Volunteer today at the age of 65, than I would have had when I was younger," Jerilyn said. "My husband was a great support, as were my kids. I felt confident that I could live in a village, eat most of the foods, learn the language and share my love for America while I became an integral part of somewhere else. So I applied!"

After being invited to the Peace Corps, Jerilyn waited in anticipation for her assignment to arrive. "I expected to be going to Africa, so I was stunned when I opened the package and saw Thailand!" Jerilyn said. Both mother and daughter served in Thailand as education Volunteers, and each ended up having different experiences and words of wisdom for prospective Volunteers.
Q: What did you expect your service to be like in Thailand, and how did those expectations match up with reality?
Caitlyn: I was going in with a lot of fear but also tons of excitement. I had never been to Asia, but how lucky I was to be placed there! The first year was very difficult for me, but after fighting through the homesickness and getting more comfortable with the language and the culture, the second year was wonderful.
Jerilyn: From the beginning, the challenges were many and were not the challenges I had expected. It was difficult for me as an older person to feel comfortable with the young Volunteers. For the first time in my life, I felt old!
However, I'm also a pretty resilient person and was able to recharge and stick with the training knowing that on the other side, I would be able to take my skills to a village and do what I was there to do: volunteer. The language was also a big challenge, and the training Peace Corps provides really builds your language ability. I was thrilled to finally test at a novice high (language level), and now I can have basic but meaningful conversations in my town. Every day I am grateful for the generosity of the family I live with. They have treated me like a member of the family from day one.
Every day I get on my bicycle, ride a couple of minutes to my school, greet the teachers and students, and begin a really happy day. I really feel like I am making a difference.
Q: What advice would you give to someone considering joining the Peace Corps today?
Caitlyn: I would tell someone that it honestly is the best decision I have ever made thus far in my life. Stick with it, it does get easier. As challenging as it is, try to enjoy the moments. Laugh a lot.
Jerilyn: Take it one day at a time. Be patient with yourself and others. Pace yourself early on. Start small and add responsibilities as you go. Don't be afraid to say "no" to taking on too many responsibilities but don't be afraid to say "yes" to the unknown. Although I wonder what the experience would have been like way back in '72, I am grateful for the opportunity to be participating today. I love representing my country as a member of the Peace Corps and hope people of my community are learning about America just as I am learning about Thailand.